We picked up a couple of the new Swedish FireKnife from Light My Fire at the recent Outdoor Retailer Summer Market. Although we've only been able to try them out a couple of times, we are impressed enough to share them with you. Having a fire starter built into the knife's handle is a pretty handy feature for a 72-hour kit knife. Additionally, Mora has an excellent reputation for offering quality knives.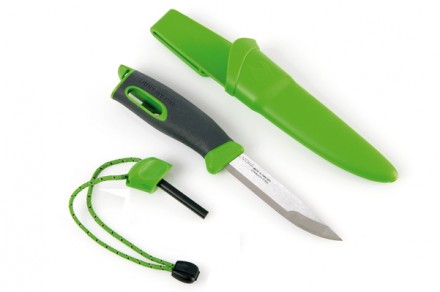 The Light My Fire Swedish FireKnife is a product by Mora and Light My Fire. The blade is 3.9″ and made of Sandvik 12C27 stainless steel, with a Scandinavian grind. The handle is made of high-friction, TPE rubber, and houses a FireSteel Scout firestarter, which twist locks into the handle for convenient access, and can provide about 3000 strikes. This starter works when wet and at all altitudes, producing a 2,980°C (5,400°F) spark, which lights easily when struck by the flat end of the FireKnife blade. The sheath is made of polypropylene and has an included belt clip.
The blade handle and sheath comes in five colors: Black, Red, Orange, Blue, and Green.
www.lightmyfire.com/products/products/swedish-fireknife
– The Three Amigos reporting for Tactical Fanboy
Tags: Light My Fire, Mora