This report comes from one of our readers currently deployed to the CENTCOM AOR. He also tell us that the Z-mask from McNett that we previously reported on is a "lifesaver for night shift guys".
Not every cool, Soldier friendly textile gadget is made by a tribe of retired SOF operators in a basement workshop with long lead times. Some are available from pedestrian sporting goods suppliers. Case in point: The Cabelas' Cotside Nightstand.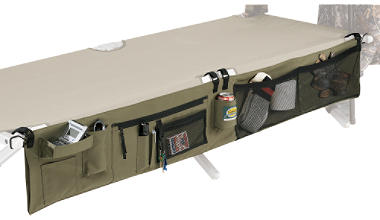 The standard green folding cot is a fact of life at staging bases and most primitive FOBs. Be it 150 troops in a circus tent in Kuwait or up on the 4th floor of a JSS in Baghdad, every military member sleeps on a cot at some point. One of the constant problems is where to put "the little things" that one normally sticks on a nightstand, such as travel alarm clocks, flashlights, reading material, eye mask (link McNett eyemask here), or iPod. Sitting them atop an assault pack or duffel bag inevitably ends up with some of your treasures on the floor on getting stepped on by your tentmates, especially if you are packed in.
A simple, inexpensive solution is the Cabela's Cotside Nightstand. When rolled up, it takes up about as much room a Nalgene bottle but unrolls to 74 x 11.5 and attaches to any standard cot or metal framed bed with Velcro straps and shockcord loops at the ends. When attached to a cot, there is still 3 or so inches of free space below the edge to access your high speed ninja flipflops or more pedestrian shower shoes and running shoes.
Numerous pockets allow stowage of books, sidearms, flashlights, small "netbook" laptops, and a clever fold down shelf for travel alarms is near the head. In addition, there is a full length sleeve for long guns but it's impractical to use with protuberance laden M16/M4 type weapons. The can holder will hold a Green Beans coffee cup or a 500ml bottle of water but isn't big enough for the standard 1L water bottle.
It's made of a Cordura-esque texutrized polyester and the construction is on par for its price and purpose. It could be made more robustly out of 1000D Cordura but that would needlessly increase weight, packed bulk, and cost.
For tent/primitive FOB living, it is definitely a "must have" and is worth cramming in your duffle or load-out bag.
About $25 from Cabelas.