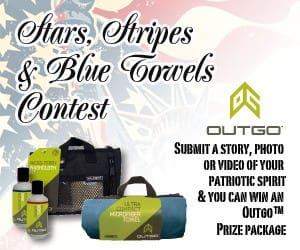 This July 4th Outgo is celebrating 235 years of freedom. What better time to go all out and show your patriotism? Submit a photo, video, or story showing your spirit for a chance to win one of ten Outgo Prize Packages to help you take care in the field. Each Outgo Prize Package includes:
1 Outgo Ultra-Compact Microfiber Towel & Storage Bag (L, Navy)
1 Outgo Waterless Wash (3 fl oz)
1 Outgo Smart Suds (3 fl oz)
1 Outgo MicroTerry Washcloth Kit (Compact Ditty Bag, two 10″×10″ MicroTerry Washcloths, 1.25 fl oz Smart Suds)
To enter, it's easy.
Contest Instructions
Submit a photo showing your spirit. Stories & videos are also allowed! Email those entries to [email protected]
Prize Eligibility
Only persons who are at least 18 years of age can enter.
Contest Ends
July 06, 2011 @ 11:59 pm (PDT)
Full Rules Here. To get in on the contest visit www.facebook.com/outgo.mcnett.