For a full listing of Black Friday sales on through Cyber Monday deals, brought to you by Tactical Distributors, read this page. Some are exclusive offers for SSD readers. Specific Cyber Monday offers are listed first but there are sprinklings throughout the post. Feel free to add additional sales in the comments section.
TACTICAL DISTRIBUTORS
TYR TACTICAL CYBER MONDAY
Visit www.TYRtactical.com to see what else is on sale.
EXTREME OUTFITTERS

Shop www.extremeoutfitters.us on Monday November 28th from midnight to midnight eastern standard time, and receive 20% OFF everything (excluding closeout and Blackhawk items), plus free standard shipping to FPO/APO or US addresses only. Prices will be automatically adjusted at midnight on the 27th through midnight on the 28th. Any out of stock items will be charged and shipped when they become available. Sale valid online only!
GREY GHOST GEAR
Cyber Monday means 50% off everything using discount code CYBER12. Starting Tuesday they'll have a packs-only sale, all packs 25% off with free shipping on orders over $100 and an additional $10 off every $100 you spend.
COSTA LUDUS
FREE SHIPPING on orders over $75 on www.CostaLudusGear.com. Choose FREE Standard Domestic Shipping when checking out. Must be chosen prior to checkout.Only available for items in categories of ART and WEARABLES. Applies to Shipping in USA Only.
Valid only Monday, November 26, 2012 thru Midnight, EST.
LEGION FIREARMS
10% off everything in the store, today only.
DARK ANGEL
10% off everything except training.
REVISION MILITARY
Now through Monday November 26th, when you place an order of $99 or more in the Revision online store, you'll receive a free Revision Swag Kit. Use the code SOLSYS to get 30% off on your order.
The Swag Kit includes an ACU-pattern goggle case, a red Revision bandana, a black Revision banana, a Revision Velcro patch and tab, Revision anti-fog wipes, Revision stickers, and a discount card.
www.revisionmilitary.com/store
GREY GROUP TRAINING
What does Black Friday do? It takes all the hard earned dollars in your bank account and turns them into things like kitchen utensils at a really reasonable price.
So what do you need? Clearly you need a Grey Wednesday so you can get all the must have items before your significant other decides you must have a new light up Christmas sweater that not even a homeless person would wear.
So, for one day (November 21st) Grey Group Training will be hosting their yearly Grey Wednesday. The entire product line (excluding Ops Core & S&S) will be 25% off. Use discount code GREYDAY at checkout.
Every hour starting at 0900 Eastern Abbey will be hosting Facebook contests that will be bigger than anything that we have done before. So pay attention since you can win kit every hour, by just doing what comes naturally…lurking on Facebook and being witty.
Stay safe, keep your head up, and know that we will do whatever we can to watch your back.
Signed,
The Grey Group Staff
www.greygrouptraining.com
BATES FOOTWEAR
This Black Friday, shop online and receive a free pair of socks with any $50 purchase! Offer valid at batesfootwear.com 11/23-11/26 only.
Don't forget those on your list! Receive free shipping on any purchase through December 19, 2012.
PANTEAO PRODUCTIONS
Starting on Black Friday, Panteao will be having a holiday sale. From November 23rd through December 26th, all the Panteao DVDs will be 25% off retail price. Talk about a great Christmas gift! You can also subscribe to our yearly program at the same 25% discount. If you are not a Panteao website subscriber already, now is the time to join before the price increase that goes into effect January 1st.
Also coming in December is the new Panteao App for Android and Apple devices. The App will make accessing the Panteao videos easier from your mobile device. Now you can take the Panteao instructors with you to the range.
GREY GHOST GEAR
30-50% off and free shipping of orders 100 bucks and above. Free Mini patch in every order.
www.GreyGhostGear.com
US Elite
15% OFF THE ENTIRE STORE! (fitness & hazmat equipment excluded)
www.us-elitegear.com
US ELITE ARC'TERYX LEAF CYBER MONDAY SUPER SALE
Spend More Get More FREE Arc'teryx LEAF*!
On all in-stock Arc'teryx LEAF only!
ALL ARC'TERYX PURCHASES TODAY COME WITH FREE GIFT WRAPPING ON REQUEST!**
*Free giveaway of Arc'teryx products are while supplies last.
**Some Arc'teryx products are excluded from gift wrapping due to size constraints.
www.us-elitegear.com/cyber-monday-sale
US Patriot
5 to 75% off select items.
New items added randomly throughout each day – some items will be very limited in quantity at the greatly discounted prices.
They'll also be offering mystery items and mystery baskets of items throughout the week.
SKD Tactical
www.SKDtac.com
215 Gear
Friday 00:00, through Monday morning 9:00 A.M (EST)
Sale details – items ranging from 15-50% off select items throughout the site.
Predator BDU
10% off Outerwear and A-TACS Camo Categories
Free Shipping $95+
Use Promo Code: BLACKFRIDAY
November 22 to November 27th
EXTREME OUTFITTERS
www.extremeoutfitters.us/earlyblackfridaydeals
OFFICER SURVIVAL
The Officer Survival Initiative will be offering 10% off the entire store and up to 20% off select products Nov. 23rd through Nov. 26., no coupon code required. Also, all orders over $100 always ship free.
The Officer Survival Initiative is primarily a vendor of tactical medical equipment for law enforcement, but we also carry several brands of "tactical" equipment for LE and other professionals, including Troy, EoTech, and Trijicon products.
US CAV
Black Friday
20% off any order for email subscribers starts Thursday, Nov. 22, ends Saturday Nov. 24th.
20% off $29 order good for Friday, Nov. 23rd only.
Cyber Monday
15% off any order for email subscribers starts Sunday, Nov. 25, ends Monday Nov. 26th
15% off $39 order good for Monday Nov. 26th only.
Remember, newsletter subscribers always get better deals (bigger discounts), lower minimums and longer sale windows.
DAMAGE INDUSTRIES
Use coupon code TURKEY10 for 10% off all AR-15 parts through Thanksgiving.
TACTICAL TAILOR
Black Friday sale this weekend, it will be 15% off all Tactical Tailor made products on their website and retail store. The sale runs online from Thursday to Sunday and in the retail store on Friday and Saturday. The retail store will be open early on Friday, from 8AM to 4PM for the sale.
CSM GEAR
Early Black Friday-Cyber Monday deal:
Save 10% off orders over $100 between now and midnight Monday 11/26/2012. Use the promo code EVENT.
WT Tactical
20% off most items beginning 23 November. No further details.
www.wildthingsgear.com/wt-tactical
TACTICAL WALLS
Save up to 20% off Tactical Walls starting Friday.
SHELLBACK TACTICAL
Shellback takes on Black Friday starting at 12:01 AM Thanksgiving Day through 11-26. Look for savings of up to 50% Off products in their BlowOut section.
www.shellbacktactical.com
OP TACTICAL
www.optactical.com will have their ENTIRE FRONT PAGE with nothing but deals on over 300 items.
All clearance items are marked down, massive ACU clearance, and… select items from:
US PALM
Magpul
TAG
ITW
Ares Armor
Hazard 4
OP Tactical's shipping and in stock policies remain the same.
Sale will start Thursday, end Saturday
MISSION READY EQUIPMENT
30% off Arc'teryx LEAF through 27 November.
GSS GEAR
The Friday After Black Friday Sale from GSS Gear.
KING'S ARSENAL
Discounts on Carbines and Tactical Seat Covers.
SORD USA
25% off everything using Coupon Code BLKSVZ2012.
TROY INDUSTRIES
BLUE FORCE GEAR
Blue Force Gear has brought Last Call back with 20-50% savings as new items are added throughout Thursday and Friday.
www.blueforcegear.com/last-call
IMPACT WEAPONS COMPONENTS
Look for 20% off using discount code: BLACKOPS Black Friday ONLY
www.impactweaponscomponents.com
McRees Precision
AUSTERE PROVISIONS COMPANY
Use coupon code THANKS12 to receive 10, 20, and in some case up to 50% off the most popular items we carry including Glock accessories, Magpul items, nylon, medical kits and components, and more. Sale ends Monday 11/26/2012 at midnight EST.
GEMTECH
We'd be remiss to not spend a moment of this sacred holiday pushing commercialism on you all.
If anyone was wondering, we figured we'd let our peeps know about tomorrow's annual Black Friday stuff:
So, two things to be aware of this weekend that benefit YOU:
1.) 15% Off of anything on the webstore with discount code GTBF12.
Use the discount code "GTBF12" for a GEMTECH BLACK FRIDAY discount of 15% on any webstore purchases this Friday. Stock up on essentials, get that stuff you've been eyeing, or make some random impulse buys on your roommate's credit cards they left unattended. Whatever works for you.
2.) TEAMPACKS (Small or Large), go on sale at doorbuster prices while supplies last at 6 A.M. Pacific Time.
A limited amount of GEMTECH TEAMPACKS will go on sale stupid-early Friday morning (6 a.m. Pacific Time). These are the GT Sticker-pack/DASH Hat/Brick of Silencer Subsonic .22lr ammo/T-shirt, and shipping, all bundled together at a significant discount… and one of the lucky folks that nab a TEAMPACK will be winning one of our OUTBACK-II silencers, absolutely free. (Chosen at random -one entry per Teampack purchased). The odds are good, so if you're into this, get on it first thing in the morning. They usually sell out quickly.
Note that this years "doorbuster" TEAMPACK features a limited-run tee celebrating our 20th year of kicking butt quietly, which is kinda cool, if we don't say so ourselves.
Secret Sale Links are specific to your desired t-shirt size, check them here:
www.gem-tech.com/store/pc/showsearchresults.asp?pageStyle=H&resultCnt=45&keyword=Teampack
NET TAC
20% off everything
FIGHT AND FLIGHT TACTICAL
Personally, I hate crowds, so the Black Friday shopping frenzy is just incomprehensible to me. There's going to be zillions of sales online, and I don't have to be surrounded by frenzied, rude, stampeding mouth-breathers to save money on Christmas presents for friends and family. So, Friday, the minions will be off and with their families, I'll be setting up the Christmas tree, watching "A Christmas Story" with the family, sipping on some hot apple cider spiked with Captain Morgan. No hustling, no bustling, just time off with family, with the most stressful part of the day will involve my 3-year-old son and glass tree decorations…
On Saturday, which is now known as "Small Business Saturday", we're starting a sale that will run from 0001 Central Time on Saturday until 2359 on "Cyber Monday". All orders over $125 will get 10% off with the coupon code "tryptophan". All APO orders get the same deal, plus they ALSO get a free Blackjack Battery Brick (just email us at info @ fightandflight.com with your order number and let us know if you prefer the AA, AAA or Combo version).
Everyone have a safe holiday with friends and family. For those of you deployed far from home, stay safe, check-six, and know that we are thinking of you.
~Dave
SOTech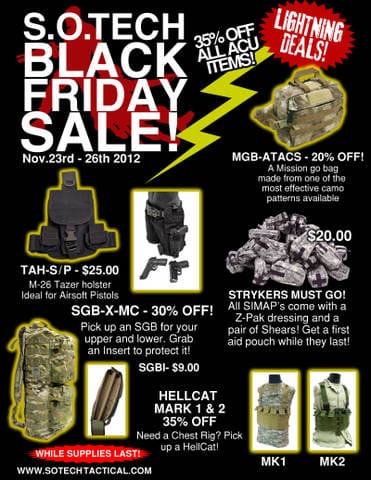 TYR Tactical
TYR Tactical Black Friday Blowout starts midnight on Thursday November 22nd and runs thru 5pm Cyber Monday November 26th.
Bonus Gifts with qualifying purchases:
o FREE Combat Adjustable Pouch with your purchase of $200
o Plus the Team TYR Cinch Bag with your purchase of $500 or more
o Two FREE M4/M16 Mag Pouches with the purchase of any carrier
10% off All Carriers
Doorbuster specials you have to see to believe!
Use Special Coupon Code: BUSTER12 to Take an Additional 15% off Your Entire Order!
Be one of the first 100 customers and receive a FREE limited edition TYR Challenge Coin.
Visit us at www.TYRtactical.com to see what else is on sale.
Tags: Black Friday, Cyber Monday