During Enforce Tac, my friend Dr JP Weisswange presented me with his Roving Tactical Reporter Wings.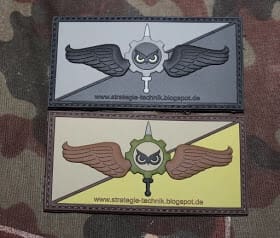 JP refers to the skill set as Die RTR-Schwingen (RTR = Rasender Taktischer Reporter/Roving Tactical Reporter). Considering I run into him all over the world, it's an apt title.
The badge's symbology is more intricate:
The owl stands for strategy, the gear for technology and the gladius for armed forces. The wings represent the energy of the reporter. The whole is on a diagonally divided rectangle, the tactical sign for Enlightenment, the lower greenish half stands for infantry, the upper golden yellow for cavalry.
The badge is available from www.sierra-313.de/shop/.
Tags: Strategie and Technik