Tactical Black Friday 2013
Black Friday is this week. Here is a master list of the tactical deals to be had this year presented by Tactical Distributors.
Tactical Distributors
Black Friday starts early at Tactical Distributors. Get great deals starting Wednesday, November 27th. Get 20% OFF the entire site. Head Start Wednesday, Thanksgiving Thursday, Black Friday, all the way through Cyber Monday. Use promo code BF20 (all caps) at check out.
TD has compiled a category of perfect gifts under $100. Everything that Tactical person in your life could want, at a price you can afford. Choose that special gift from all your favorite brands like Arc'teryx, Kühl, Helly Hansen, Keep Calm, Outdoor Research, Kelty, Under Armour and more.
—
OP Tactical
OP Tactical will be running a Black Friday Sale from 12pm EST on 27 NOV until Midnight on 29 NOV. Use coupon code TDAY2013 for 10%, exclusions on a few Crye Precision items and a handful of other items will apply.
All orders of $100 or more will receive a free Down Range Gear Tactical Lanyard System for AN/PVS-14A NODs (1 or 3-Hole Mounts).
—
GSS Gear
Cyber Monday
There will be 25% off the web store (some exclusions apply) and Free Shipping on Cyber Monday. There is no code needed for this sale.
Friday After Black Friday Sale
There will be 20% Off for the Friday After Black Friday sale on the web with coupon code Friday13.
Small Business Saturday
Please visit us to shop for outdoor and tactical gear for every enthusiast (and more) on Small Business Saturday, the day we all Shop Small.
As a reminder, we're located at 1569 Diamond Springs Road and we're open from 10:00 am to 7:00 pm Monday through Saturday.
So stop by on November 30th, the Saturday after Thanksgiving, and do your part to help make this Small Business Saturday one of the biggest shopping days of the year for small businesses.
See you soon!
Global Supply Solutions
—
215 Gear
215 Gear's Christmas sale begins on Friday morning November 29th and kicks off their "25 Days of Christmas". Look for details on their Facebook page.
They will have something new on sale every week for the next four weeks, deals will include but not limited to
Free USPS Shipping for US customers
BOGO items
Featured items at 40-50% off
15-35% off Select Items
—
Tactical Tailor
30% off all TT Made Gear, 11/28 thru 12/6.
—
SKD Tactical
—
LBT Inc

LBT Non-Wheeled Civi Color LoadOut Bags
Sales, sales, and more sales! LBTINC.com Black Friday sales start today and run through Cyber Monday until Dec. 4th.
—
SORD
Receive 25% off ALL products from SORD. Use coupon code blackfriday2013 (all lower case) at checkout.
—
TacticalGear.com
November 24th through December 1st, use promo code SAVE on cart page to receive:
Free Shipping
10% off site wide
More than 15 free gifts with select purchases – tacticalgear.com/promos

TacticalGear.com
—
MidwayUSA
Sale starts 11/25/13 at midnight CST.
www.midwayusa.com/black-friday-sale
—
Elzetta
Elzetta is holding a Black Friday contest on Facebook. Enter for a chance to win any Elzetta modular flashlight with your choice of components and engraving.
Elzetta Black Friday Facebook Contest
—
Grey Ghost Gear
Grey Ghost is holding a pre-Black Friday sale. Use code PREBLACK35 at checkout to receive 35% off all Karrimor SF and all Grey Ghost Gear. Sale ends Wednesday, November 27th at midnight.

www.greyghostgear.com/
—
Fight and Flight Tactical
Fight and Flight Tactical will be having a 20% off sale from 0001 on Saturday, Nov 30th thru 2359 Monday, Dec 2nd, for Small Business Saturday and Cyber Monday. Discount code is stayhomeblackfriday.
—
Crosman
BLACK FRIDAY:
Benjamin Marauder .25cal – $499.99
Benjamin Marauder .22cal – $479.99
Crosman M4177 (black or tan model) & MK-177 – $59.99
CYBER MONDAY:
Benjamin Marauder .177cal – $479.99
MAR177 upper for standard AR lower – $500
Crosman M4177 (black or tan model) & MK-177 – $59.99
…plus 20% off crosmantactical.com all weekend.
—
Daniel Defense
danieldefense.com/black-friday-sale
—
TNVC
The highly anticipated TNVC Christmas Sale is going on December 2-31! Save huge on TNV/PVS-14's (L3 OMNI VIII Models), Laser Devices Inc. DBAL-I2 Class1 Infrared Lasers, and the new Wilcox RAPTAR Lite ES. Use Discount Code "XMAS13" at checkout! We want to wish you all a happy and safe holidays and new year!
—
Morovision
—
The Tactical Gentleman
They are running this deal through the weekend, and Cyber Monday. Up to 25% off select merchandise and an all around 10% off deal for everything except the BAMF patch, which they are still raising funds for Movember with. Free shipping over 25$.
—
Sparrows
Black Friday to Cyber Monday deal – Soldier Systems code: SparrowsBFDeal
20% off everything
THE MONSTRUM HAS ESCAPED – SHIPPING DECEMBER 12th COST $89
After over a year of development, several design updates and Sneak peeks "The MONSTRUM" is finally here and what better day to release it then the Opening of the WORLD lock Picking Championships in Sneek. This set has everything we promised and covers all the roomers we started. Ten Exotic picks and four Flat bar wrenches all wrapped in a Limited edition KRYPTEK TYPHON Camouflage Case. Specifically designed to feed your lock picking addiction all of these picks and wrenches are new. No Doubles, No Garbage. If you are looking for you first set of picks grab something else …. This one's not for you. The MONSTRUM set is a collection of truly exotic lock picks but it does not have the basics that any lock picker no matter what their skill level needs in their arsenal. The MONSTRUM is an advanced lock picking set and you should already own some classic traditional picks like a short hook and a half diamond.
Set Breakdown
The MONSTRUM consists of nine highly polished lock picks with thermo plastic handles each designed for unique single pin picking. One laser engrave extra-large Octo rake. When we first picked this one up we thought it was a scaling error (It's Big). But testing proved its effectiveness. The Octo kracks locks. To make sure that you truly add to your lock pick collection we even made the tension wrenches flat bars with teeth for great tension holds and notches for " Top of keyway" tension. To wrap it all up we worked with the Guys at Kryptek to use their Typhon Camouflage pattern on our standard Sherman case.
This set had the development title of "The Kraken" the great mythical beasty. The Kraken which is said to live in the seas off Norway has also been described as – singulare monstrum, "a unique monster", Well that seemed to fit perfectly – THE MONSTRUM by Sparrows
—
Revision
30% off all regularly-priced eyewear and accessories using the code: EARLY + free shipping on all Continental U.S. & APO/FPO orders. The deal runs Wednesday, November 27 – Dec 2.
Revision and SOG Knives + Tools have teamed up to offer an epic holiday deal: the SOG Trident Mini and Revision Hellfly Ballistic Sunglasses for just $99.99. The limited time offer runs now through Dec. 16, including Black Friday and Cyber Monday. Exclusively at www.revisionmilitary.com and www.sogknives.com.
Revision offers free shipping for Cyber Monday: Thanksgiving through to Cyber Monday, take advantage of FREE continental U.S. and APO/FPO ground shipping. Exclusively at www.revisionmilitary.com.
30% Off & Free Shipping on all Revision eyewear purchases: Thanksgiving through to Cyber Monday, take advantage of 30% off all regularly-priced eyewear plus FREE continental U.S. and APO/FPO ground shipping. Use promo code "EARLY" at checkout. Exclusively at www.revisionmilitary.com.
—
TYR Tactical
TYR Tactical's Black Friday and Cyber Monday sale runs through 11/29/13 at midnight through 12/2/13 at 1700. Use code TYRDONK at checkout to take 15% off your order.
TYR also has a gift tier system in addition to the sale – spend $100 or more and receive giveaway items in addition to your order, with a new gift at every $100 spent, up to $400. Each successive tier also includes the items from the previous tiers.
—
LA Police Gear
LA Police Gear has a special Black Friday Deals page, featuring huge discounts on many popular items.
www.lapolicegear.com/black-friday-deals.html
Also, get an additional 11% off your order with coupon code Friday11. This particular deal will end on 11/28 at midnight PST, and another will start on Black Friday 11/29.
—
Double Tap Surplus
—
SureFire
—
Offhand Gear
Free shipping with the purchase of a NORB – No Ordinary Range bag. Also, receive a free keychain with the purchase of a NORB.
10% off + free shipping on all OffHand Gear apparel – use coupon code USA13
30% off all Sweet Justice items – use coupon code Oakley30
All deals end December 3rd.
—
Zev Technologies, Inc.
Take 10% off pre-selected stainless Zev Dragonfly cut slides (as pictured). www.glockworx.com/Detail.aspx?PROD=999082&CAT=8106
Take 10% off the Trijicon Dual Illumination RMR 9 MOA. www.glockworx.com/Detail.aspx?PROD=733680&CAT=3696
Take 10% off the Fulcrum Trigger Kit of your choice. www.glockworx.com/Products.aspx?CAT=3688
Use code TURKEYDAY at checkout.
Special ends Monday, Dec. 2nd 11:59 pm PST.
—
Off The Grid Concepts
Use code "gobblegobblemofo" for 20% off through 6 December.
—
BDS Tactical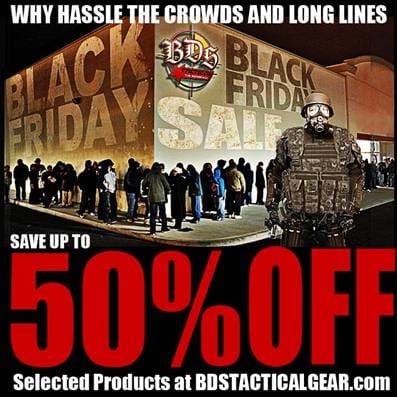 BDS Tactical Black Friday Sale (running now through Monday)
Chest Rigs, Assault Vests, Plate Carriers, Back packs and Gear Bags 20% off.
Rifle Slings, Belts, Holsters, Hydration, Thigh Rigs, Ammo Pouches, Accessories, Beat Gear, Weapons Cleaning and BDS Sport are 40% off.
Select customers will also receive an email with a coupon for an additional 10% off the above mentioned sale prices.
—
Airsoft Peak
Airsoft Peak is holding Black Friday Big Sale, 30% OFF on all tactical gun accessories in stock.
Sale Expires at 24:00 on December 1, 2013 (GMT-4)
www.airsoftpeak.com/accessories-c-444.html?sort=sd
—
SilencerCo
Purchase a Saker 5.56 suppressor, and you will be eligible to get a FREE Saker-branded forged lower receiver.
Any Saker 5.56 purchased through January 31st, 2014 is eligible.
Further details can be found here: www.silencerco.com/blog/?p=863
—
LBX Tactical
—
Katylist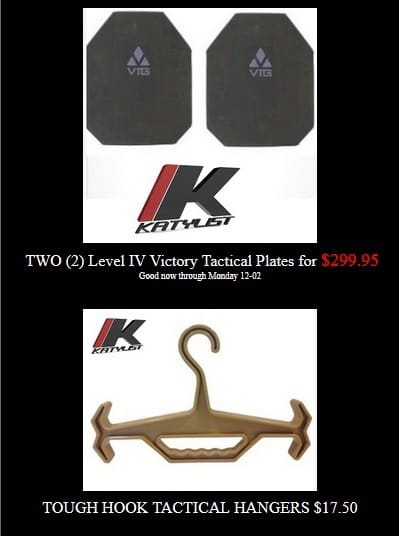 —
Mission Ready Equipment
Get 20% off Arc'teryx LEAF until 1 December.
www.missionreadyequipment.com/brands/arc-teryx
—
Tactical Pro Shop
—
US Elite
—
Wild Things
Beginning on Black Friday.
—
U.S. Tactical Supply


U.S. Tactical Supply – Black Friday Sale
Head to ESS Eyepro and enter the code FRIDAY35 in the VIP Code area, to activate 35% off + Free Standard U.S. Shipping. Sale ends December 3rd.
—
Geissele Automatics
Check it out at www.geissele.com
Our Black Friday offers are listed below and will be available for purchase from Friday, November 29th to Monday, December 2nd. Quantities are limited so get yours fast! (No back-orders or rain-checks.)
Free Shipping on everything. (No minimum order required, offer will be available at checkout.)
Trigger Offers
– Purchase any trigger and receive a free Fitting Pin and Geissele "G" T-Shirt.
– Purchase any two triggers and receive a free Fitting Pin and Geissele Employee Uniform Sweatshirt.
– Purchase any three triggers and receive a free Fitting Pin, Geissele Employee Uniform Sweatshirt, stainless steel Super Gas Block and Gas Block Roll Pin Tool.
Rail Offers
– Purchase any rail and receive a free stainless steel Super Gas Block and Gas Block Roll Pin Tool.
– Purchase any two rails and receive two free stainless steel Gas Super Blocks, Gas Block Roll Pin Toll and Geissele Employee Uniform Sweatshirt.
Armorer's Package
AR15/M4 Reaction Rod, Fitting Pin, Gas Block Roll Pin and Gas Block Punch Set. $110
AR10/SR25 Reaction Rod, Fitting Pin, Gas Block Roll Pin and Gas Block Punch Set. $210
Have a great holiday everyone!
—
Spool Tool
—
Millbrook Tactical
millbrookcanada.ca/collections/black-friday-sales
—
Wounded Wear
—
Original S.W.A.T.
15% off tactical boots + free shipping – Black Friday through Cyber Monday.
Enter code SNIPES15 during checkout.
—
Rampart International
—
XGO
—
Extreme Outfitters
—
TSSI-OPS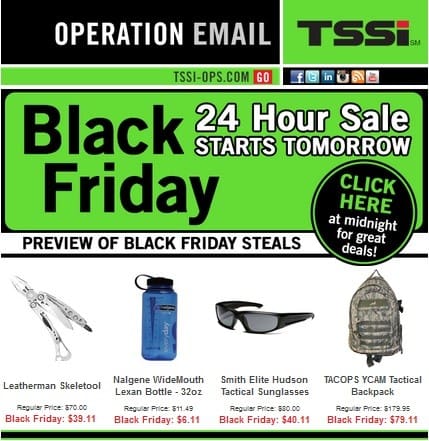 Forget the crowds! These deals are all online, so stay at home and eat a turkey sandwich while you shop for great gear. Many items are priced at more than 40% OFF. Don't forget FREE SHIPPING on all orders over $50, too. Shop all the deals starting at midnight! Quantities are limited and when the item sells out, the deal is gone, so shop early.
store.tssi-ops.com/c-222-black-friday.aspx
—
Bates Footwear
Free socks with $50 purchase, use code HOLIDAYSOCKS at checkout.
—
Umbrella Corp
Follow this link for a linked image map to each deal.
—
Raine Inc
They are holding a 20% off sale on raineblack.com. It runs through the weekend until 23:59 cyber Monday night.
—

One Source Tactical
www.suarezinternationalstore.com/
—
Tacprogear, LLC
—
Battle Systems LLC
—
CTOMS
ctoms.ca/products/x-belt-qr-1-dot-5-gen-ii-1?cat=108
ctoms.ca/products/x-belt-qr-gen-ii?cat=108
—
AirSplat
Coupon Code BLACK35
www.airsplat.com/black-friday.htm
Violent Little Machine Shop
Cyber Monday Deals
—
Kitanica
Kitanica is offering 10% OFF Everything today only with the Promo code CyberBug. They are also soft launching the Women's All Season Pants (WASPs).