We live in an increasingly dangerous world. Travelers face the danger of detainment or isolation from safety. Even at home, it's wise to have a handy survival kit for the unforeseen. TOPS Knives has developed an new line of survival products and assembled them in a survival kit based on the popular neck wallet.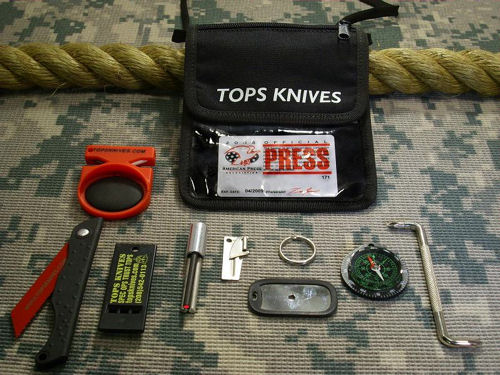 The Survival Neck Wallet has a see through ID window, two interior pouches, one zippered money/credit card pouch and rear slot.
It contains a variety of tools including:
1. TOPS Survival Whistle independently tested at 126 decibels.
2. TOPS Pocket size Survival Saw.
3. A liquid filled compass.
4. The TOPS Firestarter with Ferrocium Rod and magnesium. Will start fires even when wet.
5. Traditional P-38 military can opener/Firestarter striker.
6. Offset Phillips/flat head screwdriver.
7. TOPS Dog Tag Signal Mirror.
8. LED Flashlight.
9. Lansky Quick Fix Sharpener.
Several of the items are exclusive TOPS products including the Survival Mirror which is designed to be worn on a neck chain. It is hard chrome and includes a sighting hole.
What really differentiates TOPS' pouch from others is that the back features a 3M highly reflective backing which is ideal for signalling.

To order visit www.TOPSKnives.com.
Photos from TOPS Knives.
Tags: TOPS Knives