Last week the Government Accounting Office released a report on helmet pads intended as a backgrounder for members of the Senate and House Armed Services and Appropriations Committees. While it was fairly thin, there were a few jewels of information buried in the document's 12 pages (including covers).
One interesting section covered by our friends at DefenseTech discussed the military's interest in alternative helmet suspensions and more stringent requirements.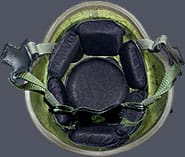 Also of note in the report is the timeline detailing the chain of events that brought us the current pad system. However, most interesting to us were the sections that dealt with the intent of the report which was to determine who currently provides the pads used in Army and Marine Corps ground combat helmets, and how they were chosen. The short answer repeated numerous times was Team Wendy.
To quote the report:
"To date, based on the results of the testing performed, the Army has approved pad systems made by two manufacturers—Team Wendy and Mine Safety Appliances—for use in its Advanced Combat Helmet, while the Marine Corps has chosen to limit its approval to one pad, and has approved only Team Wendy pads for use in its Light Weight Helmet. The approved pads used by the Army and the Marine Corps are consistent with the 2006 U.S. Army Aeromedical Research Laboratory testing results in that they showed the best performance relative to the other pads tested."
However, Ability One (A JWOD service provider) under contract with DoD to provide helmet pads has chosen to only procure the ZAP pad from Team Wendy. Consequently, Team Wendy currently has the only authorized issue pad for the MICH, ACH, and LWH. To confuse matters, several alternative pad systems are available for local purchase as well as on GSA and are manufactured to the Mil Spec for pads. While they do meet shock mitigation standards they are not the issue item and to curb their use, both the Army and Marine Corps have issued directives for troops to inspect their equipment and replace unauthorized pads.
Tags: Team Wendy