Team Wendy teased us at both Modern Day Marine and AUSA with their new EPIC technology. They have been keeping it under wraps because it is not yet approved for use by the military. However, Soldier Systems Daily was fortunate enough to be given a sneak peek at the new pad system.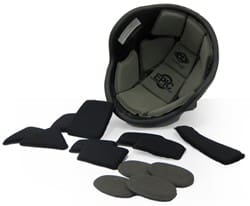 Designed in response to an RFI for enhanced impact protection for the Enhanced Combat Helmet. The current ZAP pad system utilizes 7 pads but the new EPIC system offers 22 pads including a Impact Liner that cradles your noggin and is intended to be permanently attached to the inside of the helmet for enhanced performance. Additionally, there are sizing pads and four oval shaped Ultra Grip TM anti-slip pads to ensure a perfect fit. The comfort pads are provided in four shapes and two thicknesses: 3/16-inch "thin" and 3/8-inch "thick as well as two Sweat Bands (3/16-inch and 3/8-inch thick). The impact liner alone offers the 10 feet per second impact protection required. Testing indicates that the additional fitting pads only enhance the protection afforded to the wearer, up to 40% in hot conditions.
I had the opportunity to try it in an ACH and it definitely offers a great deal of adjustment. When I mounted the Ultra Grip TM pads it was going nowhere on my head. As with the current ZAP pad system, the pads feature wicking and anti-microbial treated fabric.
Team Wendy prepared this video to give you an idea of how the system works.
EPIC is available for sale to Law Enforcement customers but will not be offered to the military until it has been officially tested and approved for use. The ZAP system remains the sole approved helmet pad for use by the US military. We encourage the acquisition to take a serious look at such enhanced technologies as EPIC especially in light of the increased ballistic protection afforded by the developmental Enhanced Combat Helmet.
For more info visit Team Wendy.
Tags: Team Wendy