To celebrate the upcoming celebration of the birth of our nation, McNett brand Outgo have teamed with SSD to sponsor a great contest. We've been using McNett personal care products in the field for years and they are top notch. Now, they have been specialty branded as Outgo which will make them easier to identify.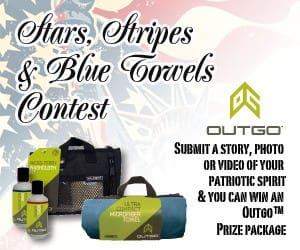 This July 4th we're celebrating 235 years of freedom. What better time to go all out and show your patriotism? Submit a photo, video, or story showing your spirit for a chance to win one of ten Outgo Prize Packages to help you take care in the field. Each Outgo Prize Package includes:
1 Outgo Ultra-Compact Microfiber Towel & Storage Bag (L, Navy)
1 Outgo Waterless Wash (3 fl oz)
1 Outgo Smart Suds (3 fl oz)
1 Outgo MicroTerry Washcloth Kit (Compact Ditty Bag, two 10″×10″ MicroTerry Washcloths, 1.25 fl oz Smart Suds)
To enter, it's easy.
Contest Instructions
Submit a photo showing your spirit. Stories & videos are also allowed! Email those entries to [email protected]
Prize Eligibility
Only persons who are at least 18 years of age can enter.
Contest Starts
June 22, 2011 @ 12:00 am (PDT)
Contest Ends
July 06, 2011 @ 11:59 pm (PDT)
Full Rules Here. To get in on the contest visit www.facebook.com/outgo.mcnett.