I've seen these things all over town and wondered what the deal was. Good thing Tactical Fanboy was on the case.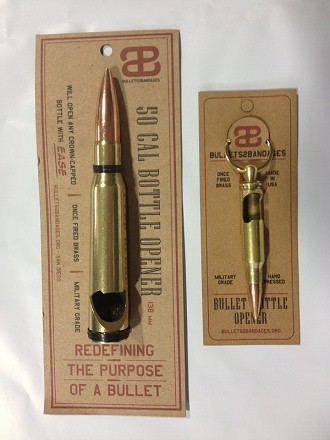 Bullets2Bandages takes the brass from once-fired military-grade ammunition and converts it into a bottle opener. Comes in either the .50 caliber BMG stand-alone version, or a 7.62x51mm that also doubles as a keychain. Custom engraving is also available.
Bullets2Bandages was founded in 2011 by two former Navy Explosive Ordnance Disposal divers. They produce accessories and apparel that aim to honor those who have served the USA. B2B hires veterans, manufactures locally, and donates 15% of profits to veteran charities.
http://www.bullets2bandages.org/
Tags: Bullets2Bandages, Tactical FanBoy