Back in 2000, TEA introduced a completely new type of tactical headset, the INVISIO® in-ear headset, which uses a patented in-ear bone conduction microphone. Special Operations Forces and SWAT Teams quickly adopted this exciting new in-ear headset technology for certain applications, but the trade off at the time was that these in-ear headsets didn't provide hearing protection or electronic hear-through.
Soon after releasing the INVISIO® headset line TEA was awarded the MICH MARITIME program. This program was a break through in the communications industry because it was the first universal push-to-talk solution with modular cable down leads. TEA's solution provided Special Operations Teams within the US Navy and US Marine Corps the ability to interface with an extremely broad range of radios and intercom systems. Because of the need to have hearing protection and electronic hear-thru programs like MICH MARITIME and the tactical headset market in general continued to be dominated with over-the-ear style headsets.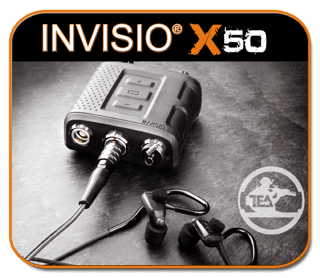 It wasn't until 2008 that TEA released the INVISIO® X50 system, which closed the gap between in-ear bone conduction headsets and over-the-ear headsets with hearing protection and electronic hear-thru. For the next five years the tactical headset market share steadily began to shift away from traditional over-the-ear headsets to sleeker and smaller in-ear versions.
In 2013, TEA was awarded the Tactical Communication and Protective System (TCAPS) program for their INVISIO® X50 system.
The TCAPS X50 System consists of 2 main products. The INVISIO® X5 dual in-ear communication headset, which provides certified hearing protection and enhanced electronic hear-thru and the INVISIO® X50, which is a push-to-talk/control unit that interfaces with the new NETT Warrior radios/devices as well ground vehicle and aircraft intercom systems via modular radio cables.
The primary objective of the TCAPS program is to ensure all soldiers have the highest level of hearing protection and communications on the battlefield. As this program continues to expand into more brigades TEA also sees the rapid growth of in-ear headsets in to overall tactical headset market.
TEA Capabilities:
Outside of TCAPS, TEA continues to make major advancements in their interface capabilities with the new dual and multi-talk group radios as well as portable smart devices. They also offer a full line of advanced communication headset systems such as their INVISIO® V60 system, which also includes the INVISIO® X5 dual in-ear headset. TEA offers a no obligation 30-day evaluation program for qualified military and law enforcement teams/units to try out their products. "Hear for yourself" the difference in quality of TEA headsets!
For more information visit www.TEAheadsets.com.
Tags: TEA Headsets