Even though we don't sell anything, we often get requests for quotes. This is one worth sharing. However, the name of the actual requestor has been deleted.
Dear Sir or Ms.,
Request price, at your earliest convenience, on your Gun Pack for M240 Machine Gun.
Thank you.
Respectfully,
Project Officer
U.S. Army Rapid Equipping Force
For those of you unfamiliar with an Ironman, it is a government owned design for an ammo backpack with feedchute for the M240 developed by Natick's Quick Reaction Cell and the Rapid Equipping Force, the very office asking us for a quote. Talk about Irony, man.
Consequently, our answer for the request is simple…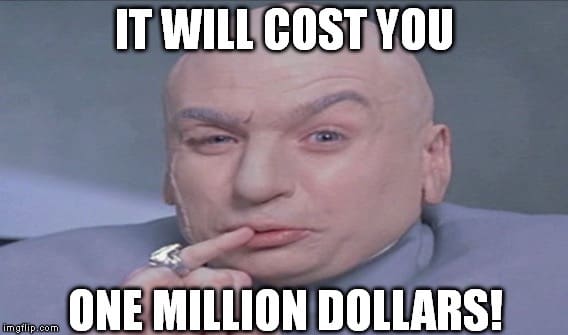 But seriously, if you're looking for an ammunition pack for the M240 Machine Gun, we suggest you take a look at a product made by one of our advertisers.
The MICO by TYR Tactical was created specifically for this requirement at the request of a military customer. In fact, it was fielded by SOF before the Army developed the Ironman for deployed forces from the Iowa National Guard. What's more, the MICO even has an NSN: 8465-01-629-5960, and it works.