Sunnyvale, CA — First introduced in January 2016, the CellVault™ by Thyrm protects batteries and other important gear while keeping them accessible and organized. The product received critical acclaim and instant popularity with consumers. Yet Thyrm wanted to offer the option for users to identify the CellVault's contents without opening it. With that, Thyrm introduces the CellVault Clear.
"We thought that making a clear version just made sense, especially for internal gear organization or where their visual signature is less critical," stated Thyrm CEO Andrew Frazier. "Being able to see what was in them was something we wanted to offer for all sorts of applications. The CellVault is still available in black, urban gray, olive drab, flat dark earth, and rescue orange to match the user's gear or intended environment."
The IPX8 waterproof CellVault easily attaches to M.O.L.L.E. webbing and straps and features lanyard loops at both ends for more attachment options. The slim vertical profile utilizes less than one M.O.L.L.E. webbing column, giving you more room for other gear including first aid kits, ammo, and tools.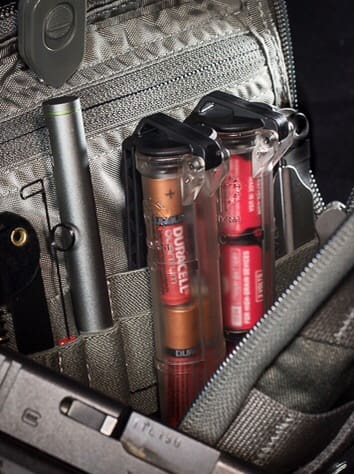 Storage possibilities include:
-Three CR123 batteries
-Four AAA batteries
-Two AA batteries
-Small survival gear such as matches, hooks and line, a light stick, iodine tablets, a compass, and lip balm
-First aid gear including hemostatic clotting agents, tweezers, and bandages
-Consumables such as medication, instant coffee packets, electrolyte powder, candy
-Emergency money and a Flash Drive
-Cigar/Cigarettes/chewing tobacco
The CellVault is currently available at Thyrm dealers and at thyrm.com. Dealer inquiries welcomed.
Tags: Thyrm