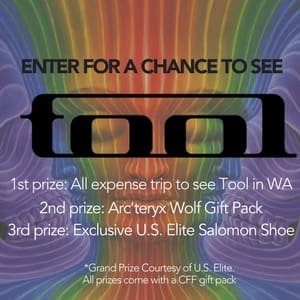 U.S. Elite has partnered with Combat Flip Flips to bring to you an epic Tool Concert Giveaway. Join the crew as they RV their way to see Tool on June 17 at the Gorge Ampitheatre in WA. One winner will enjoy an all expense paid trip (including CONUS airfare) courtesy of U.S. Elite. Winner will also receive a gift pack courtesy of Combat Flip Flops. Open to all Military/Veteran, Law Enforcement and First Responders.
2nd and 3rd prize are up for grabs for any U.S. resident. Second prize winner will win an Arc'teryx LEAF Wolf Gift Pack ($577 MSRP) including a Naga Hoody, XFunctional Pant, SOC-F Skyline Shirt and B.A.C Cap; along with a CFF gift card. 3rd prize is not too shabby either – be the first to own the newest Salomon Forces shoe, exclusively distributed by U.S. Elite.
Giveaway ends May 31, 2017. Potential winners will be contacted June 1st.
Click here to join.
Tags: Combat Flip Flops, US Elite Gear