Respect This
In 1945, my grandfather returned from the war in The Pacific to discover the America he fought for was different than the America that welcomed him home. As a first generation immigrant from the Philippines, he spent the post war years dodging misplaced racism, unemployment, and blanketed disenfranchisement towards minorities.
Although he wasn't Japanese, the war and Pearl Harbor were still fresh. As a result, any resemblance of asian heritage was enough to solicit racist comments. And even more ignorant, yet comical, were the occasions in which he was slurred at for being Mexican.
Regardless, my grandfather loved America and understood that although he was a citizen, and had fought for America—even earning a combat infantryman's badge for bravery on a no name island—he would never prove he was an American by simply expecting others to accept him as one. He understood that every day, he would need to demonstrate why he deserved his rights, regardless of already being entitled to them.
And therein lies a reality that is lost on the current generation despite being only decades removed from the Civil Rights movement. Just because you are entitled to certain rights, does not mean that others will allow you to access them.
My grandfather fought every day to defend rights that he had already earned. However, other large groups of immigrants used racism as an excuse to never assimilate. Consequently, these groups didn't develop the social tools that facilitate access to what they deserved as citizens. And when inequality occurred through employment or everyday interactions, the results were tense arguments and protests that only further divided the immigrants from the majority population. Unfortunately, this meant that these minorities were only seen at their worst, when they were outraged and attempted to combat stereotypes.
Today, the faint sound a of a familiar echo can be heard over discussions of the second amendment. Owning firearms in America is a civil right. And I believe 100% that all law abiding Americans are entitled to firearms possession. Unfortunately, we've seen how others would abolish this right through legislation. Similar to the pockets of minorities that only interacted with majority culture during periods of conflict, gun owners are also susceptible to only allowing others to see us when we are highly emotional and attempting to combat false narratives.
And that's the bigger problem. If we only choose to be vocal about our culture during times of conflict, then we are directing energy at disproving the opposition's agenda. Rather than demonstrating the values we actually believe in, we are forced to disprove the ones we do not.
———
For me, shooting has never been about violence. It's always been about craftsmanship and discipline. A man's rifle is more than a tool, it's an outward display of his self-reliance. I learned this when my father first taught me how to shoot at the age of eight. After an early morning hike into the forest, we arrived on a ridge line and began setting out clay pigeons. Unslinging his rifle from his shoulder, he handed it to me and said the two most important words that accompany all gun ownership, "Respect this."
Without haste, I depleted our ammo supply. I was hooked.
The following week at school I told all of my classmates about my excursion into the wilderness. Not once did I think I was handling a tool that could also be used as a weapon. Instead, I felt so much pride in using my hands to build a skill set. I played sports and was athletic, but shooting and firearms were different.
Later, when I was deployed overseas, I witnessed first hand the uncertainty that is created by lawless regimes in failed states. Caught between the violence of militia groups, terrorists, and government forces, civilians in these countries were living a dystopian reality. For them, gun ownership was not about heritage and craftsmanship. There was no time for that. Gun ownership was that of necessity for family security.
In the US, a citizen's security is not constantly under threat by criminal actors or non-state terrorists. Still, bad things happen and the police are hardly capable of preventing all crime. Worse, the temporary lawlessness caused by extreme natural disasters or civil unrest can actually rival the violence of war zones. However, the nation as a whole functions. We are not living under constant fear of our personnel security being threatened and society's infrastructure collapsing.
This allows gun ownership to exist beyond the sole purpose of personal safety, and is why American gun culture is rich with a heritage that respects craftsmanship, rugged individualism, and family traditions.
Give that a second, because the following is important.
If a tool's only utility is grounded in fear, it allows for one dimensional stereotypes of its owner. Those opposed to your beliefs will label you, contain you, which will anger you while also leaving you vulnerable to manipulation. Although this is unfair, it happens regardless.
Stereotypes of gun owners and gun culture in America couldn't be further from the truth. Yet, the only time the nation as a whole interacts with gun owners is following the tragedy of a mass shooting. With emotions already high and fingers being pointed, responsible gun owners are pigeon holed into false identities that they then feel forced to defend.
We're not backwoods racists incapable of adapting to metropolitan society. We're not paranoid hermits stockpiling for a last stand. We're not men attempting to compensate for insecurities about masculinity.
We are, however, doctors and blue collar workers. Feminists and fathers. Hunters and hipsters (yes I've met them). Republicans and Democrats. Yet, this is not who the mainstream anti-gun crowd knows us as. Instead, they see us at our worst. When we feel attacked after the tragedy of mass shootings; and when we take the bait and respond to false headlines that only serve the purpose of agitating. Yes, it is necessary to critique flawed statistics about gun violence. But longterm change of perception is not accomplished through memes or shouting bumper sticker slogans. These actions only add gasoline to the dumpster fire.
In the long run, appreciation of our culture won't be won by only engaging the anti-gun crowd on their terms. It isn't enough to only make our culture known when we are called to defend it. We must also do it during lulls and periods of normalcy. As a young American, the pride I felt in using my hands to learn a skill was unrivaled. No sport or achievement in school mirrored the satisfaction of focusing my body and mind on a target, and then sending a bullet to score a direct hit.
Throughout the US, everyday Americans feel similar sentiments towards gun ownership. But we cannot make these qualities known in the middle of an argument. Arguing with opposition never changes their mind, it just causes them to further entrench in their beliefs. Therefore we will never experience a significant blow to the anti-gun crowd by only challenging their false narratives. Instead we must demonstrate through our own agendas why we value firearms. The greatest success I experienced with this approach was after I left the military and attended college.
I finished my undergraduate studies at a California university. The political climate annoyed me—trigger warning—but I was there because the campus was parked on the beach. Despite the confused politics of the school, I started a marksmanship club that allowed students and faculty to participate in recreational shooting. At first, the faculty were concerned with sanctioning a gun club on campus. But prohibiting the club contradicted all of their rhetoric about equality and inclusion. Approved by the university, we began hosting monthly range events for students.
We were a hit.
What surprised me most about the club was that there was no single unifying characteristic of its members. There were graduate students and sorority girls. Faculty members and socially underdeveloped Generation Z'ers. Some of the club members owned firearms, but most did not. Regardless, shooting was never about violence. Marksmanship was a sport. Our members easily classified it next to other outdoor activities such as surfing.
The students felt a similar satisfaction that I felt with my father by shooting rifles and pistols for the first time. For me, fulfillment also came in the form of mentoring young adults to do something with their hands other than text or take selfies. The success of the marksmanship club serves as a broader vignette about gun culture in America. When you label a group of people without ever actually engaging with them, you're likely to develop stereotypes that are not grounded in any kind of reality. The administration at the university was concerned about promoting gun culture because they had been exposed to the wrong narratives about gun ownership. For them, guns were strictly symbols of violence.
On the other hand, the students were characteristic of everyday Americans. They enjoyed the sporting of marksmanship because it allowed them to learn a skill with their hands. Their motivation was not derived from fear. It was not of hollow bravado. As a group, their satisfaction was communal. An appreciation of American heritage, being outdoors, and learning discipline.
A finer moment of responsibility was displayed by a graduating female that explained why she was learning to shoot a pistol. She already secured a job and would live by herself in a new city. She considered buying a pistol for self-defense, but dismissed it as an option due to fear of misuse. The club allowed her an opportunity to learn about firearms. Not solely from the standpoint of self-defense (or fear) but through an appreciation of American heritage and taking personal responsibility for her safety.
———
For me, marksmanship is important because it is one of the few things I can actually do with my hands in the modern business world. I love writing, I love creating, but marksmanship is something tangible. In a trip to San Francisco my friend Mark took me shooting on private land outside of the city. He was formally an engineer in tech and recently transitioned over to the executive side running operations for a decent size firm. He is a part of what is actually a very large number of closet gun owners in Silicon Valley. Mark gets excited about firearms, but as an engineer it is usually out of respect for craftsmanship.
Regardless, Mark loves shooting because it is a physical test of his skill and discipline. Loading magazines on the back of his hybrid SUV he looked at me and said, "A lot of my peers make decent money, but they're incredibly unhappy. Everyone in tech goes through the typical phases of getting really into endurance racing or hiking, but hobbies are like fads. Shooting is different. When I come out to the range, it is one of the few times I can actually disconnect from my phone and just focus on myself. It's kind of like yoga that way."
This appreciation for firearms that Mark and so many Americans have is not demonstrated when we're screaming to explain why 30-round magazines shouldn't be outlawed.
Mark has converted several of his hybrid-driving-soylent-diet-hipster-beard executive buddies into gun owners. He did not accomplish this by challenging anti-gun beliefs, but instead by showing the positive aspects of why he appreciates firearms. This truth is at the core of all civil rights movements. If you only promote your values when others attack it, you will never show the real depth of your culture.
———
When I was younger, if someone attacked gun culture, I felt that they were attacking my family. All of those trips to the ridge line with my father would surge to the forefront of my mind. However, these sentiments were never something I could demonstrate mid-argument. By getting drunk with emotion and charging head-on against the opposition's narrative, I was only ensuring that they would control the flow of debate. Although it was satisfying to fact check someone in the heat of the moment, it accomplished nothing in the long run.
In college, when the administration was hesitant towards sanctioning the gun club, I did not respond by telling them why they were wrong about guns, or by defaulting to bumper sticker slogans and pro gun memes on social media. Instead, I showed them on my own terms and through my own narrative why I value firearms. This produced the lasting effect of challenging ignorance without giving into toxic behavior, but more importantly, it equipped me with the tools to champion gun ownership outside of the opposition's control of the narrative.
By recognizing that he needed to demonstrate value in his rights every day, my Grandfather developed social tools that allowed him to navigate racist agendas. Similarly, I try to do the same with the second amendment. Although I am entitled as a citizen to own firearms, it doesn't guarantee that others will not try to abolish this right. When I see a purposefully inflammatory anti-gun agenda, I do not allow myself to give into anger. Because as with all political movements, if someone can anger you (both from your party or the oppositions), they will control you.
Owning a gun in America is a civil right. And our nation has a rich history of civil rights being upheld by individuals that not only defend their culture, but also champion it.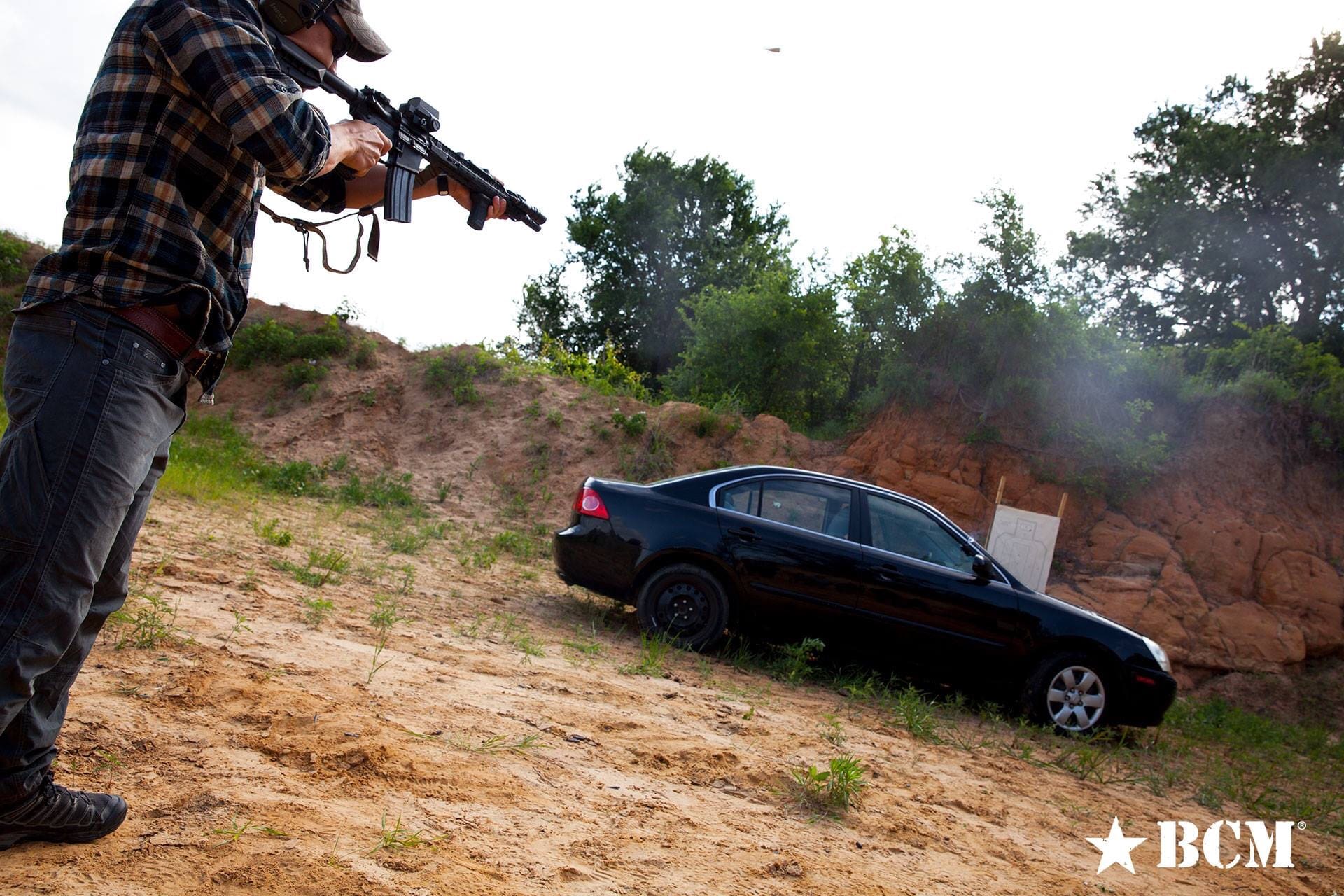 Aaron Barruga is Special Forces veteran with deployments to Iraq, Afghanistan, and the Pacific Theater of Operations. He has trained foreign commandos, police officers, and militia fighters. He is the founder at Guerrilla Approach LLC, where he consults law enforcement officers on counter-terrorism and vehicle tactics.
www.facebook.com/guerrillaapproach
www.instagram.com/guerrilla_approach
Gunfighter Moment is a feature brought to you by Bravo Company USA. Bravo Company is home of the Gunfighters, and they bring us a different trainer to offer some words of wisdom.
Tags: Aaron Barruga, BCM, Bravo Company, Guerrilla Approach, Gunfighter Moment