This Veteran's Day, DMOS Collective is giving away one of their Delta and another of their Stealth shovels in FDE, to a lucky SSD reader. One recipient will receive one shovel and another winner, the other.
For full rules, and to enter, visit dmoscollective.com/pages/veterans-day-giveaway
Meet the Delta Shovel. A compact, portable feat of engineering from DMOS, the Delta Shovel is the E-Tool you wish you had in the military. Capable of being used as a full-sized shovel or collapsing down for work in limited space, as a hoe, or folding flat for storage, the Delta Shovel is your constant companion for any of the toughest jobs. Whether you're freeing a stuck vehicle or digging a sniper hide, the Delta is always on hand and never in the way.
The Delta shovel's handle is telescoping and can be used at 24″, 37″, or 51″ long.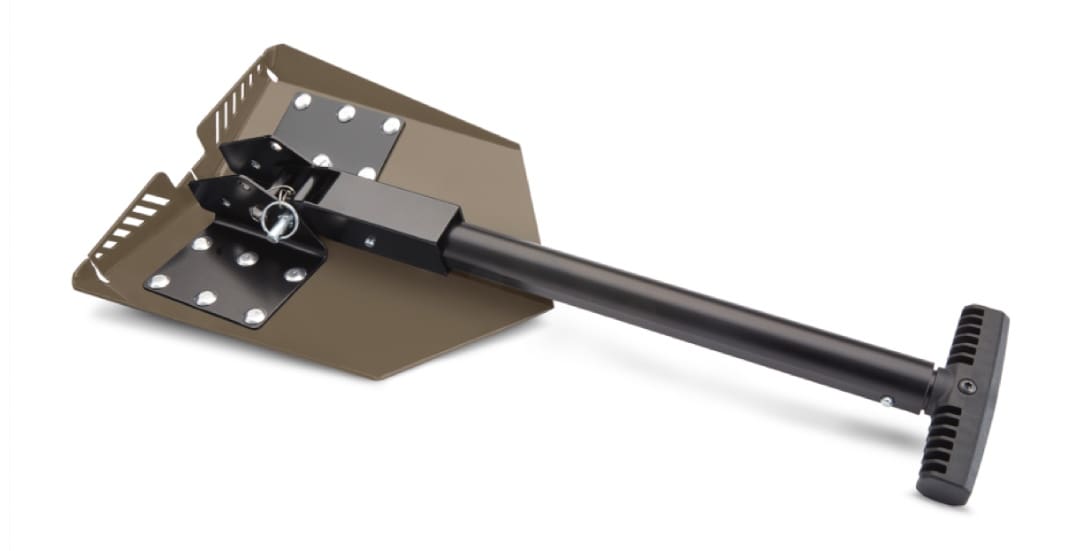 The shovel's head, similar to an e-tool, can be positioned and locked as a shovel, a Pulaski-type hoe, or flat for storage.
Full-sized. Fully-collapsible. Tougher than an Avy shovel but easy to stow on your backpack, snowmobile, dune buggy or wherever else your adventures take you.
The Stealth is THE original award-winning DMOS shovel. Crafted of lightweight but tough 6061 aircraft-grade aluminum, the Stealth shovel is a perfect companion for any adventure in snow or sand. Collapsible down to a mere 24" x 11" x 3", the Stealth can fit in a backpack, in a trunk, on a snowmobile, or on one of our custom-fitted mounts to accompany you anywhere. The serrated teeth on the blade allow you to use it as a rake, bust ice, or level campsites, and the full-sized shaft lets you do it all WITHOUT ruining your back. Smaller user? No problem, the handle can be used at three lengths. Whether you're building kickers for snowboarding or digging out your truck in the dunes, make sure you've got the right shovel.
For this of you who want to purchase any products, use discount code DMOSSERVICE for 20% off for Mil/LE/EMS.
Check DMOS out on FB at facebook.com/dmoscollective and Instagram @DMOS_Collective.