If I had to pick one brand that demonstrated the most innovation at ORSM 2021, it would have to be Dometic. I actually walked past their booth twice on my way to meetings, never giving them a second glance because I thought they were that "overland refrigerator company." Boy, was I wrong. From my viewpoint, they won OR, having greatly expanded their offerings for Spring 2022 with furniture, storage and accessories.
Everything was designed for not only function, but also storage. Dometic took measurements for many popular SUVs to ensure that their gear would maximize use of available space.
The PAC-H50 Hard Storage Box offers 50 Liters of storage space in a hard sided container with a waterproof seal. It accommodates Dometic's new line of containers (PAC-10 and PAC-20) which have optional insulated inserts.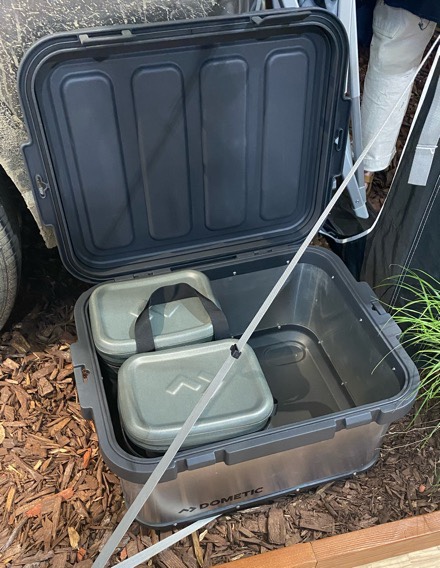 Folding Camp Furniture includes chairs, a bamboo table and a bench. The Chairs will be available in Grey, Tan, and Blue, while the bench will only be offered in Grey.
They've even created airbeam shelters as part of this new line. You can see one of these beams as part of the tent in the back corner of the photo above.
However, the real gem in all of this for SSD's military readers is the HYD-J11 Hydration Jug. Dometic has completely reimagined the concept of a water can. It accommodates up to 11 liters of liquid and features not just one, but two top openings. The first is the same size (63mm) and thread as a Nalgene bottle so it will take currently available splash guards and accept MSR water filters. There is an optional spigot cap for this opening.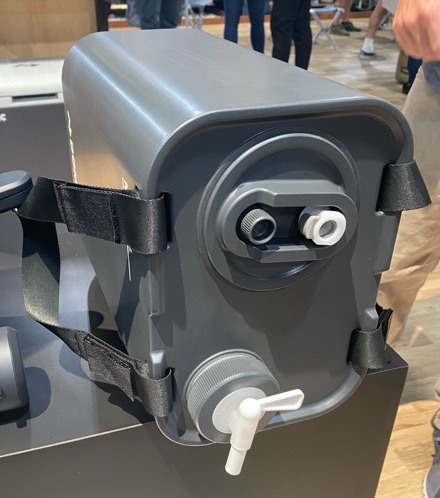 The second opening is 4″ and about the size of a NATO Jerry Can so you can get your hand down in it to clean the jug out. The cap for this opening incorporates the same CPC quick-connect port used for Camelbak hoses along with a hose which sticks down into the Jug with a simple prefilter for sediment. You can attach a gravity fed water filter to it, or a hose to drink directly from the Jug.
Hydration Jugs will be offered in the dark grey color seen here, a bright blue, and a tan hue according to Dometic.
I really like the design of the Hydration Jug. The square footprint is easy to organize and the dual straps make for easy carry. Plus, there's a molded lip at the bottom for gripping during pouring and cut out on the top lip for a strap to secure it to your vehicle for transport. Two will fit in a standard Jerry Can Mount. I expect to see these in every GMV by summer.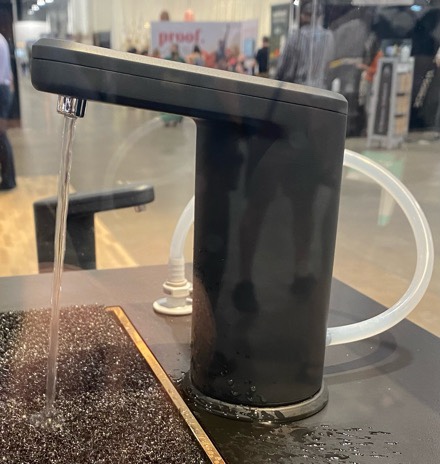 But it just keeps getting better. The HYD-WF is a battery powered water faucet with a tube that can be plugged into the large cap of the HYD-J11. It works with a magnetic base (two with double-sided tape are included) so you can attach it where you want and rotate it 360 degrees. Not only is there a simple on/off button, but it's also set to stop after dispensing one liter and there's even a built-in light for night time use. It dispenses one liter per minute, is good for 150 liters per charge and will be available 1st quarter of 22 for under a Hundred Dollars.