The 2022 Black Friday / Cyber Monday Sales Master List is sponsored by out friends at Tactical Distributors.
Platatac
Save up to 80% on select items. Starts now.
platatac.com/black-friday-sale
Kitanica
LBT
Starting tomorrow for GLG members… 18th for all other registered customers.
Beyond
Our Black Friday deal is here. Save 50% on select gear now thru Nov 27th. This is your chance to score gear marked down to our lowest prices ever.
Free Shipping
beyondclothing.com/collections/clearance
SKD Tactical
Black Rifle Coffee Company
www.blackriflecoffee.com/pages/black-rifle-friday
Tactical Tailor
tacticaltailor.com/products/clearance
Team Wendy
It'll soon be time to arise from your turkey coma and enjoy Team Wendy's annual Black Friday sale. From midnight EST on Nov. 25 to 11:59 p.m. EST on Tuesday, Nov. 29, you can get 20% off your total purchase on our site.
If you're in the market for a tactical helmet, now's the time to make all the proper considerations to make sure you buy the right helmet for your needs. Our bump helmets, ballistic helmets, and search and rescue helmets are all included in the Black Friday deal.
This sale also includes Cyber Monday ski deals on our M-216™ ski helmets and winter accessories like the EXF Balaclava.
If you (or the person you might be holiday shopping for) already have your helmet, our entire online inventory of military helmet liners, combat helmet retention systems and helmet accessories will be on sale, too. Even before the extra savings, some of our popular products are already under $150.
Enter the code 20TURKEY22 at checkout to receive your 20% discount.
Wondering if you'll get your Cyber Monday purchase in time for the holidays? Make sure you review our shipping policy and any extended lead times indicated on the specific product pages in the color swatch section or product description. Note that our facility is closed on Black Friday, but we'll be back to work getting orders processed and shipped the following Monday, Nov. 28.
Happy Thanksgiving, and happy shopping.
UF PRO
US Elite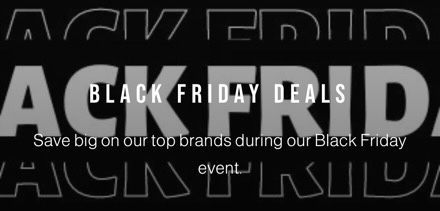 Tasmanian Tiger – 25% off through 11/30
Snugpak – 25% off through 11/30
Oakley SI 30% off through 11/28
All in-stock Lowa 20% off 11/23-11/28
Vertx – 25% off 11/23-11/28
Belleville – 20% off 11/24-11/28
SITKA Arrowhead – 50% off on 11/25
Black Triangle Danger Ranger VENOM dagger – 50% off on 11/26
U.S Elite tees and patches – 50% off or more on 11/27
www.us-elitegear.com/collections/2020-pre-black-friday-deals
O P Tactical
Use coupon code BF22 to get 10% off starting Friday ET, 12% off Saturday and Sunday, and 15% off on Cyber Monday site-wide! Additional deals include 25% off Lowa and Altama Footwear, 15% off Modlite products, and 25% off Ranger Green color Salomon Footwear (no coupon needed on these).
Thyrm
XGO
XGO's biggest sale of the year is back! Take 50% off your next order using code "BF2022"
Great deals on XGO items including the new Assaulter Combat T-Shirt (No Pocket)!
Starting Now until 12/1/2022 0600 est.
Act Now!
215 Gear
Primary Arms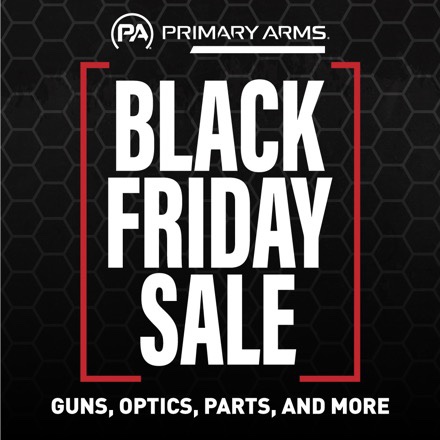 BLACK FRIDAY Savings are HERE!
The HOTTEST DEALS OF THE YEAR Start NOW!
www.primaryarms.com/ad/sale/in-stock
Prometheus Design Werx
BFCM HOLIDAY PROMO
Our BEST promotion of the year and a Thank You for your continued support 2022. Previous season items, many classic evergreen styles, and already marked down items are included in this year's Promo.
As is our policy, so there are no disruptions in the smooth and orderly fulfillment of our customers' orders, we are unable to combine orders. We thank you very much for your patronage and understanding.
Please watch for new deliveries and restocks during this BFCM Promo and we hope you will find the items to make your Holiday Season Merry, Bright, and full of adventures outside.
Live Wild Wise and Free
Some exclusions apply, please click here for more details.
Milspec Retail
Black Friday Sales Event 2022
Chase Tactical
Chase Tactical BLACK FRIDAY SALE
25% OFF Through 11/27
Coupon Code: BLACKFRIDAY25
Grey Ghost Gear
Here's 2 very important announcements…
1. Dozens of out of stock products are now eligible for backorder.
We have implemented a new backorder system into our website that will show you which products/colors are backordered, and when they are expected to ship.
Please note the majority of these backorders are estimated to arrive early to mid February. So while you won't get them in time to put under the Christmas Tree, you can still take advantage of the 40% plus Free Shipping Black Friday / Cyber Monday Sale.
How will you know if you are backordering a product? The above screenshot shows what happens when a backorderable color is selected on the product's page. A notification will appear below the color options, and the add to cart button will change to say "BACK ORDER."
A popup notification will also let you know the item you added to cart is backordered and ask you to confirm.
On that note, our most sought after product by a landslide is the Apparition SBR Bag in Grey/Black. Over the last few years its often been sold out because its our dealers' recurring favorite. We will have a few dozen bags available in February, so now is the perfect time to reserve yours at 40% off and get free shipping!
2. Score FREE gear during Grey Ghost Precision's Black Friday Sale!
If you want some free gear while shopping for firearms and accessories with our sister company this Black Friday sales week, head over to their website!
MATBOCK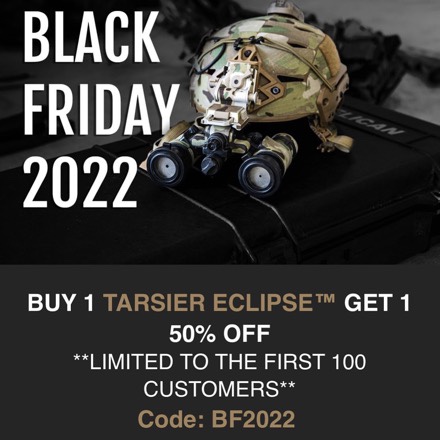 Black Friday deal is live!! Make sure two items are in your cart for the code to work.
Reptilia
Reptilia Black Friday/Cyber Monday Sale is now live! Save up to 25% on certain in-stock items by clicking on the link below!
reptiliacorp.com/product-category/black-friday
Global Ordnance
We've got more early BlackFriday deals rolling out for you! Here's a #BOGO deal for the Arex Zero1 Tactical; if you get one, you also get Delta Gen.2 M free!
Ammo deals, Free guns, & more! New deals drop every week.
Keep up-to-date with everything we're rolling out:
Papa Nui Cap Co
Starts now through till the 28th.
Search collections and go to town. 20% discount auto at check out.
Snakeeater Tactical
20% store-wide through Cyber Monday using code "blackfriday22".
Come get you some gear!
Original Footwear
Have you been holding off on boots? Stomping around in worn out soles?
Time to UPGRADE.
Now through November 30th, everything sitewide is 40% off with code 40BLACK
Don't miss out on the biggest sale of the year!
SPARROWS
Mission Spec
GT Distributors
GT Distributors 15% Off and Free Shipping Black Friday Cyber Monday Sale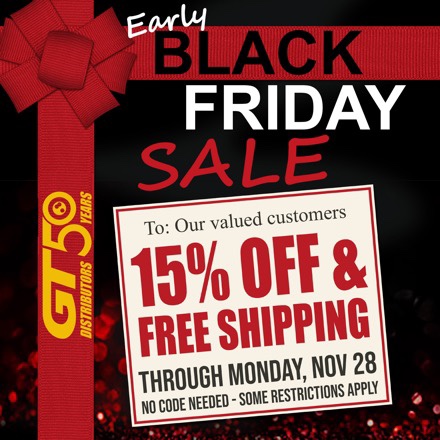 GT Distributors Black Friday Cyber Monday sale runs Friday 18, November through November 28, with 15% Off and Free Shipping on www.GTDist.com. Shop over 20,000 products with lightning fast shipping!
Arisaka Defense
Arisaka Thanksgiving Sale Starts Now!
Suppressortools.com
Triple Aught Design
tripleaughtdesign.com/pages/black-friday-sale-2022
HRT Tactical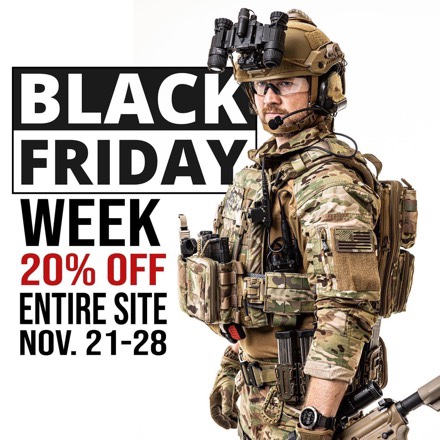 Our biggest sale of the year! 20% OFF the entire site!!
Modlite
The one and only, Black Friday 15% weekend.
Starting November 25th at 12am CST, ending the 28th at 11:59 pm CST.
Beretta
GORUCK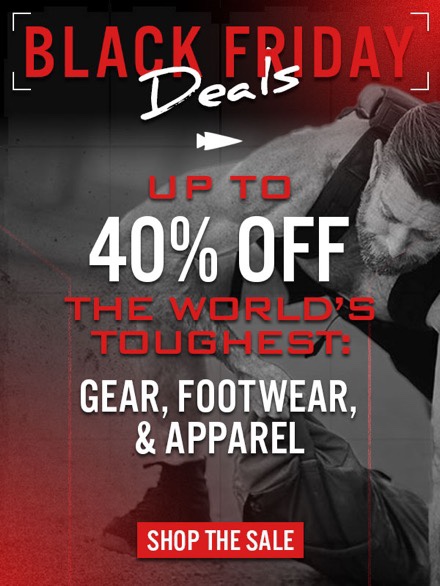 www.goruck.com/collections/black-friday-sale
Elberlestock
BLACK FRIDAY SALE
Shop our biggest sale of the year and save up to 40% on packs, apparel, and more.
FREE Gift Set + FREE Shipping with every order of $299 or more!
eberlestock.com/pages/black-friday-sale-2022
Parashooter Gear
Black Friday deals are live! Everything in stock is 20% off now through the end of the month. Check out the site and grab that piece of gear you've been missing.
www.parashootergear.com/product-page/x39-shingle
Big Tex Ordnance
www.bigtexordnance.com/product-category/treat-yo-self
Haley Strategic Partners
Our Black Friday Sale goes live on Thanksgiving day, Thursday November 24th and runs through Cyber Monday, November 28th. Everything is discounted 20% off sitewide excluding training and armor. Orders $200 or more qualify for free shipping *limited to the lower 48 states* and are entered for a chance to win our Black Friday Giveaway! 50 winners will win thousands of dollars worth of kit with the grand prize winner receiving a Thorax Plate Carrier Ultimate pack!
Strike Industries
SI Gobble Gobble menu.
Get your Strike this week.
www.strikeindustries.com/strike-deals.html
Confections Carcajou
Black Friday Sale is up now until Wednesday November 30th. Check it out and grab some great deals!
Killer Innovations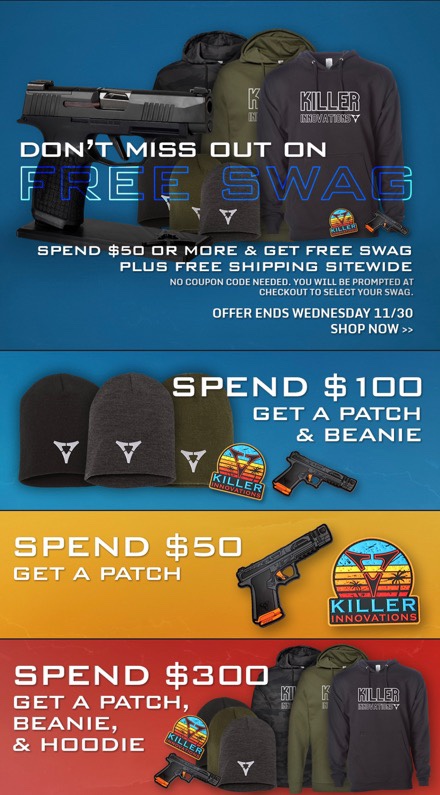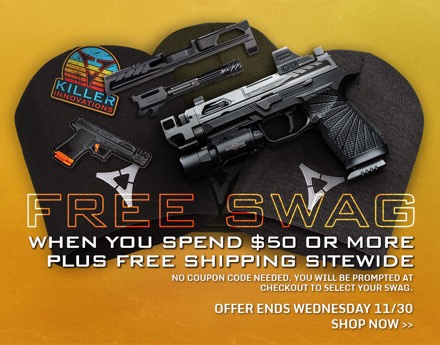 Killer Innovations is having the biggest sale they have ever offered. Earn Free Swag when you shop and save with Free Shipping until the 30th.
• Spend $50, Earn a Free Patch. Spend $100, Earn a Free Beanie. Spend $300, Earn a Free Hoodie, and the other gifts!
• FREE SHIPPING, no code needed.
• All discount codes have been disabled until Dec 1st, this offer cannot be combined with other codes.
Dynamis Alliance
BLACK FRIDAY CODE IS LIVE!!! – RARE OPPORTUNITY TO GET ABSOLUTELY EVERYTHING ON OUR WEBSITE FOR 20-70% OFF. –
WE DO NOT DO DISCOUNTS OFTEN AND WE DECIDED TO KEEP IT SIMPLE. ADD STUFF TO YOUR CART, ENTER THE CODE AND BOOM! EVERY SINGLE ITEM ON THE WEBSITE IS NOW 20-70% OFF!
THE CODE IS: THANKFUL20
ADDITIONAL INTEL:
NOT VALID ON PREVIOUS PURCHASES
YES THIS FOR BLADES TOO! BUT PLEASE KEEP IN MIND THAT OUR LIST WILL GROW OVER THE NEXT SEVERAL DAYS AND THEY WILL BE SENT OUT IN THE ORDER THEY WERE RECEIVED FOR BOTH IN STOCK BLADES AND BACK ORDERED BLADES.
THANK YOU AND HAPPY SHOPPING!
PS THE NEW CFH GEN-2 KITS MAKES AN EPIC CHRISTMAS GIFT.
Omega Militaria
15% OFF EVERYTHING
BLACK FRIDAY SALE COMING THIS WEEKEND!
FRI 25th – SUN 27th
Midnight – Midnight GMT
Defense Mechanisms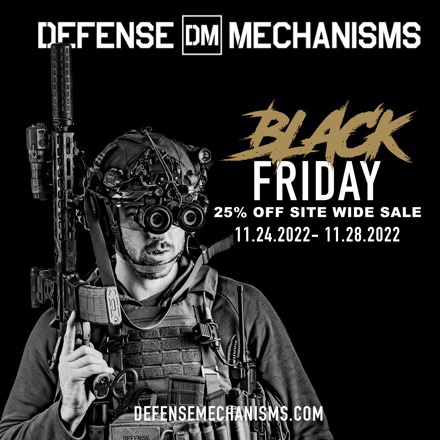 ITS Tactical
Through Monday, Save 20% Off in the ITS Store, Plus Free Shipping on Orders Over $99 and a Free Micro Tradecraft Toolset on Orders Over $125!
Agilite Gear
Rare Gear USA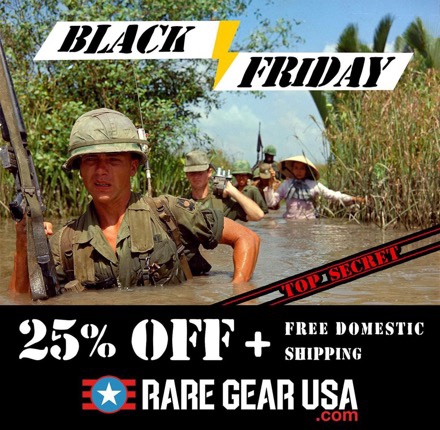 Kilo Niner Pets
Get ahead of your holiday shopping with 20% off all our products on our site.
20% Sale on all items on our site!
Make sure to use code: BF2022K9
(Sale ends Nov. 25 at Midnight PST.)
Gear up for adventure! Shop now at kiloninerpets.com.