The 2022 Black Friday / Cyber Monday Sales Master List is sponsored by our friends at Tactical Distributors.
UPDATED DAILY
Tactical Distributors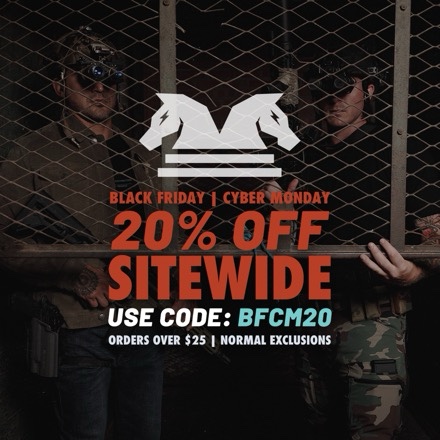 Mystery Ranch
BACK BY POPULAR DEMAND.
It's time to sink your teeth into our Black Friday Sale.
Take 30% OFF all Hunt and Outdoor Gear for a limited time.
Use code: MRBLACKFRIDAY30 at checkout. Online only.
This deal only goes through 11.26.23, so load 'er up.
Thyrm
215 Gear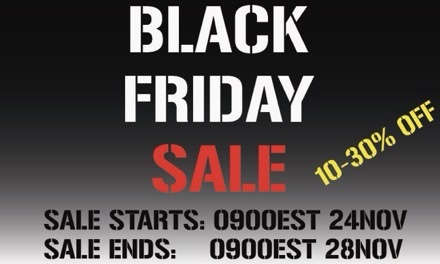 XGO
40% off entire order. Free shipping on orders over 100 (after promo code discount amount is applied).
Deep discounts on Phase 1 Performance Lightweight OD Green T-Shirt, Longsleeve Crew and Thermal Pant, and DWR OCP 3pc Rain Suit and Poncho.
Sentry Products Group
Are you ready for the biggest shopping event of the year?
BLACK FRIDAY
• 20% off sitewide
• Exclusive deals on Range Bags, Packs, Belts, Pouches and more
• Free shipping on orders over $75
• Limited-time offers
* Discounts taken at checkout
sentrytactical.com
O P Tactical
The OP Tactical Black Friday Sale is just around the corner! Use code BF23 to receive the discounts in your cart.
· Friday, November 24 – 10% Off site-wide
· Saturday November 25 – Sunday November 26 – 12% Off site-wide
· Monday November 27 – 15% Off site-wide
We are also running a 25% off Salomon & Lowa Sale starting Tuesday November 21st until December 5th and a 30% off Altama Sale starting Monday November 20th until December 1st – No coupon needed for either sale – while supplies last.
Some exclusions apply. See website for additional details. Due to the anticipated volume of orders, shipping and fulfillment may be delayed.
SKD Tactical
We're extending our 20% OFF discount for
ONE MORE DAY!
We will NOT be having a Cyber Monday Sale, so get your holiday gear shopping in before this sale turns into a pumpkin at midnight CST!
*Excluding Otto, North American Rescue, & Packages. Shipping guarantees are suspended during the sale. Orders will ship on a First Come First Served basis.
TangoDown
The holiday season has officially arrived! Between November 22rd and December 4th TangoDown® customers will receive 10% off all orders up to $100 and 15% off all orders over $100. Orders need to be placed by 11:59pm (Pacific) on December 4th to receive the discount. No offer code is needed for this specific promotion.
We will also have additional promotions which will be featured on our social media or through email blasts. Some of these promotions will have specific time windows they are valid and offer codes may be required. Additional promotions are valid with the everyday discount of 10-15% off. To keep an eye out for additional deals, visit our social media and/or visit our website to sign up to receive emails:
Instagram: www.instagram.com/tangodowninc
Facebook: www.facebook.com/tangodowninc
The entire TangoDown® Team wishes you and your loved ones a safe and Happy Thanksgiving!
***Please note all orders placed on or after November 21st will NOT be processed until after the Thanksgiving holiday weekend. Due to order volume, processing delays are possible.
Shop and save at: tangodown.com
Holiday hours and more can be found here: tangodown.com/blog/2023-holiday-schedule-and-shipping-cutoff
LBT Inc
Grey Ghost Gear
SO Tech
Prometheus Design Werx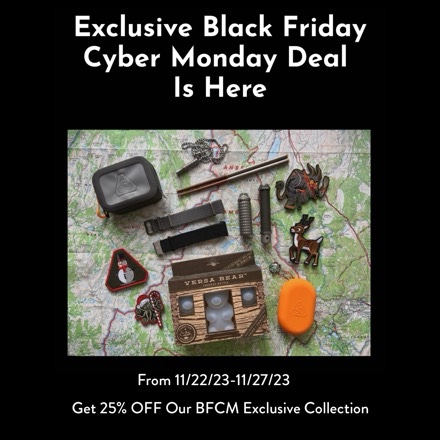 Gear from our BFCM collection is 25% off.
Orders over $150 before shipping made from BFCM Exclusive Collection, from 11/22/23-11/27/23, will receive a special and complementary Christmas Morale Patch + Christmas Mini-Fig.
** While Supplies Last**
Kitanica
Kitanica's Black Friday: Crafted in the USA, now 15% off!
Raptor Tactical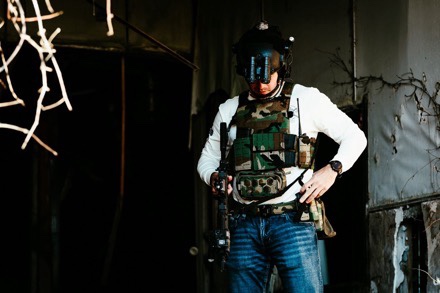 Thankful for you this Thanksgiving!
Don't miss out on our Black Friday sales this weekend using coupon code BLACKRAPTOR at check out!
UF Pro
UF PRO Announces Black Friday Deals
KOMENDA, SLOVENIA (23. December 2023) – Renowned tactical clothing manufacturer, UF PRO, is announced their Black Friday Sale, offering customers exceptional deals across its range of products. This year's Black Friday, starting on the 23rd of November, features a site-wide discount of 15% on all products, along with exclusive discounts of up to 30% on select items.
DISCOUNTED UF PRO BESTSELLERS:
Hunter FZ Gen.2 Tactical Jacket (-20% off)
The Hunter FZ Gen.2 Tactical Jacket by UF PRO offers versatile weather protection, designed to shield against icy wind, drizzle, and unpredictable weather while remaining lightweight and comfortable. Its functional pocket design and integrated ventilation make it ideal for outdoor and tactical activities.
P-40 All-Terrain Tactical Pants (-15% off)
The P-40 All-Terrain Tactical Pants boast durable construction with enhanced stretch panels for freedom of movement, reliable knee protection, and a spacious 9-pocket configuration for gear storage. They are adaptable for year-round use, ensuring long-term comfort and utility.
Striker XT Gen.3 Combat Pants (-15% off)
The Striker XT Gen.3 Combat Pants are designed for the most demanding military and law enforcement operations. They adapt to body changes with the Waist/Flex System and provide outstanding knee protection customizable for mission-specific movements. The pants feature 17 pockets for efficient organization, breathable stretch panels for comfort, and are reinforced with tough Ripstop fabric and CORDURA® for durability
Delta ComPac Winter Jacket (-20% off)
The Delta ComPac Winter Jacket is a lightweight yet robust choice for extreme cold weather. It features G-Loft insulation for excellent warmth and quick recovery after compression, a windproof and water-repellent face fabric, and a unique detachable Hood/Harness system for unobstructed visibility. The jacket can be compressed into its inner pocket, making it highly portable and always ready for use. Additional features include a fleece-lined collar, upper-arm Velcro areas, and insulated hood, ensuring both comfort and functionality in harsh conditions
In conclusion, UF PRO's Black Friday Sale presents a not-to-be-missed opportunity to stock on high-quality tactical clothing at lower prices. These products embody the fusion of innovative design, functional versatility, and durable construction that UF PRO is known for, meaning you can't go wrong with your purchase.
LA Police Gear
LAPG's Black Friday sale is here! Get 15% off sitewide, 20% off select brands, and doorbuster deals with code BLACKFRI23 at checkout.
Spiritus Systems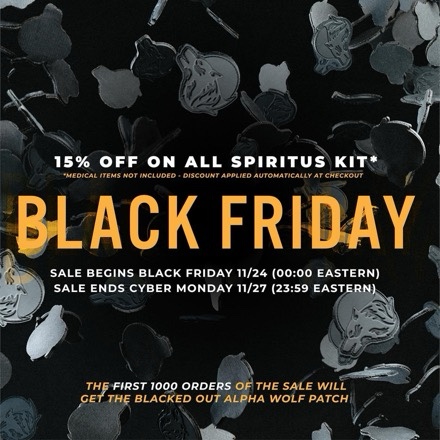 Platatac
Black Friday is here. Save up to 75% on selected items. And save 25% STOREWIDE on full priced items with code BLK25.
B E Meyers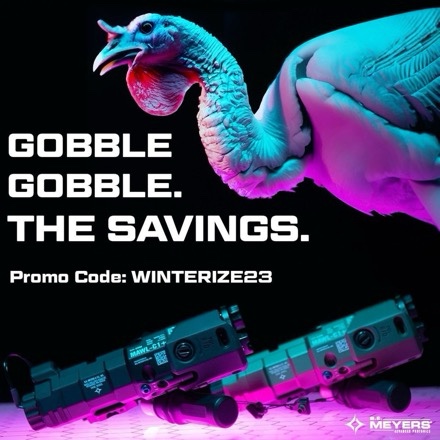 We've also added some more to inventory so get it while it's hot!
DON'T SLEEP ON THE SAVINGS
STAY UP ALL NIGHT WITH A NEW MAWL C1+
Log In and use code Winterize23
Aegis Kinetic Group
Beretta
Get 25% off on accessories, clothing and gear.
Tactical.Dev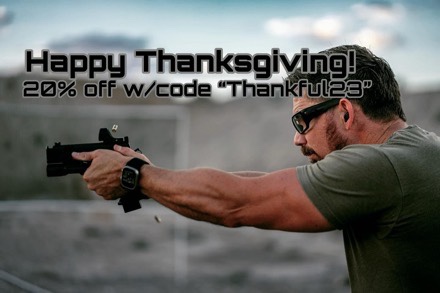 Centurion Arms
Hey there, hope you're gearing up for an awesome Thanksgiving with your crew. And while you're at it, don't sleep on our Black Friday deals – they're live and kicking, so go get 'em!
Grayman and Company
Grayman and Company is having an unprecedented 20% off everything discount this year for Black Friday. Sunglasses are low on inventory but backorders will be fulfilled in 2-3 weeks.
Discount code BLACK runs Nov 24-27.
Tracer Tactical
SALE IS LIVE – 20% OFF select items. Use code blackfriday2023 at checkout. Sale runs till Sunday at Midnight. Inventory is already going quick.
Snake Eater Tactical
Shaw Concepts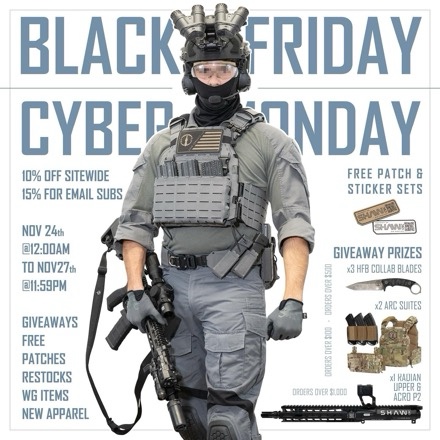 Imminent Threat Solutions
The ITS Black Friday Sale is now officially live and runs through November 27th! All items in the store are on sale for our lowest prices ever (up to 80% OFF) and you'll even get FREE SHIPPING on orders over $75!
Shop Now: store.itstactical.com
Big Tex Ordnance
gatdaily.com/merry-magpul-giveaway
Parashooter Gear
Early discounts for this Black Friday are still rolling! Everything is 15% off.
SHOP 15% OFF at Parashooter Gear
Arisaka
Sojourn Group
Eberlestock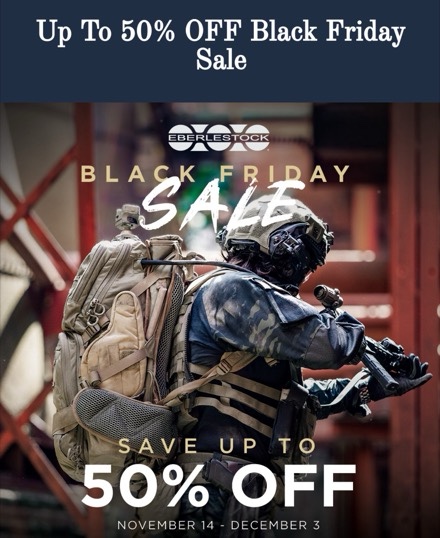 eberlestock.com/collections/black-friday-2023
Defense Mechanisms
Sparrows
Black Hills Designs
For Black Friday / Cyber Monday we will be offering 40% site wide sales on everything!!!
Plus, Buy one get one free all RANGE-R Card Products (40% off code does not apply to this so it's not 40% off and then another 50% off)
Capital Armory
Black Friday Sales Have Arrived!
There is still some time before the turkey is on the table, but we're starting our Black Friday sale early! This way you won't miss out, and you can spend your time with friends and family or at the deer lease instead of fighting for deals at the last moment.
For all silencers and firearms, you can save 5-15%. On top of that, select silencers also qualify for a $100 Capitol Armory gift card!
If that isn't tempting enough, we're also offering a few suppressors with free tax stamps instead of the percentage discount.
T.Rex Arms
Wednesday November 15 – Newsletter Subscriber Only sale begins for Kydex Products Only
Wednesday November 22 – Newsletter Subscriber Only sale begins for Sitewide Products
Friday November 24 – Public Sitewide sale begins
Monday November 27 – Black Friday sale ends for everyone.
Sale includes most products on our website from Armor, Night Vision, Nylon, Lights, Medical, Optics, and Rifle/Pistol Accessories. Discounts range from 5% to 60% off.
Suppressortools.com