The Aevex® website describes the technology like this, "Aevex® is the seamless consolidation of complicated functions into a single textile panel that is sewn into apparel like an extra layer of fabric. These panels are light, ultra-thin, and flexible. Each contains heating materials, electronics, and a fully integrated, flexible and rechargeable energy source."
The concept is called Intelligent Heat™ and utilizes a proprietary polymer in the sandwich of materials to sense temperatures across the entire grid and heat the areas that need it. As your hands warm up to body temp, they stop wicking heat away from the polymer and heat production within Aevex® goes down.
So far both Mountain Hardwear and Outdoor Research have integrated the technology into gloves but Aevex® intends to integrate the technology into jackets and footwear by next year.
At $300 for Mountain Hardwear's Red Savina Glove and an MSRP of $259 for Outdoor Research's PrimoVolta, the technology isn't cheap. Additionally, after four to six hours of use you have to plug the gloves in to a wall outlet to get a recharge so it probably isn't quite ready for the troops, at least yet. I do however, see an immediate possibility for this technology for Helo crews if it can be integrated into an FR shell since they have access to onboard power.

Mountain Hardwear Red Savina Glove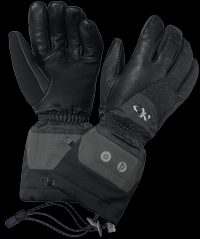 Outdoor Research PrimoVolta Gloves
For more information contact Aevex®.
Images from Aevex®.
Tags: Mountainhardwear, OR