SKD is offering a new line of products called Patrol Incident Gear (P.I.G.) which are manufactured by Eagle Industries. The first product is a Plate Carrier based on the Eagle Plate Carrier with Cummerbund. It is currently available in a pre-production variant exclusively in Multicam. It is offered a deep discount and user feedback will be incorporated into the final design.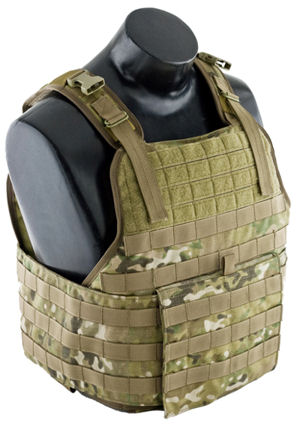 Here are the main features:
– Internal Plate Harness Will Accept Any Size Plate
– Rear Lumbar Pad
– Front and Rear Velcro Covered PALS
– Larger Side Plate Pocket to Accommodate Up to 6″ x 8″ Plates
– Integrated Sling Attachment for Forth Coming PIG Sling
The PIG Plate Carrier can be ordered from SKD Tactical. Patrol Incident Gear has a splash page up here.
Photo from SKD Tactical.