In Commonwealth militaries, the troops use what is called a "Tactical Aide Memoire" or TAM, a sort of checklist on steroids. We have checklists in the US military and some are even standardized, often operation specific but we have never seemed to adopt them to the same level as the other English speaking countries. Additionally, they have the best issue Field Message Pads, built to last and with gridded pages perfect for making sketches and writing out messages. Us? Not so much unless you want to invest your own money.
CP Gear has developed a new Field Message Pad holder designed to accept your checklists and notebook and organize them so that you can use them together. That's right, one setup and you can reference your SOPs and write everything out from one cover. It has a 20 page checklist protector on the exterior (empty checklist sleeve is included), and a zippered notebook cover (notebook not included) sized to fit the green 'Federal Supply Service Book, Memorandum' – NSN 7530-00-222-3521 used by so many US personnel. The notebook and checklist book can be accessed independently from one another or at the same time. With this, there is no need to rely on the heavy and bulky 'Flight Crew Checklist' used by many for SOP lists like 9 Line Medevac, IED Reports, and so forth.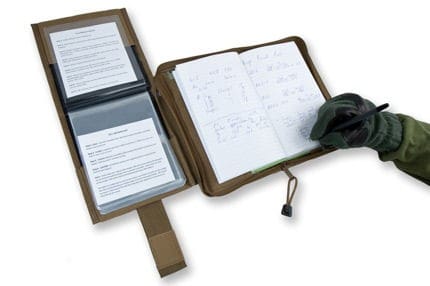 Available in Black, Coyote Brown, UCP, and MultiCam from CP Gear.
Tags: CP Gear