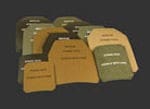 BAE held a ceremony yesterday at their Phoenix, Arizona facility to celebrate the production of their millionth hard armor insert for the Department of Defense. These include the Small Arms Protective Insert (SAPI) as well as the newer generation Enhanced or ESAPI and Next Generation XSAPI plates as well as smaller Side variants.
"A hard armor insert helps protect a warfighter's vital organs and has been proven as a critical lifesaver on the battlefield. Our employees come to work each day knowing that the work they do could save a life and bring a loved one home to their family," said Joe Coltman, vice president of BAE Systems' Protection Systems. "Manufacturing one million of these plates is a significant milestone for BAE Systems and its employees to achieve. It brings into perspective the number of lives we are protecting."
On hand for the celebration were U.S. Rep. Ed Pastor (Dem, AZ), COL William Cole, Program Manager for Soldier Protection and Individual Equipment, LTC (P) Jon Rickey, Product Manager for Soldier Protective Equipment and COL John Womack, Commander for the Defense Contract Management Agency in Phoenix.
Tags: BAE Systems