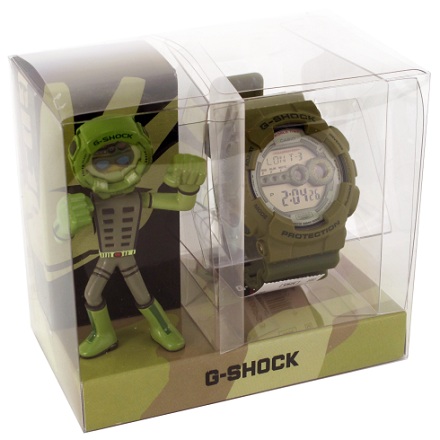 With its mix of olive drab, coyote and khaki coloring, the G-Shock Military Play Set LE Watch looks very much like a tactical watch, and its ruggedness and large volume of features help to further this claim. The Military Play G-Shock is shock resistant, water resistant up to 200M, features a high-intensity LED and a large digital display area. Its powered by a CR2025 battery with an approximate life of 7 years. It can be programed to display up to four different cities' times, from a list of 48 cities spanning 31 time zones, with city code display and full DST support. Additionally, this watch also features 5 independent alarms, a stopwatch that measures down to 1/100th of a second, a countdown timer that measures down to 1/10th of a second, and a full auto calender (pre-programmed until the year 2099). Of course, it can also display local time in either a 12 or 24 hour format that is accurate to within +/- 15 seconds per month.
And before you ask, yes. You also get the cool G-Shock action figure as part of the package.
Available exclusively* through Tactical Distributors
*in regards to tactically inclined retailers
Story originally posted on TacticalFanboy.com.