Late last month, the US Army officially banned the wearing of Vibram's Five Fingers and other similar barefoot running brands that feature, "five separate, individual compartments for the toes," as they, "detract from a professional military image."
This edict was passed down from on high through an ALARACT (241/2011) message.
SUBJECT: MODIFYING WEAR OF IMPROVED PHYSICAL FITNESS UNIFORM (IPFU)
1. THE PURPOSE OF THIS MESSAGE IS TO MODIFY THE EXISTING WEAR POLICY FOR THE IPFU.
2. THERE ARE A VARIETY OF MINIMALIST RUNNING SHOES AVAILABLE FOR PURCHASE AND WEAR. EFFECTIVE IMMEDIATELY, ONLY THOSE SHOES THAT ACCOMMODATE ALL FIVE TOES IN ONE COMPARTMENT ARE AUTHORIZED FOR WEAR. THOSE SHOES THAT FEATURE FIVE SEPARATE, INDIVIDUAL COMPARTMENTS FOR THE TOES, DETRACT FROM A PROFESSIONAL MILITARY IMAGE AND ARE PROHIBITED FOR WEAR WITH THE IPFU OR WHEN CONDUCTING PHYSICAL TRAINING IN MILITARY FORMATION. THIS CHANGE WILL BE REFLECTED IN THE NEXT UPDATE OF AR 670-1.
For uniformed Five Fingers fans this must come as quite a blow. Fortunately, Vibram, makers of the famed Five Fingers foresaw issues with their unconventional footwear and developed specialized soles that mimic the benefits of their compartmented models. Currently, both New Balance and Merrell have released numerous barefoot running models. For instance, the Minimus from New Balance comes in a very Army-esque Black and Yellow. What's more, they have a reflective logo. How could a 1SG say 'No" to that?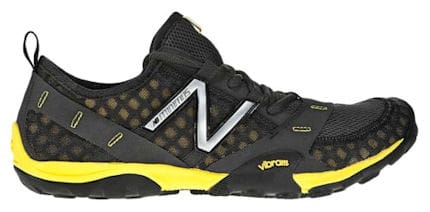 In spite of the Army's decision, you can still wear Five Fingers while training out of uniform. Additionally, you can always explore alternatives.
Finally, while I support the Army's decision for the sake of uniformity, once again, it's yet another case of the Army's leadership ignoring their institutional process of change (the Army Uniform Board) and making unilateral decisions about the uniform. From a leadership standpoint, this just doesn't cut it. You don't put a process in place and then ignore it when the mood suits you. How can you discipline Soldiers for doing the same thing? The new CSA and SMA both need to both conduct an azimuth check and take a look at the message they send when they ignore the "rules."
Tags: Army, Merrell, New Balance, Vibram