The Crye Precision GunClipâ"¢ is already a very specialized piece of kit. It is precision molded in order to carry a Glock (17, 19, 22, and 23) and not necessarily intended for EDC. Rather, the point of the GunClipâ"¢ is to keep a light or suppressor equipped Glock at the ready. Due to it's unique draw stroke, it is particularly effective when mounted to a chest rig. Additionally, it features a unique, patent pending attachment system that is adjustable for cant as well as width to accommodate a belt or PALS webbing.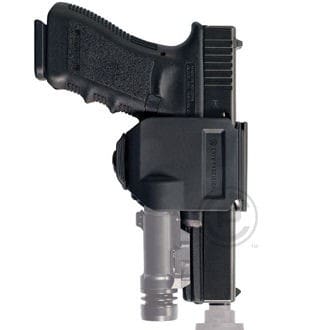 Unfortunately, we were just alerted to a fake version of the holster that has been hitting the market. Intended for the Airsoft market, there is some concern that it will be purchased by someone who thinks they are getting a really good deal. While the two items do look alike, there are a couple of telltale signs that will let you know you have a counterfeit item. First, the name on the item will be "Crye Drecision" or just "Drecision" with the Crye portion blotted out. Additionally, it may give off an oily smell. Finally, it may be more flexible than a normal molded holster. In fact, this is the most dangerous aspect of the knockoff. Not only is there a danger of it not properly retaining the pistol due to the materials used, the belt attachment system is missing the teeth in the adjusters and after time may lose its grip on the belt or PALS webbing.
If you are the sort of person who has an actual need for a GunClipâ"¢ then go ahead and spend the extra few bucks to get the real McCoy. Remember, buy quality, cry once.
Tags: Crye Precision