I was recently invited out to C2 Shooting Center in nearby Virginia Beach to check out High Threat Concealment and in particular, their Low Profile System. Right out of the box, I have to say that everything they do is well executed. I'd venture to say that with molded holsters and accessories, it's either great or it sucks. HTC is definitely on the great side of the scale. It's not just the quality of their products. They've done some things that no on else has.
HTC was founded by James Overton and Adam Garrison who bring a combined background of military, law enforcement and diplomatic protection to develop a line of holsters and accessories. One thing that makes their line different is that the entire kit and caboodle was developed for duty use, but in environments where the gunfighter has to maintain a low profile. This isn't modified 3-gun gear. For instance, you'll notice that the pouch grips higher on a magazine or other piece of kit. After all, you don't want it falling out. On a range it can be embarrassing, in a gunfight; deadly.
The Low Profile System is a modular design consisting of a series of interconnected components that can be tailored to the user's preference. Once configured, you can thread your belt through the system. HTC has a couple of really cool surprises coming soon that will make it even easier to integrate with a variety of profiles, from full on combat equipment to the lowest of profile close personal protection detail.
The LCS comes standard with 1 HTC Dual Pistol Mag Holder, 2 HTC M4 Mag Holders, 1 HTC Blowout Kit, 1 HTC Gen 2 Radio Holder, and 1 HTC Gen 2 Pistol Holster. However, it can be modified with addition or removal of components. When ordered in its full configuration it is offered at a discount.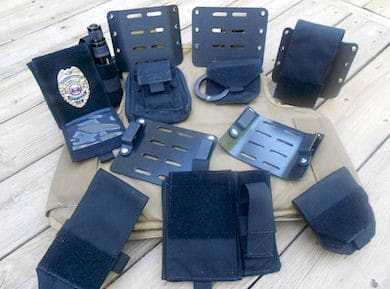 One of the coolest things they have developed is the Modular Accessory Panel. It is a platform that is PALS compatible and will also accept HTC's line of pouches including an innovative cutaway IFAK. Other available pouches include a universal handcuff pouch; a cell phone / camera pouch; a flashlight / admin pouch with flip down ID & badge holder; and a shotgun shell pouch that will hold 8 shells.
Additionally, the Gen 3 Radio Holder is pretty innovative. It holds the radio backward so you don't inadvertently change the radio's settings.
It's important to note that while everything is designed to be used as a system, any component can be used alone or with other pieces in virtually any combination. In fact, a couple of agencies have already adopted individual components. I picked up one of their G21 OWB holsters for my new FDE Gen 4 and it's a great fit, bot for me and the pistol.
There's no way to cover this entire system in a single article. But if there's one take away, it's this; modularity is key. We insist upon it in a warfighting load, but not in a concealable system, until now. Also, as of right now, wait times are only 3-5 days. But, as their name becomes more well known, I don't think that will last.
Black is standard but other colors available on request.