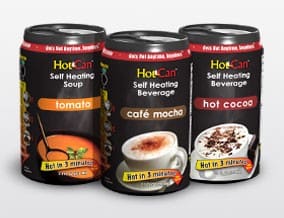 Visiting Wild River Outfitters today in Virginia Beach we ran across Hot Can. It's a self-heating can of soup, coffee or hot chocolate. We picked up a few cans to try them out and thought we'd share our impressions.
First off, the instructions are simple, but like with any equipment, it's best to figure out how to activate the thing when you aren't freezing in the cold. For example, they tell you to turn it upside down and peel off the bottom label but you can easily push right through it to activate the heating element. Just shake it gently to mix everything up and once the indicator button changes color, you're ready to go. When you flip it back over and remove the cap don't toss it. You'll want to replace it once you flip the soda can style opener so that you don't burn your lips on the can. Admittedly, this was a little messy.
The sample was Cafe Latte but it really tasted more like mocha. Not sure what that was all about. Tasty, not unpleasant, but not what we were expecting. We've also got hot chocolate and tomato soup so we'll let you know how those go on our next outing.
It's worth keeping a couple around in the car during the winter or for other vehicle-borne ops. It's kind of heavy to be carting around a premixed beverage with heater so I wouldn't carry it in a pack. You'll make better use of your fire making and water filter materials along with some coffee or bullion and a canteen cup. Lots more versatility there if you are living out of a pack.
They were $2.99 each so you are paying for expedience and convenience. Some will. Some won't. Like I said. In a car during winter, it might be a welcome relief, absent a full survival kit.
Like other prepackaged self-heating ration items, Hot Can has its place. Check it out at hot-can.com.
Tags: Hot Can