This is the coolest thing I didn't get to see at AUSA. Unfortunately, the sample didn't arrive at the show but I still get to share it with you thanks to the power of the internet.
The SOCP Knife (Special Operations Combative Program) is a dagger design from Chief Instructor Greg Thompson and manufactured by Benchmade. The design has been out there for awhile so you may have already seen it. However, Benchmade just introduced a new model with a ComboEdge blade. The dagger is designed to be both an offensive and defensive weapon so if you're wrapped up or someone grabs your primary weapon in a confined space (think house or cave) you can draw the SOCP to engage at close quarters and fight away from the threat to give you enough room to revert to primary or secondary weapon. The blade and finger eye/loop at the top is configured so you can still maintain positive weapon control and good trigger manipulation while the SOCP Knife is in your hand. I've written about this before and since some folks have trouble visualizing it, Benchmade created this graphic.
The deal with this new ComboEdge is that the original model was great at stabbing but, lacking a full blade, didn't do much in the slash department. Benchmade added this new serrated section to the blade and presto; you can hack and slash as well as stab.
In addition to a MOLLE compatible sheath, the SOCP Knife is also available with a red training knife.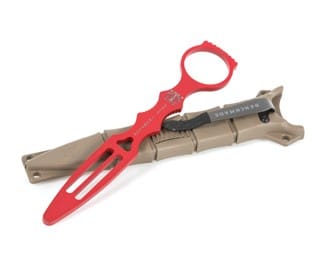 Tags: Benchmade, Greg Thompson, SOCP