By: Alan "Thumpy" Covey – Thumpy's 3D House of Airsoft
American gun enthusiasts hear the word "airsoft" and think toy-like plastic or very fragile pot-metal guns, built mainly in Asia; guns not able to hold up to the rigors of serious training, handling, use or abuse. But, that has been changing…and is about to get two new boosts from a pair of US companies that couldn't be any different from each other. But, both are 'bullish' that they have innovative ways to change the American marketplace.
A quick primer: Airsoft is primarily one caliber – 6mm plastic BB's, pushed out of smoothbore guns by compressed air. Right now, the foremost systems are called Air Electric Guns or AEG's, which use gears, a piston, cylinder and spring, powered by a DC electric motor and battery to propel BB's downrange. A competing system (GBB – Gas Blow Back guns) use high pressure gas to do the same thing. Both models can simulate recoil "kick" and some even field-strip like their one-to-one "real-steel" counterparts…the current fascination with airsoft as a war-games tool and even as a safer-alternative training gun for firearms enthusiasts.
But TIPPMANN Sports, a leader and innovator in paintball guns for decades, and new startup WOLVERINE AIRSOFT are about to bring the manufacture of two gas systems back to airsoft's roots in high-pressure air…and, build their products in the USA.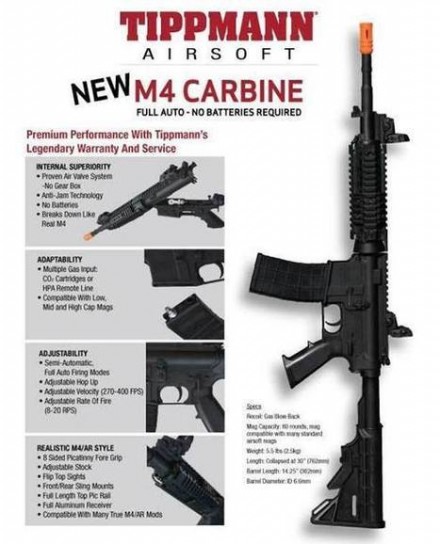 TIPPMANN announced at last week's Paintball Extravaganza event in Virgnia their entry into airsoft, the M-4 carbine…a clone of most AR-style guns with the guts of their highly reliable and rugged paintball markers reworked to fit inside a 1:1 scale upper and lower that will accept most real M-4 grips, stocks, rails/hand guards and accessories. Powered by 12-gram co2 capsules inside the 80-round magazines, the M4 will also alternately use regulated air tanks and current AEG airlift magazines.
Most important to their US market position is TIPPMANN's established parts, service and distribution networks, and the brand reputation for rugged reliability that might find a true market as training arms for military or Law Enforcement agencies, many of which already use paintball as force-on-force training guns, or for pepperball devices in detention facilities. Expect a summertime release for a product that's already gaining near-viral attention in paintball AND airsoft circles.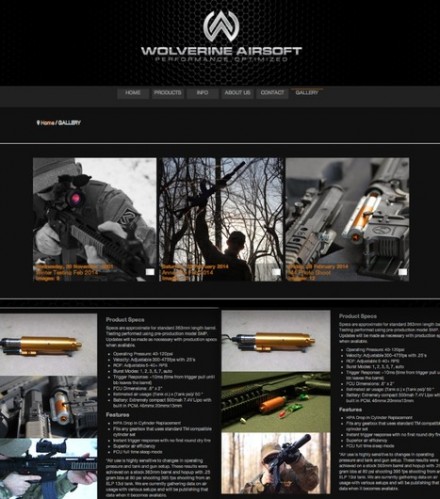 Meanwhile, from Tennessee comes WOLVERINE AIRSOFT with a more basic and elegant engineering idea. Why replace all those existing AEG airsoft guns, when you can drop-in a replacement cylinder with ONE moving part! Called the SMP, for "Single Moving Part," this system will use High Pressure Air in backpack tanks, regulated with an electronic trigger assembly. That takes the finicky and often-troublesome guts & gears out of the 1970's Japanese technology of today's AEG, yet keep their upgraded and more-modern outer shells, which have been getting better and better with age and materials-technology improvements.
A third American company, Delaware-based PolarStar Airsoft has had a more-complete HPA system on the market for several years now, called the Fusion Engine. But, judging from the viral social media reactions, there is probably room in the USA market for all three American entries. A trio that will "bear much watching" as 2014's spring and summer release dates approach.
Stay up to date on all of America's Airsoft news at Thumpy's 3D House of Airsoft on SCOOP.IT: www.scoop.it/t/thumpy-s-3d-house-of-airsoft-scoop-it
Tags: Thumpy Covey, Tippmann, Wolverine Airsoft