The Kestrel® 4400 provides waterless WBGT measurement and displays on-screen warnings when environmental conditions put athletes at risk.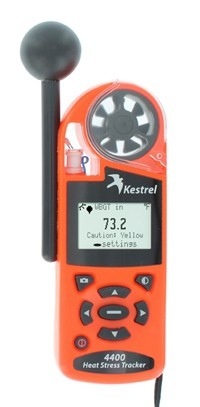 Boothwyn, PA – April 16, 2014 — Long distance runners have a lot to be concerned about when exercising in hot environments. Environmental factors like temperature, humidity, wind speed, solar radiation and indirect radiation from surfaces play a significant role in an athlete experiencing exertional heat stress or other medical problems. This can be particularly true when an early season event is affected by unusually high temperatures and runners have not had an opportunity to become acclimatized.
The 2012 Boston Marathon experienced an unusually hot day, resulting in the Boston Athletic Association (BAA) allowing runners to choose to defer their entries or to run at a slower pace. This situation resulted in the BAA evaluating the best way to monitor heat stress conditions during their premier endurance event. To do so, the BAA partnered with the Natick, MA based US Army Research Institute of Environmental Medicine (USARIEM) to evaluate available methods for monitoring heat conditions and providing guidance for athletes and emergency personnel. One of the tools the USARIEM team will be deploying for their monitoring program at this year's race is the Kestrel 4400 Heat Stress Tracker.
The Kestrel 4400 Heat Stress Tracker is a handheld or tripod-mountable portable instrument that provides waterless readings of Wet Bulb Globe Temperature (WBGT), the most widely- used measure of physiological heat stress in an environment. After first validating the accuracy of the Kestrel 4400 Heat Stress Tracker in the USARIEM environmental chambers, the USARIEM team will be taking measurements at three locations throughout race day and comparing these "ground truth" readings with alternative methods for calculating WBGT. Based on their study, USARIEM hopes to be able to provide the BAA and other endurance event organizers with recommendations on the best way to monitor heat stress conditions at events.
The Kestrel 4400 helps athletic trainers, military trainers, emergency staff and scientists get real-time information to monitor environmental conditions such as heat index, relative humidity, temperature and most importantly WBGT. WBGT is an aggregate environmental measurement that combines ambient temperature, humidity, sunlight, radiant heat and wind into a single number that can be referenced to published guidelines to increase safety and preparedness for hot weather activities. The American College of Sports Medicine provides the following WBGT guidance for endurance events: when WBGT exceeds 65°F, warn entrants of increased heat illness potential; if WBGT is over 73°F, recommend entrants adjust their normal pace or withdraw if at risk; if WBGT exceeds 82°F, cancel event or recommend voluntary withdrawal. The Kestrel 4400 has user-settable warning zones that can be set up to trigger when WBGT passes these thresholds, helping to ensure that event personnel are aware and prepared when the chance of exertional heat stress and adverse medical events rises.
The Kestrel 4400 is also a full environmental weather meter, offering readings of all meteorological measurements and can be Bluetooth® enabled. Sealed to IP-67 standards and drop tested to MIL-STD-810G, the Kestrel 4400 is built to stand up to real-world conditions.
www.nkhome.com/kestrel-products/instruments/kestrel-4400-heat-stress-tracker-orange-no
Tags: Nielsen-Kellerman