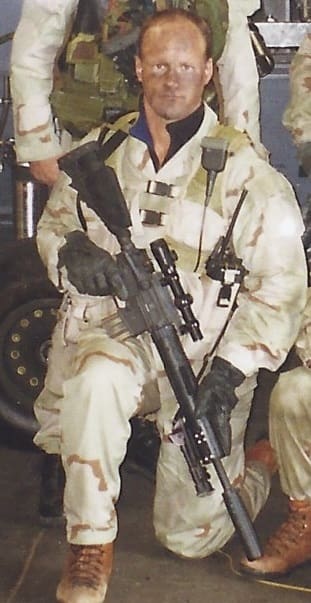 I get more questions about the "Black Gun" with a suppressor than any other weapon that I post. I called this black beauty my Recce Rifle, which the unit armorers could take an ordinary M-4 with a 16″ barrel and make it shoot 1/2 MOA groups at 100m. As a sniper, I chose this gun from my gun lockup over the other dozen guns if I needed a light weight, precision instrument for a mission that I could also use as an Assault Rifle inside a structure if needed. The suppressor was made by Knight's and never failed me, but as much fun as these suppressors are to shoot, the extra cleaning balances it out.
Respectfully,
Daryl Holland, US Army SGM (Ret)
Larry Vickers offers these additional observations:
The early Recce rifle efforts started in the Delta Sniper Troops in the early 1990's – post Operation Just Cause timeframe.
A variety of things were tried (such as stainless steel match barrels) but the improvements narrowed down to a few areas; improved ammo, improved triggers, a variety of optics and lastly free float hand guards and eventually rail systems. These efforts pre date the Mk12 in NSW use by many years.
Knights Armament played a big role with development of both enhanced triggers and free float rails coming out of this program. Reed Knight said from an early stage that better ammo would yield much better results than match barrels and he of course was correct. Delta pushed forward with acquiring better ammo that has led to much of the specialized 5.56mm ammo on the market today. Black Hills and Hornady both offer loadings as a direct result of these efforts.
The rifle shown in this picture had an early SR-25 carbon fiber free float tube adapted to it. This became a common modification in Delta to get more real estate for lights and lasers and better zero retention vs the carbine length KAC rail. This led to the development of the KAC MRE rail which was the first extended length rail of its kind.
Also the scope in this pic is a Microdot – a Japanese 1.25 x 4 off the shelf commercial grade scope that had a red dot in addition to a reticle. This was a stop gap optic after the need arose in Mogadishu Somalia for better target ID vs a red dot sight in the street fighting of that battle. Eventually Leupold offered an optic ( the CQT) at Deltas request to fill this need. It didn't really answer the mail for Delta so I approached Schmidt & Bender on the Units behalf to build a more suitable optic. This is how the S&B Short Dot was born.
Delta played a critical early role in the SPR program ( later Mk12) that we know of today. In typical Unit fashion they did it quietly without books, movies and public spectacles of 'who shot who' played out for the world to see. The True Quiet Professionals.
-Larry Vickers, US Army MSG (Ret)
Vickers Tactical Inc.
Host of TacTV
Gunfighter Moment is a weekly feature brought to you by Alias Training & Security Services. Each week Alias brings us a different Trainer and in turn they offer us some words of wisdom.
Tags: Alias Security and Training Services, Daryl Holland, Larry Vickers, LAV, Vickers Tactical