PEO Soldier has recently announced several leadership changes at the PM level, which occurred over the summer months. Information from these announcements is included below.
First up is COL Dean M. Hoffman IV, replacing COL Robert Mortlock as PM Soldier Clothing and Individual Equipment on June 26th at Fort Belvoir, Virginia in a ceremony presided over by BG Brian P. Cummings, Program Executive Office Soldier.

COL Dean M. Hoffman IV, foreground, prepares to assume responsibility of Program Manager Soldier Protection and Individual Equipment during a June 26 change-of-responsibility ceremony at the Belvoir Officers' Club. BG Brian P. Cummings, center, presided over the ceremony. COL Robert Mortlock, outgoing PM SPIE, is on the right.
COL Hoffman is from Pennsylvania and graduated in 1991 from Lycoming College, with degrees in both Business Economics and Business Administration. He served in Bosnia-Herzegovina, Korea and in the 10th Special Forces Group (Airborne).
In 2001, COL Hoffman joined the Army Acquisitions Corps and obtained a Master of Science in System Acquisition Management from the Naval Postgraduate School. He then served as a Dismounted Warrior Branch Chief and Military Deputy for Human Factors and Integration Division in the Army Research Laboratory's Human Research and Engineering Directorate.
After completing the Command and General Staff College in September 2004, COL Hoffman served as Program Manager Communication Intelligence and Sensor Systems under Program Executive Office Intelligence, Electronic Warfare & Sensors. Additionally, he served as the Assistant Program Manager Airborne Signals Collection Systems working in direct support of Special Operational Forces Special Mission Units.
In 2007, COL Hoffman was assigned as the Rapid Equipping Force APM for Operation and Test. He deployed in support of the Asymmetric Warfare Group during Operation Iraqi Freedom.
Upon promotion to lieutenant colonel, COL Hoffman served in a variety of positions at the REF to include Product Manager Rapid Improvement Initiatives, Operations Support Team Chief-Afghanistan and REF Chief of Contracting. He returned to PEO IEWS where he served as Product Manager Manned Aerial Reconnaissance and Surveillance Systems, and Chief of Staff.
Next up, COL Brian C. Stehle whose change-of-charter ceremony of PM Soldier Weapons was on August 3rd from retiring COL Scott C. Armstrong. The ceremony was officiated by PEO Soldier, BG Brian P. Cummings atP Picatinny Arsenal.


COL Brian C. Stehle addresses the audience after assuming responsibility of PM Soldier Weapons.
A Sandusky, Ohio, native, COL Stehle is a career Army aviator who most recently served as Product Manager for the Apache Block 3/Apache Development and Modernization under the Program Executive Office Aviation at Redstone Arsenal, Alabama.
Finally, on September 30th, COL Ed Barker assumed responsibility for PM Soldier Warrior from COL Gordon T. Wallace in a ceremony at Fort Belvior's Officer's Club.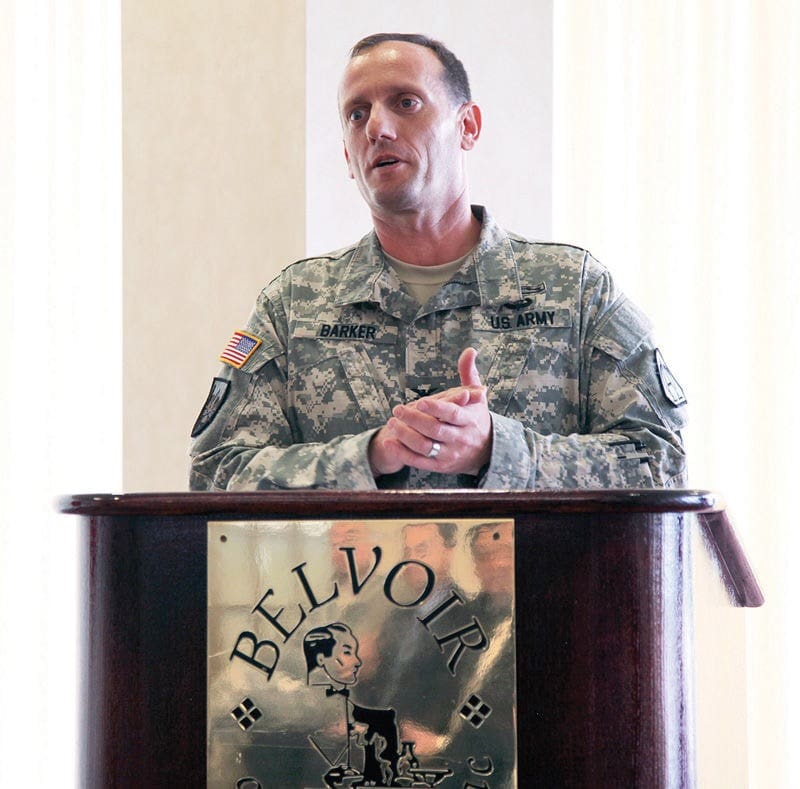 The Honorable Heidi Shyu, Assistant Secretary of the Army for Acquisition, Logistics, and Technology, was present to congratulate her former executive officer, a position COL Barker had before assuming the position of PM SWAR.
COL Barker hails from Minford, Ohio, and studied at Marshall University and received a bachelor's degree in business administration before receiving a master's of science in management from Florida Institute of Technology. He recently graduated from the National Defense University's Eisenhower School where he earned a master's of science in national resource strategy.
Congratulations to all of the new leadership at PEO Soldier.