If you've served in the US military over the past decade, chances are good you've eaten a Ready To Eat Sandwich or two from Bridgford.
The military required a shelf-stable sandwich which had a three-year shelf life and tasted great on day one or day 1,095. Manufactured in Statesville, NC, these sandwiches are incorporated into the "First Strike Ration". The Bridgford Ready to Eat Sandwiches weigh 3.5-oz and the Wraps weigh 2.2-oz. No refrigeration or water is required, and the product has a three-year shelf life from date of manufacture if maintained at 80 degrees F or less. The Sandwiches can even be stored consistently at 100 degrees F for up to six months. The product's shelf life is achieved through a combination of packaging and formulation.
Bridgford currently offers six varieties of Ready to Eat Sandwiches (BBQ Beef, Sweet & Spicy Chicken, Italian Style, Filled French Toast, Cinnamon Bun and Apple Turnover) and two varieties of Ready to Eat Wraps (Mexican Style beef and Barbecue Pork) in 2-count packages. There are eight twin-pack sandwich packages in a case. On average, the meat-filled sandwiches and wraps provide 336 calories per serving and 13 grams of protein.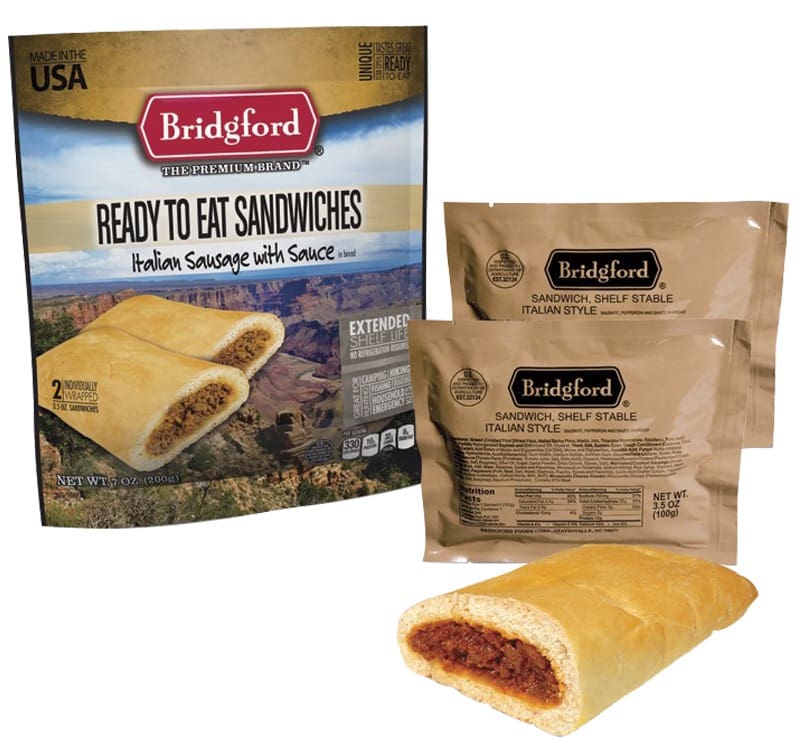 The Bridgford Ready to Eat Sandwiches and Wraps are designed to be eaten straight from the pouch; simply tear the pouch open at the tear notches, remove the sandwich and enjoy. The sandwiches may also be heated in several ways: by using an MRE/Flameless Heater, by immersing the unopened pouch in boiling water for approximately six minutes, or by removing the sandwich from its pouch and microwaving it on high for 20 to 30 seconds or heating it in a toaster oven at 350 degrees for 8 to 10 minutes.
Check them out at OR Summer Market, this week in SLC, UT.
Tags: Bridgeford