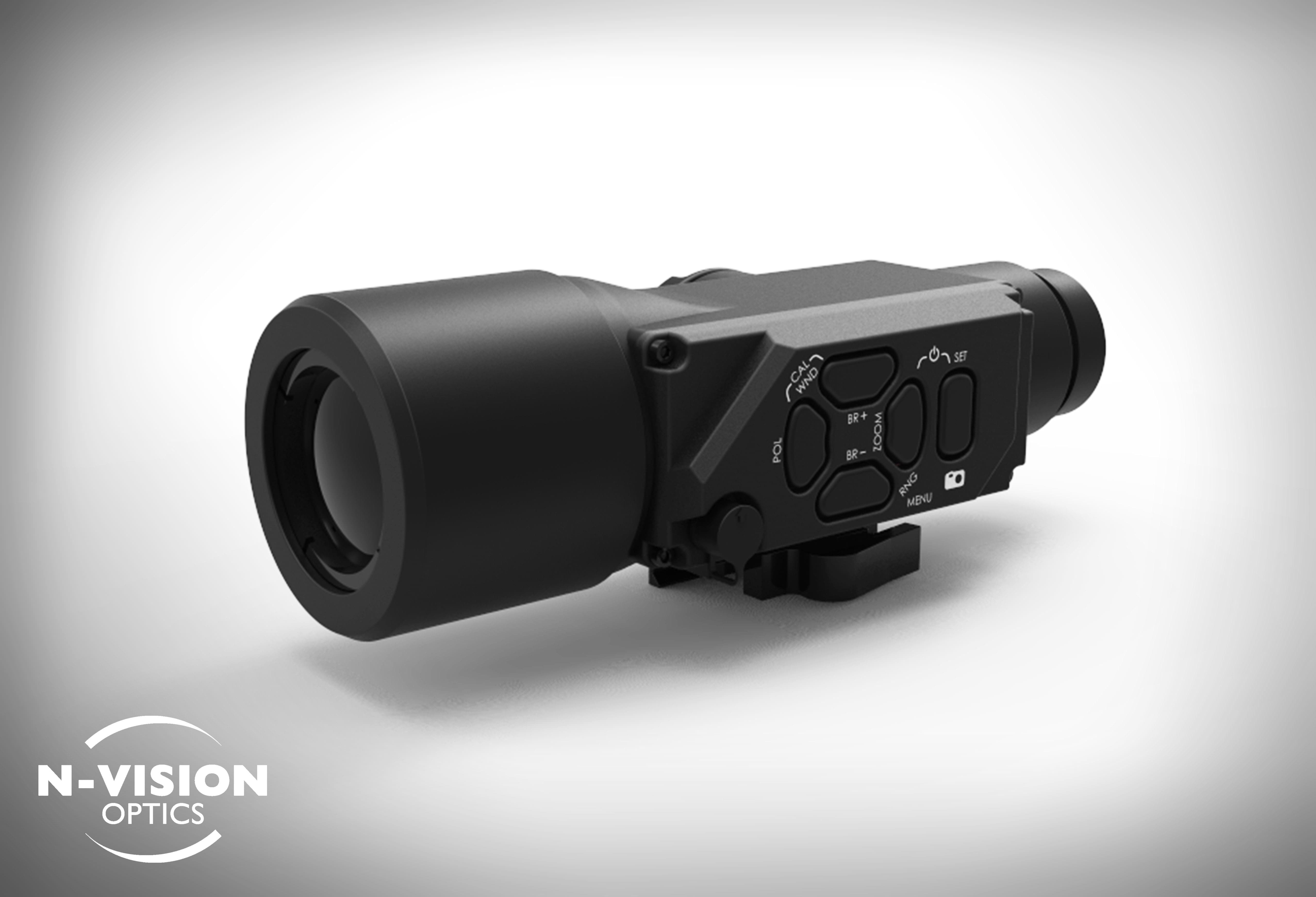 N-Vision Optics is proud to present our latest models of streamlined Thermal Clip-On Weapon Sights. Building upon our original TC series, the newly developed TC35A and TC50A models offer increased performance, enhanced modular design, and a considerable decrease in weight. Through a combination of optimally modified optics and superior programming, both TC50A and TC35A provide wider compatibility with day optics of various magnifications. Constructed of durable, glass filled, molded plastic, and weighing in at just 696g and 831g respectively, the TC35A and TC50A provide operators with a modular and incredibly lightweight Thermal Clip-On while maintaining first-rate, rugged construction.
The TC Clip-Ons attach in front of the day scope on a MIL-STD-1913 (Picatinny rail), allowing the flexibility to use the sight on multiple weapons. The TC Clip-Ons are fully collimated to maintain boresight with the day optic, eliminating the need to re-zero, when attached or detached from the weapon. Additionally, N-Vision Optics' Thermal Clip-Ons can be used effectively with day scopes with magnification of up to 10X or more. The sights can also be used as stand-alone thermal weapons scopes. The units feature four user-selectable reticle patterns with corresponding controls for zero, color, brightness and contrast and are compatible with a variety of weapon systems.
N-Vision Optics' TC50A and TC35A provide operators with a significant advantage in detecting, observing and engaging targets in all conditions day or night. The TC Series Clip-Ons feature ergonomic and clearly marked, intuitive digital controls, which make it easy to operate and navigate the device via the digital user interface. In order to meet the needs of all end users, the user interface of the TC-Series can be configured in multiple languages, one of a number of features which makes N-Vision Optics' TC Thermal Clip-Ons stand out among the competition.
See below for more key specifications:
TC35A:
Detector Resolution: 336×256
Detector Pitch 17 Micron
Frame Rate: 30/60
Reticles: 4 user selectable reticle patterns
Digital Zoom: 2x, 4x
Polarity: White hot/black hot
Dimensions (mm): 201 x 82 x 80
Weight: 696 grams
TC50A:
Detector Resolution: 640×512
Detector Pitch 17 Micron
Frame Rate: 39
Reticles: 4 user selectable reticle patterns
Digital Zoom: 2x, 4x
Polarity: White hot/black hot
Dimensions (mm): 231 x 82 x 80
Weight: 831 grams
For more information about the TC Series Clip-Ons or other products from N-Vision Optics, be sure to visit our website at www.nvisionoptics.com.
Tags: N-Vision Optics