New dry suits and updated technologies will be on display
Bellingham, WA – Mustang Survival®, the North American manufacturer of innovative solutions for the most demanding marine environments, will be debuting several new pieces of gear and apparel at this year's SHOT (shooting, hunting and outdoor trade) Show at The Safariland Group booth #12762, including the design-award-nominated EP Ocean Racing Series and new dry suits in the brand's Sentinel™ Series.
"Designing and manufacturing the most innovative gear possible for those who protect us is a mission we undertake with an immense amount of pride and respect for those we're serving. Every product considers the user's mission, comfort and safety, and we're disproving the old adage 'ounces are pounds, and pounds are pain'," states Brian Dalgliesh, manager, Military Channel for Mustang Survival.
Exclusive to Mustang Survival, the Sentinel Series dry suits feature:
-Mobility Based Sizing™ – offers users a semi-custom fit that reduces bulk and increases mobility without the custom price tag
-Rapid Repair Technology™ – now extended to socks, in addition to neck and wrist seals, enables field repair in less than an hour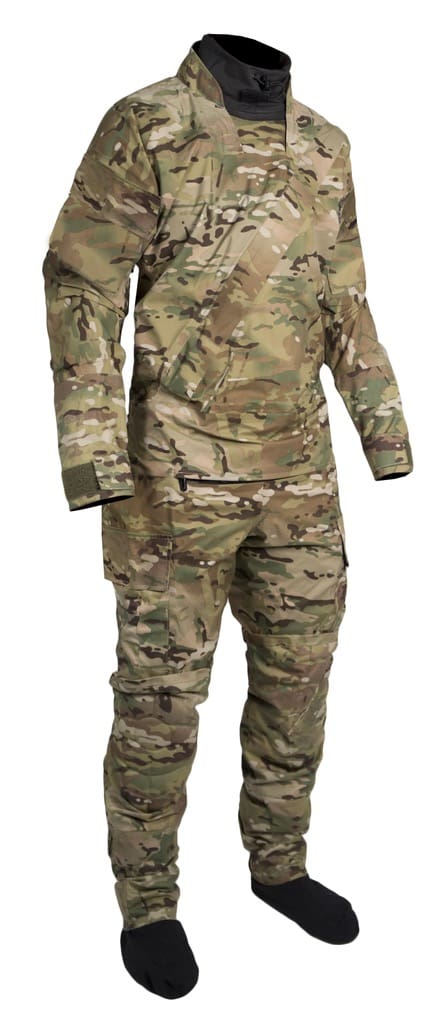 Sentinel Series Lightweight Special Operations Dry Suit. Weighing roughly 4 lbs, this is the lightest and most breathable surface operations dry suit on the market. Keeping the operator both safe and dry, the suit's sophisticated technology and design features mean the wearer does not have to sacrifice movement or mobility for safety. The Sentinel Series Lightweight Special Operations Dry Suit is ideal for users engaged in maritime special operations requiring splash and/or immersed hypothermia protection without hindering primary mission objectives.
Sentinel Series USCG Lightweight Boat Crew Dry Suit. Now with Rapid Repair Technology extended to the dry suits' socks, the lifecycle of this dry suit has been prolonged and the overall cost of ownership reduced. Both waterproof and breathable, the USCG Lightweight Boat Crew Dry Suit is designed for constant wear for those not intending to the enter the water though still requiring hypothermia protection in the event of accidental immersion.
EP Ocean Racing Collection. Also on display at the 2017 SHOT show is the brand new EP Ocean Racing Collection, worn by the crew aboard the super-yacht Comanche on her record-setting journeys, and recently featured in Red Bull's Flying on Water mission. Designed for the most elite and extreme ocean racers, the EP Ocean Racing Collection leverages technology perfected and tested in the Mustang Survival military and tactical products. In turn, the collection has also provided field experience that has been integrated into the development process for current and future military products.

These new products, and more, will be on display at the Las Vegas Sands Expo Center during the NSSF SHOT Show, January 17-20, 2016 (booth 12762). For more information on these and all Mustang Survival products, please visit www.mustangsurvival.com.
Tags: Mustang Survival