Cincinnati, Ohio, March 8th, 2017 – Faxon Firearms, manufacturer of the ARAK-21 piston upper, XRS rifle, AR-15 barrels and many new products to come, is pleased to announce the new CL5R (Chrome-Lined, 5R) series of barrels which will be distributed exclusively through Rainier Arms.
The barrels will be available in both 5.56×45 (7.5", 10.5" and 16") and 300BLK (8.5" and 10.5") featuring the Rainier Arms Custom Medium barrel profile. Additional lengths and calibers may be added based on customer demand.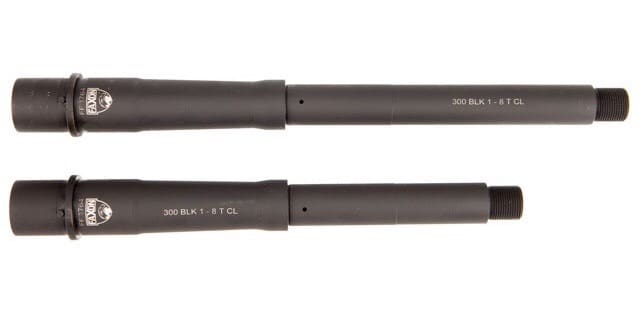 "Combining our experience producing thousands of M240 and machine gun barrels, renowned AR-15 barrels, and a disdain for status-quo, Faxon is pleased to offer exclusively through Rainier Arms, the new CL5R (Chrome-Lined, 5R) series of barrels. The new barrels combine Faxon's know-how, mil-spec proven coatings, and Rainier's profiles – creating a strong heart for any duty-rated rifle." said Nathan Schueth – Director of Sales and Product Management.
"CL5R barrels feature mil-spec chrome lining completed in the same facility as 1'000s of military barrels. Chrome increases resistance to abrasion, wear, and corrosion which greatly increasing barrel life. The exterior of the barrel is manganese phosphate coated. Rifling is 5R for increased accuracy and velocity and NATO spec chambers aid reliability."
Specification:
? Barrel Material: 4150 GBQ Mil-Spec Steel
? Barrel Type: Button Rifled, 5R Style
? Barrel Caliber: 5.56×45 or 300BLK
? Barrel Twist: 1/7 for 5.56 and 1/8 for 300BLK
? Barrel Profile: Rainier Custom Medium
? Inside Finish: Hard Chrome
? Outside Finish: Mil-Spec Manganese Phosphate
? Gas Block Diameter: .750″
? Gas Block Journal Length: 1.9"
? Barrel Extension: M4
? Magnetic Particle Inspected!
? 11-degree Target Crown
For more information or to purchase the new Faxon Firearms CL5R barrels please follow the links below to the Rainier Arms website as the new barrels are in-stock and ready to ship.
Rainier Arms – Faxon Firearms CL5R (Chrome-Lined 5R) 5.56X45 barrels
Rainier Arms – Faxon Firearms CL5R (Chrome-Lined 5R) 300BLK barrels
Tags: Faxon Firearms, Rainier Arms