Full Featured, Spring Weight EDC Jacket Built in the USA
This Spring PDW releases their first outerwear style, the Solo Jacket 100C. This everyday wear jacket has its design DNA in American work wear and Aviation styles. Made from a 10 ounce 100% cotton canvas with a DWR finish, the material is rugged and durable while not a burden to wear.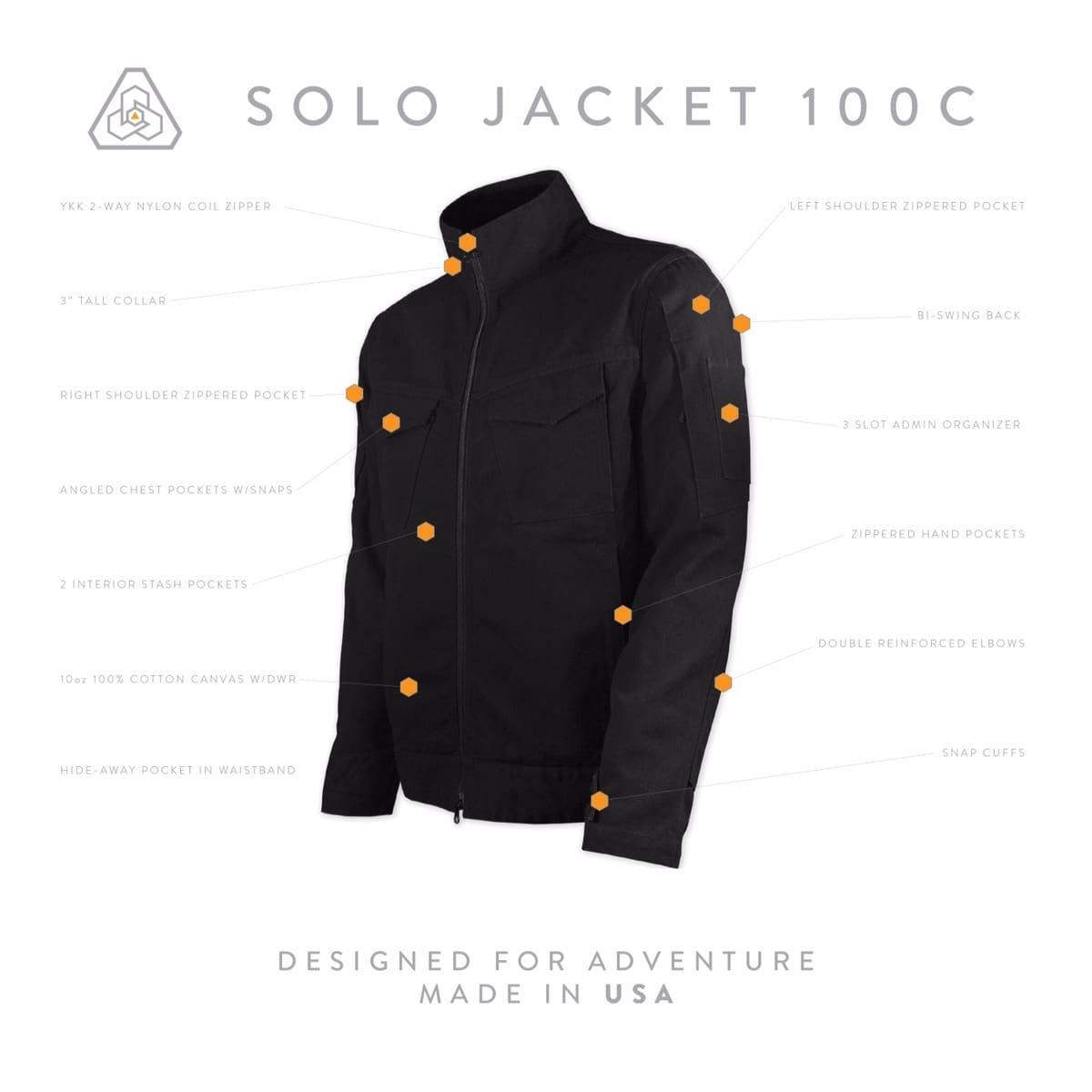 Think of the classic trucker jacket meets rogue ship captain and you get the Solo Jacket. 9 pockets, admin organizer, industrial grade construction, reinforced stress points and other details round this jacket's build. The cut and silhouette easily accommodates a mid-layer and the flight jacket type bi-swing back allows for freedom of movement while piloting your Series III 109, adventure bike, or YT-1300. The Solo Jacket 100C is designed and sewn in California USA.
The PDW Solo Jacket 100C is available in S.L. Black and is a part of their Built in USA CORE-Line of products by Prometheus Design Werx.
The Design and R&D Team at PDW states:
"We designed this jacket to be a practical and functional style that could be worn almost everyday. It pairs great with your favorite pair of jeans, adventure pants, khakis, even shorts. We looked to our favorite vintage work wear styles to flight jackets from the 1960s and took some of those design cues to create the Solo. We wanted a style that made sense while behind the wheel of your overlanding rig, worn around the weekend cabin, to single prop bush plane or just everyday. The jacket needed to have all the pockets to load up on your EDC items, be comfortable, breathe, and possess a good balance of weight vs durability. The end result also reminded us of a jacket worn by one our favorite rogue, ship captains, and from that, inspired the style name. The 3-slot admin pocket for writing implements and penlight we put on the left sleeve is handy in any vehicle. Our chest and sleeve pockets are sized to fit most modern day smart phones, extra seams and panels shape this jacket into a more tailored fit and feel. We work with American garment factories that have decades of experience. Typically with most of our products styles, the single highest cost component in our American sewn and made goods, is the labor."
Tags: Prometheus Design Werx