Who – Introducing Nelson & Co. This is probably the oldest 'new' company you've never heard of, but the roots go very deep in the tactical equipment community. Though the company was only just started at the end of 2014, it is founded by Brad and Rebecca Nelson, the original owners of Lightfighter.com. Those who know Brad know he is well regarded for his passion and relationships. Those who remember Rebecca know she is one of the nicest humans on the planet.
What – The lessons learned (and there were many) about operating a retail supplier of tactical equipment were long discarded, placed on the back burner right away once Lightfighter was merged into ATS those many years ago. Brad and Rebecca moved on, first going back to school after a lifetime in the Army and growing the Lightfighter business. Then occupying themselves with their family and working in corporate America, including years spent at Amazon.com, 5.11 Tactical, and Wal-Mart Stores. The lessons weren't forgotten, however; they were welded to all that was learned working for these other retail giants. Because of this, Nelson & Co is already light years ahead of where Lightfighter.com left off.
When – After nearly a decade of dormancy, along comes at last the inspiration to try building a brand again. It sparked in 2014 for a simple reason, and one that echoes with the origin story for Lightfighter (with Lightfighter, Brad wanted a Becker Patrol Pack for duty use, but in the late 90s, it wasn't easy to find vendors that reliably sold gear of that quality, so he started a company just to buy this pack – sshhhhh, don't tell Rebecca). Nelson & Co was started similarly; Brad became a sheriff's deputy and found that buying uniforms and equipment was a very unpleasant experience in his part of Indiana. So instead of only complaining, Brad and Rebecca resolved to do something about it. It started with a small local store operated from their home in Greencastle, Indiana – sound familiar?
Where – Greencastle, Indiana is uniquely located to make it easier to buy uniforms and equipment. For the customers who visit the new retail store, it is very easy to get to between Indianapolis and Terre Haute. Nelson & Co also happens to be the only store of its type within hours – most customers travel more than an hour, even into Illinois, to shop. For online customers, Central Indiana is an e-commerce fulfillment wonder – it is the crossroads of America. A good majority of American consumers are within only 2 days shipment even with standard ground service in all directions. There is a reason that Amazon made Indiana one of its early shipping hubs with 4 warehouses here.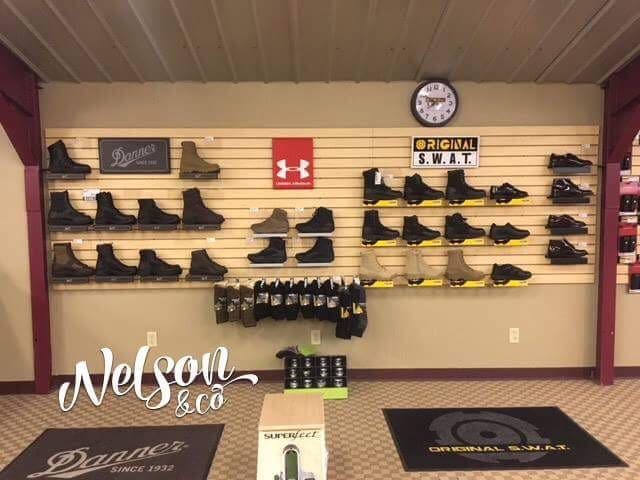 Why – Nelson & Co aims to make it easy. The company steals a word learned in those years after Lightfighter when Brad was working with Amazon.com – that word is "customercentric". It means that everything the business does is with the customer in mind, not just what is easy for the store. It does not mean that everything is always perfect – no honest merchant would suggest such a thing. It does mean that if it makes sense and is in favor of the customer, even if it is hard on the business, the customer gets it they way they want it. Sounds simple, but its rare. Just ask yourself how often you have heard a business tell you, "Sorry, but our policy says…" Nelson & Co is Customercentric.
Visit Nelson & Co in Greencastle, Indiana or shop online at www.nelsonuniform.com.
Tags: Nelson & Co