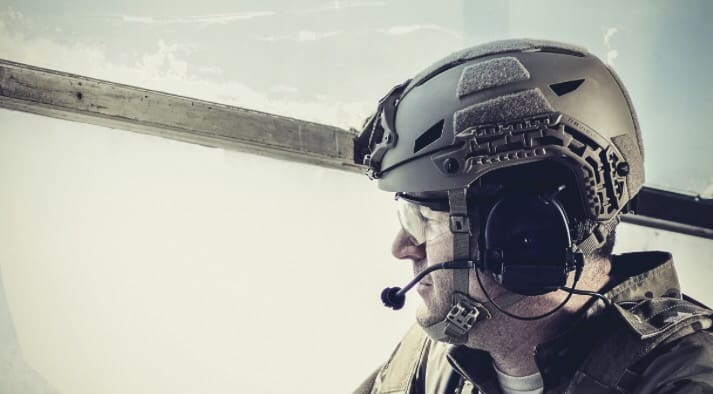 Essex Junction, Vermont (May 15, 2017) – After a rigorous and collaborative development process, Revision Military, the world leader in integrated head systems, will showcase the Company's new Special Forces helmet systems at the 2017 Special Operations Forces Industry Conference (SOFIC) in Tampa, Florida on May 16th. Revision's Special Forces helmet solutions were developed for SOCOM's highly anticipated Family of Tactical Headborne Systems (FTHS) program, a solicitation that is primed to define Special Operations Forces (SOF) head protection for the foreseeable future.
"True to form, Revision took this generative, ground up process to the extreme, setting ambitious goals for performance and innovation while working on a narrow timeline," said Jonathan Blanshay, CEO, Revision Military. "The scope and creative latitude of this program fit well with Revision's capabilities and reputation for sweeping innovation. Revision invested heavily in this project—in time, personnel, and financial capital—and, in parallel, we significantly strengthened our manufacturing—adding several million dollars of new equipment and expanding our principal helmet manufacturing facility—modernizing our operations and increasing capacity to support this program simultaneously. In this process, Revision brought a wide-range of SOF users to the table. Special Forces operators can feel real ownership of the end-product, knowing that their demands were addressed and readdressed continuously. We are genuinely excited to unleash the full scope of our vision for the future of Special Forces head protection."
Revision's SOF helmet suite addresses SOCOM's technical challenges head on: optimized weight, protection, and mobility indices and system component integration. Revision has developed two cutting-edge helmet systems: a Carbon Bump System and a Ballistic System with liner system, rails, and Wilcox® Mount. Revision's Carbon Bump helmet can be ballistically-enabled—add-on armor appliques up the protection level for ballistic, blunt-force, blast-force, and fragmentation threats. And, the skeletonization of all system components has significantly reduced the overall weight of these helmet systems.
Revision's FTHS head systems showcase at SOFIC represents the culmination of an intensive ground-up design and development program, dating back to the beginning of 2016, as well as exhaustive testing, analysis, and trials. Communicating with esteemed Special Forces operators, from across the special ops spectrum, Revision created a head systems suite tailored to the experience and feedback of SOF operators.
Revision's FTHS solutions will be available commercially in 2017. The suite of products will be known as the Batlskin Caiman Head System. Additional Caiman Head System accessories and components are planned for later this year and early 2018.
Tags: Revision Military