New Bern, NC (August 2017) – The National Association of Police Equipment Distributors (NAPED) is sad to announce the passing of one of our industry greats, William J. "Bill" Orr, founder of GT Distributors and a founding member of NAPED.
Bill passed away Aug. 21 at his home in Georgetown, Texas.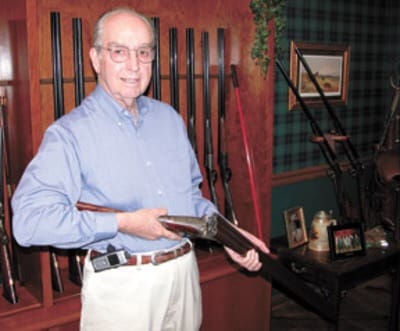 He will be buried beside his late wife, Charlotte, at the National Cemetery in Chattanooga, Tennessee. Bill's passion for firearms and Smith & Wesson® specifically, began in his youth. After his service in the Army and marriage to his college sweetheart, Charlotte, Bill managed an appliance store. On the side he bought and sold guns. In 1966, Bill was granted a Colt® distributorship while still running the appliance store. By 1972, Bill, with the help of Roy Jinks (Smith & Wesson historian), had received a Smith & Wesson Law Enforcement distributorship. He and his wife officially founded GT Distributors, so called because their first building sat on the Georgia and Tennessee state line in Rossville, Georgia.
Since those early years, Bill and Charlotte, and eventually their kids, built the business into one of the largest law enforcement distributors in the country. As a man passionate about collecting firearms, he was also passionate about business and was one of the original five members of NAPED in 1986.
"Bill will be sorely missed by everyone at GT and remembered as a man that was truly interested in everyone and every gun he met. He was an astute businessman and loving family man, who generously gave his time and energy to his employees," Tim Brown, president of GT Distributors and of the NAPED BOD commented.
Funeral services will be held Friday, Aug. 25 at 12:30 p.m. at the Heritage Funeral Home Chapel. Interment will follow at the Chattanooga National Cemetery. Visit www.heritagebattlefield.com to share condolences with the family and view the memorial tribute.
In lieu of flowers, the family asks that you consider donations to the Michael J. Fox Foundation for Parkinson's Research (www.michaeljfox.org) or the charity of your choice.
The family will receive friends 5 – 8 p.m. Thursday, Aug 24 at the Heritage Funeral Home.
Tags: Bill Orr, GT Distributors, NAPED