Yesterday, we showed you the Super Night Owl Suppressor from Geissele Automatics, but that was just the icing on this cake. What Bill Geissele and his team have served up, is a complete family of rifles called the Very longrange Semi Automatic Sniper System and developed internally under codename JG06. The project started as a single weapon for a special requirement, but it quickly morphed into a family of rifles in .260, 6.5 Creedmoor, and 7.62 NATO.
In late May, I saw Bill at the NDIA Armaments Conference where I jokingly asked him when he was going to take all of those parts he's developed, and put together a full rifle. It didn't take him long. They began development on July 1st and completed the weapon just eight weeks later. The result is a weapon weighing 12.3 lbs without a magazine or optic, and is just shy of 43″ with the stock collapsed. As you can see, it's offered in Coyote 498 anodizing.
You'll look at it and know that it's a Stoner pattern weapon, but when you look at the breadth of enhancements, it's obvious Geissele Automatics has been studying the AR family of weapons, in order to improve what are considered standard design features. In particular, they've concentrated on reliability, and there are multiple components with Durable Solid Lubricant by Nano-Composite Coating. Like for instance, the Bolt and Gas Rings feature Nanoweapon coating.
The Geissele DNA is also evident throughout this custom design, whether it's tried and true Geissele parts, or new fabrications specific to this build. For instance, you'll notice a Maritime Bolt Catch, but it is crafted from billet and has been modified to fit the VSASS. However, the Super Charging Handle is stock.
While we won't be looking at the internals, here are a few features. The Bolt Carrier features axial stability enhancements and has a raised gas key, for improved wear. Additionally, they strengthened the upper receiver for improved stiffness near the lengthened Barrel Extension and added a hardened steel Cam race. This is important because the Cam Pin is crafted from a Cobalt alloy which would result in increased wear on a standard Upper Receiver.
The M-LOK compatible Super Modular Rail is super stiff and made from 6061-T6 aluminum. It's got a full length Picatinny rail along the top and is machined within .005″ flatness. There's some extra Geissele magic in how the rail attaches with the Upper, like the 2.4″ Barrel Nut. Interestingly, the VSASS Upper Receiver is slightly taller than standard models. Conversely, the Lower Receiver incorporates an enlarged Magwell and oversized Trigger Guard. Both are machined from billet 7075-T6 aluminum.
VSASS relies on the two-stage SSA-E trigger, which is around 3.5 lbs. While there's an aluminum Buffer plate, the QD insert is steel. In addition to caliber choice, the customer may also specify barrel length (18″, 20″ or 22″), although the .260 VSASS pictured here has a 22″ Bartlein Stainless Steel barrel.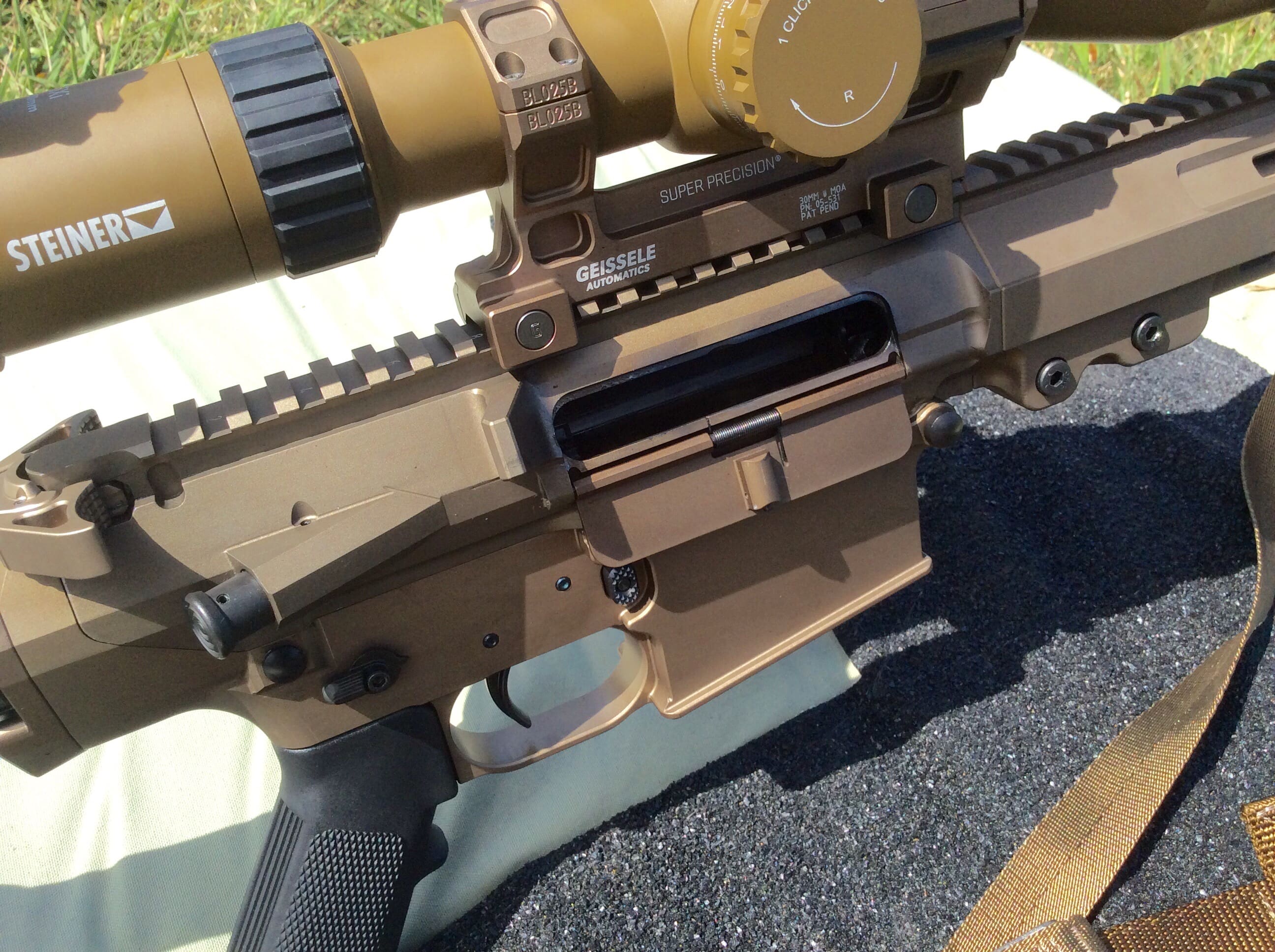 Thankfully, the magwell accepts M110 magazines. Another thing on the rifle that isn't Geissele, is the B5 Systems SOPMOD Stock. It's joined by the standard issue Pistol Grip. Many companies provide USGI Pistol Grips because they are inexpensive and it's one of the most often replaced parts, even on military weapons.
In addition to the full VSASS rifle, they've also developed a M110 Capability Enhancement Package. Essentially, it's an Upper Receiver Group which can be fitted to a customer's existing M110. In addition to the URG, the M110 CEP comes with a .308 version of a Super 42 Buffer and braided wire Buffer Spring kit as well as an SSA-E Trigger.
You may notice that the top front of the rail is cut back on the 7.62 rifle. This is for an adjustable gas block they developed for VSASS. However, they've found these are running well without it. Granted, these rifles are tuned for specific ammo, but the Adjustable Gas Block is there for those who require it.
I had the chance to put a couple of magazines through it yesterday and it shot well. I've gone to demonstration ranges where weapons jammed, failed to feed, or exhibited other malfunctions, but not with these rifles. There were three different VSASS and all of them ran like tops, with a constant line of those waiting to get their chance. After all, how could you turn down shooting a weapon with laser-like accuracy? The targets were steel at 600m and the range was live the entire time, so we can't share any target data with you. However, the steel was falling. The .260 was extremely accurate, even in yesterday's windy conditions.
The Super Night Owl Suppressor is made from Titanium and specific to VSASS. Bill told me he is not getting into the Suppressor business, but rather that this was a requirement for this weapon. It's a screw on Suppressor and the serialized shroud comes off the core for maintenance.
There's a final surprise on this build. This is also the first look at the new Vanguard mount for range finders.
It features a separate cap under the range finder mount portion, so you can take off the diving board without losing zero. There are also screws underneath for added stability. In case you are wondering, that's the Steiner M5Xi 3-15 in Tan.
VSASS is currently only for government clients. Right now, demand is very high for their products and it was developed for a very specific purpose. However, I expect we'll eventually see a commercial rifle from Geissele Automatics, even if it's not this one.
Tags: Geissele Automatics