Precision Milled 6AL-4V Titanium, Essential EDC
This August 2018, Prometheus Design Werx debuts its titanium survival capsule lighter the TiFS. Precision milled from 6AL-4V titanium, this compact, refillable fire starter is well suited in any backpack, survival kit or key chain. In addition to the upgraded titanium billet casing, this capsule lighter stands apart with the knurled finish for better grip when wet, weather resistance, extra spare parts, and comes packed in a reusable survival tin. With an overall size of 1.875" X 0.625", this rugged, small yet capable fire starter can easily be a part of any user's essential EDC, especially for those who spend time in the wilderness and back country.
The PDW TiFS Survival Capsule Lighter will be a regularly stocked item.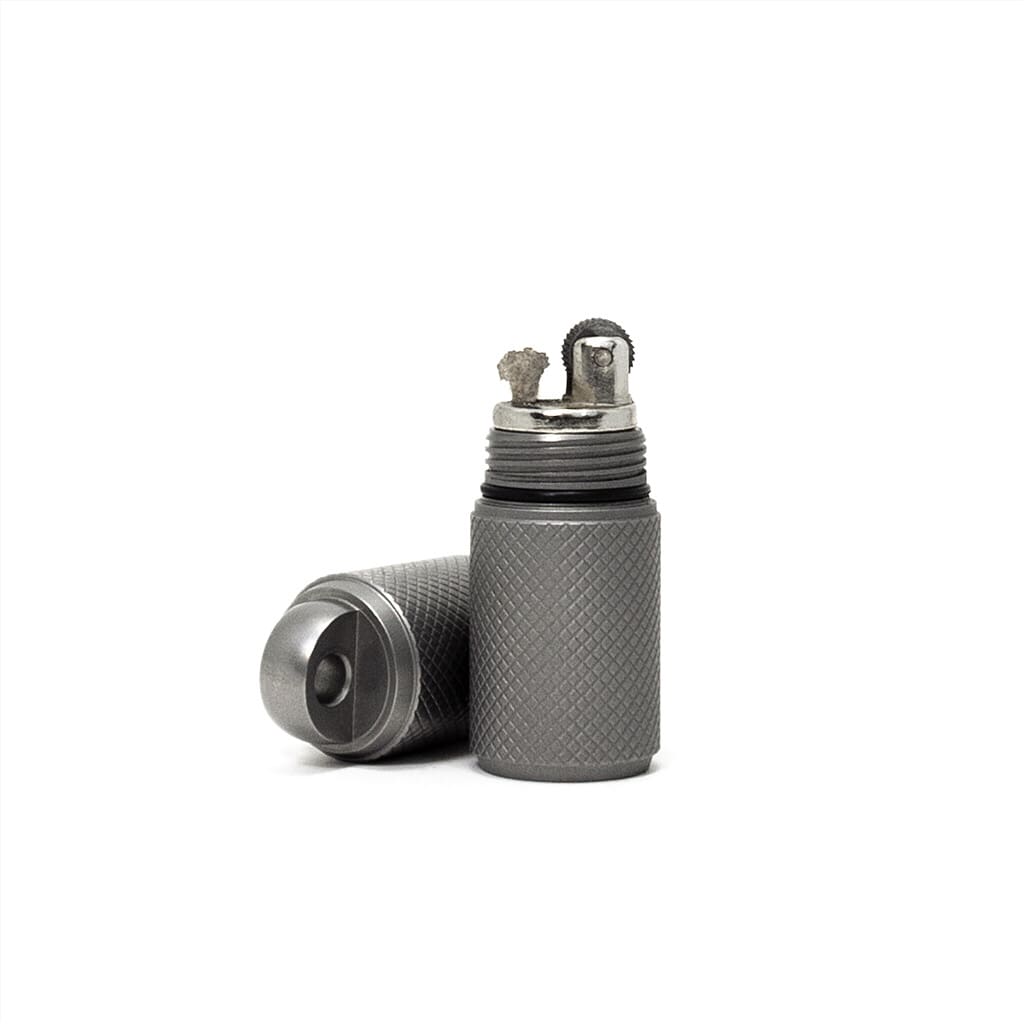 The Design and R&D Team at PDW states:
"A small, pocketable, personal fire starter or lighter, that uses lighter fluid, ignited by a wheel, flint and wick has been a staple part of an individual's field kit since the ones issued or privately purchased since WWI. Most anyone understands the fundamental importance of starting a fire when in the field and in a wilderness survival scenario. While we are also strong proponents of being proficient in starting fires with other methods and/or tools such as the ferro rod to drill bow, having an easily accessible, reliable and durable lighter is indispensable and much more expedient in starting a life saving fire. There's a good array of capsule lighters on the market, but we saw an opportunity to create one made to our design and higher production value sensibilities. Our titanium billet case takes longer to mill than any other on the market today, but it is the details, which sets ours apart. Classic industrial knurling on the case surface makes this much more tactile and easy to manipulate in the user's hands, especially in damp or wet conditions. The material itself is far superior to the thin walled aluminum versions and corrosion-proof unlike the brass versions. We also thought the reusable survival tin it comes packed in, is a useful touch. Working with a new CNC facility that specializes in milling titanium, and committing to higher production volumes, we were able to bring this high grade capsule lighter to the user at a higher level iteration, but also with a digestible price point."
The PDW TiFS Survival Capsule Lighter will be available for $49.00, at noon PDT, Wednesday August 22, 2018 via their website, prometheusdesignwerx.com.