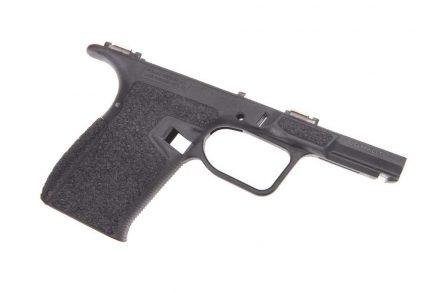 Nomad Defense Co.'s Nomad 9 is a stripped pistol frame that is compatible with Gen4 G19 components. Built with improved ergonomics over the stock Glock frame, the Nomad 9 features an extended beavertail; a contoured grip with no finger grooves; a raised trigger guard to allow for a higher grip, which is also enlarged for better use with gloves; and a forward thumb ledge, similar to the 'gas pedal' found on many modern competition pistols. The Nomad 9 also features a factory 'rock grip' texture, a MIL-STD 1913 spec accessory rail, flared magwell, and three interchangeable backstrap sizes.
Because of design changes when compared to a Glock-spec frame, the Nomad 9 is not guaranteed to be compatible with many G19-compatible holsters, however Nomad Defense is working with several holster makers to develop holsters for the Nomad 9.
For more information, and to find out where to buy, visit www.nomaddefenseco.com
Tags: Nomad Defense Co.