The annual Randy Oler Memorial Operation Toy Drop was held last weekend at Fort Bragg. It combines an international parachute operation with an opportunity to give back to the local community.
FORT BRAGG, N.C. — About 260 jump masters from 14 partner nations landed on Fort Bragg's Drop Zone Sicily, officially commencing the 21st annual Randy Oler Memorial Operation Toy Drop, Wednesday. These jump masters will lead the anticipated 3,000 paratroopers who will jump Friday and Saturday.
The annual Fort Bragg international event, hosted by the U.S. Army Civil Affairs and Psychological Operations Command, has collected more than 100,000 toys for children since then-Staff Sgt. Randy Oler established the combined training event in 1998.
Upon establishment of the first jump with 1,200 participating Soldiers, Oler included toy collection and distribution as a charitable component of the collective training that strengthens bonds among partner nation paratroopers. Toys have remained a voluntary component since that first event, yet the number collected has steadily increased since those first 500 toys. Each year, volunteers distribute the donated toys to participating regional charities.
In 2017, almost 4,000 Soldiers participated in Operation Toy Drop, and about 4,500 toys were donated for children in need throughout the region. Planners anticipate similar participation in 2018, with continued support from U.S. Army Reserve medical, administrative, logistics, transportation, quartermaster, combat camera and others.
PARTICIPATING COUNTRIES
– Cote d'Ivoire
– Italy
– Poland
– Canada
– Germany
– The Netherlands
– Latvia
– Sweden
– Colombia
– Singapore
– Brazil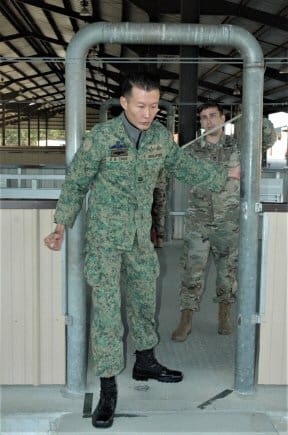 COUNTRIES SENDING JUMP MASTERS TO OBSERVE TRAINING
– Chile
– United Kingdom
– Denmark
TYPES OF AIRCRAFT
– C17 Globemaster
– C130H Hercules
– C27 Spartan
AIR WINGS INVOLVED
– 910th
– 179th
– 934th
– 97th
– 437th
– U.S. Army Special Operations Command Flight Company
TYPES OF PARACHUTES
-T11 and MC6 for standard paratroopers (without combat equipment load)
-RA-1 for military free fall
FORT BRAGG UNITS INVOLVED
– U.S. Army Civil Affairs and Psychological Operations Command
– XVIII Airborne Corps
– 82nd Airborne Division
– U.S. Army John F. Kennedy Special Warfare Center & School (SWCS)
– 3rd Special Forces Group (Airborne)
– 528th Sustainment Brigade (Airborne)(Special Operations)
– 95th Civil Affairs Brigade (Airborne)
– Joint Special Operations Command
– U.S. Army Special Operations Command
– 824th Quartermaster
TOYS
The organizations below requested categories of toys in 2017 to accommodate the interests and abilities of each gender by age group. The numbers by each non-profit represent the aggregate number of toys provided.
– Cumberland County DSS – 1,000
– Cumberland County Family Violence Care Center – 50
– Lee County DSS – 250
– Hoke County DSS – 150
– Hoke County H.E.L.P. – 280
– Fayetteville Urban Ministries – 300
– Falcon Children's Home (Falcon, NC) – 35
– Moore County DSS – 300
– Harnett Co. Kiwanis – 320
– Masonic Childrens Home (Oxford, NC) – 45 (this was one of the original recipients)
– Methodist Home for Children (Raleigh, NC) – 800
– Montgomery County DSS – 50
By MAJ Carter Langston, 352nd Civil Affairs Brigade Public Affairs Officer