Columbia, SC, October 24, 2019 – WILDCraft Entertainment is excited to announce the release of Season One, WILDCraft: South Africa, on Amazon Prime Instant Video. Presented by SIG Sauer, the four episodes explore the adventures of four professional outdoor writers experiencing a remote tent camp safari for free-range kudu and other species. It is the first of its kind, reality based, documentary, hunting drama, ever produced explicitly for Amazon Prime Instant Video. Click HERE to watch.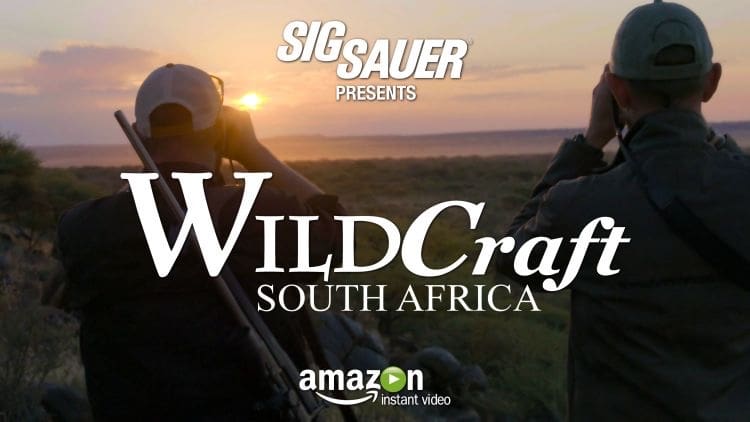 Filmed in 4K Ultra HD on location in South Africa's Northern Cape, by some of the best videographers in the business, WILDCraft: South Africa is an attempt to capture the true essence of hunting and the camaraderie of the campfire. The cast includes renowned African professional hunter Geoffrey Wayland, Gun Digest Editor Luke Hartle, Petersen's Hunting contributor Joe Afterburn, talented photographer Alfredo Rico, and freelance outdoor writer Richard Mann.
WILDCraft South Africa is the vision of the series producer and host, Richard Mann who said, "Hunting television has mostly become a venue for want-to-be celebrities looking to pound their chests and become famous. I wanted to capture what hunting was really about and the incredible fellowship that is shared around the hunter's campfire. I knew Fernando Coelho could capture this on video better than anyone and that Geoffrey Wayland could provide the proper venue. With those two on board, assembling a cast of professional communicators who hunt for the right and real reasons was all that was left."
Director Fernando Coelho was very excited to be involved with the project. Coelho said, "The concept of the WILDCraft series intrigued me when Richard first mentioned it. I was tired of the traditional hunting shows on television and felt that we could capture what it's really like to hunt. When we scouted locations in South Africa and I met Geoffrey Wayland from Fort Richmond Safaris, I knew we had the right place to make it happen. After lots of hard work, I feel we accomplished what we set out to do. I also feel people will appreciate the content from the series."
WILDCraft: South Africa is available streaming direct from Amazon Prime Instant video: watch.amazon.com
Season Two of WILDCraft is now in the pre-production stage and sponsor opportunities are available.