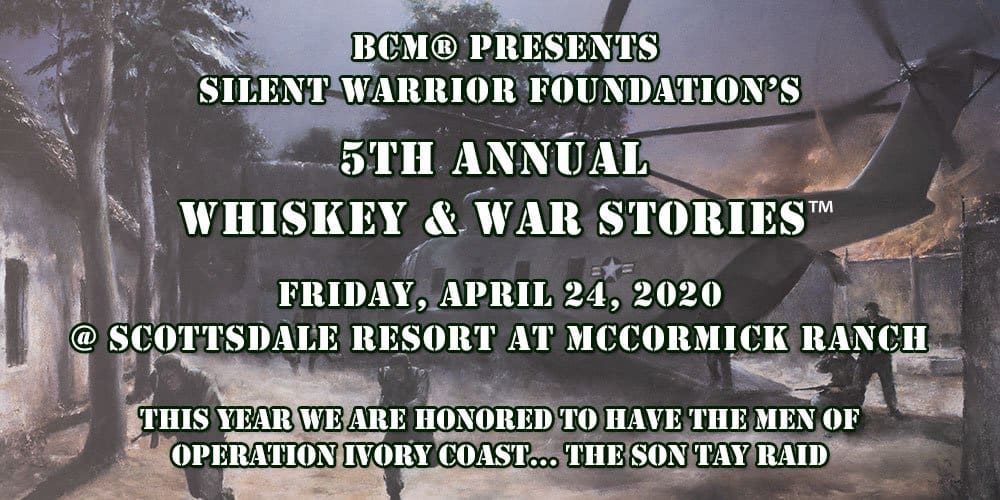 What: Whiskey & War Stories is an annual Silent Warrior Foundation fundraising event which features a silent auction, dinner, drinks and a moderated presentation of military veterans discussing a significant military event which they were first person participants in.
Past events have featured participants of the Ranger's air assault during the Grenada Invasion and the last POW rescue attempt of the Vietnam War, Operation Thunderhead.
We are extremely proud and excited to announce that the focus of this year's presentation will be the Son Tay Prison Raid of November 20, 1970.
Who: The event is once again organized by the Silent Warrior Foundation. Several Son Tay Raiders (up to 8 at present count) and several former American POWs of the Vietnam War will be in attendance.
Why: To raise funds for the SWF scholarship program, and other assistance provided to SOF and other military veterans through the Silent Warrior Foundation and to honor the Son Tay Raiders during the 50th Anniversary Year of their daring rescue attempt.
Where: The Scottsdale Resort at McCormick Ranch, Scottsdale, AZ. 7700 E McCormick Parkway, Scottsdale, AZ 85258.
When: 5:00-10:00 pm, doors open at 5:00 pm, cocktails and silent auction from 5:30-6:30 pm, dinner at 6:30 pm, onstage program begins at 7:00 pm and ends at @ 9:30 pm.
Amplifying information: Many of the auction items this year reflect the focus of the evening's discussion. Examples of the donated auction items this year include but are not limited to: a smaller detailed recreation of "Barbara"-the scale model planning table used to study the Son Tay POW camp before the raid, as well as a package that includes Son Tay Raid rigged GAU-5 assault rifles and a trip to the range to shoot them in a Huey helicopter provided by Dillon Aero on Sunday, April 26th with several SOF combat veterans as guides.
Current List of Sponsors:
BCM, TYR Tactical, Dillion Aero, Star Roofing, Swarovski Optik, Winkler Knives, Independence Training , Coatings Technologies, Shamrock Foods, Sanderson Lincoln – Sanderson Ford, HB Fuller, SAP, Magpul, FiberTite, GAF, RMJ Electric, Vortex Optics, Youngs Market, Armor Coat, Timney Triggers, Caspian Arms, Scottsdale Gun Club, Langdon Tactical, Cylinder & Slide
Individual tickets or sponsored tables can be purchased online at www.silentwarriorfoundation.com. Follow the link there for event rates to also stay at the Scottsdale Resort, if you wish.
You can also follow us on Facebook at: www.facebook.com/SilentWarriorSF
We hope to see you there!
Sincerely,
Dave Hall
President, Silent Warrior Foundation