Dasco Storage Solutions' Laptop Storage Cabinet is offered in two sizes.
The Single Wide accommodates up to 13 laptops and the Double Wide with up to 26.
Not only is this a great idea for military units to securely store their Tough Book Laptops and Tablets, it can be used by LE and correctional organizations for the same purposes as well in addition to other institutional customers who require secure storage.
The cabinets feature welded, all-steel construction with a durable, black Sandtex powder-coat finish. The bi-parting tambour doors are also steel with a multiple-point lock mechanism including a padlock hasp bar. Louvered sides allow air flow through to prevent overheating inside the cabinet and there's an optional top-mounted 550 CFM fan helps draw warm air out of the cabinet.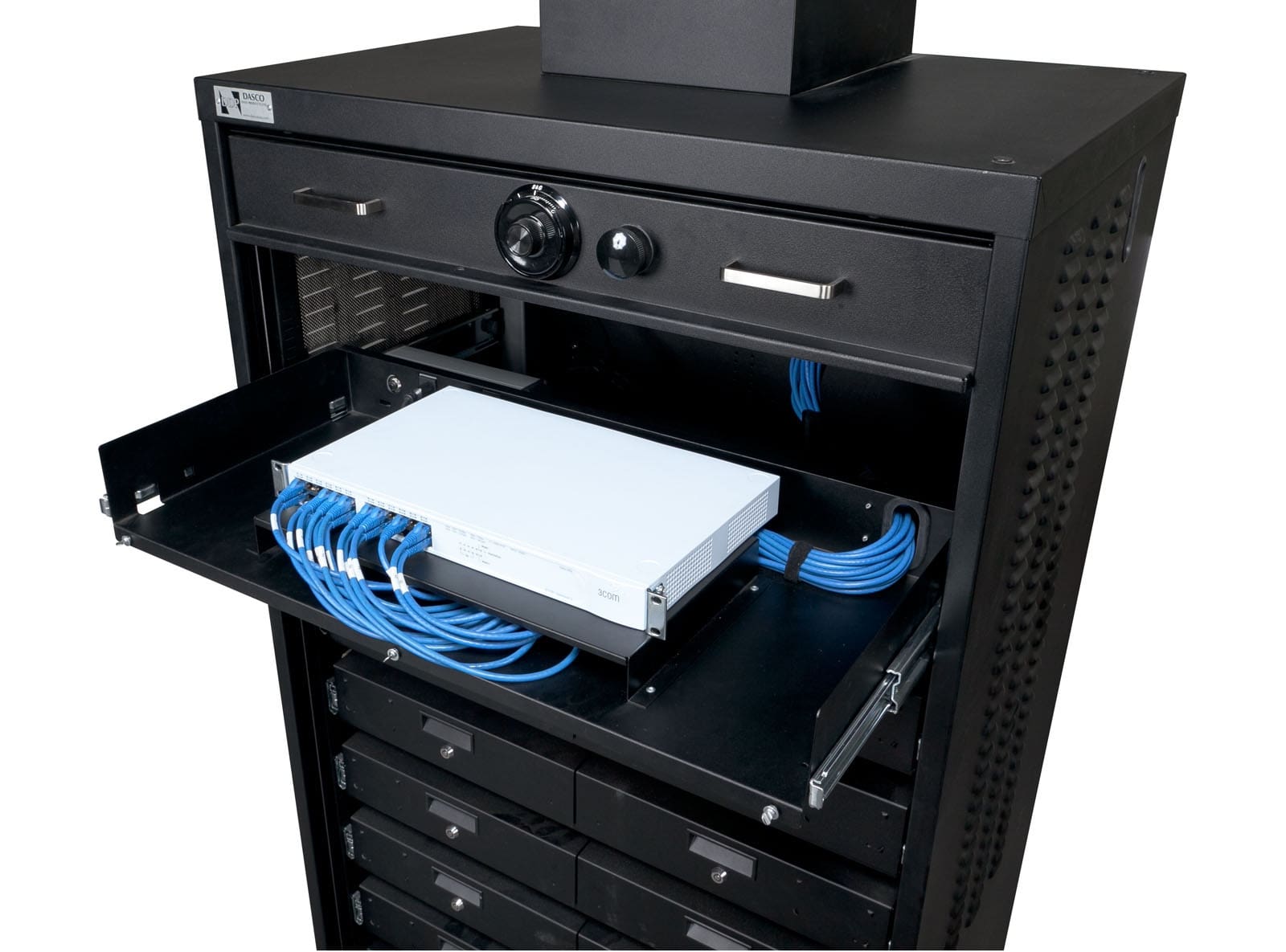 The cabinets are configured to suit customer requirements. Here are the various components: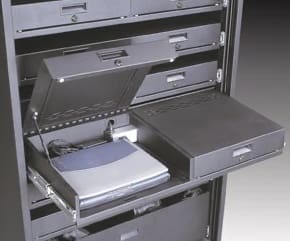 Powered laptop drawers
-Barrier-free for quick and convenient laptop/tough book access
-Individual power outlets for constant charging while stored
-Full suspension, easy-glide drawer hardware
Secure Powered Laptop Drawers
-Everything the powered laptop drawer features, plus a lockable lid for redundant security when the cabinet is open.
Bin Storage Drawer
-Deep drawer is perfect for securing all electronic accessories such as cameras, headsets, cords, cases and more
Cable Management Arms
-Convenient arms organize network cables and power cables to prevent crimping and damage
-Run from the laptop drawer to the cable management raceway
Cable Management Raceway
-Organize and protected cable management for laptop and devices that are being network cabled
-Compatible with RJ45, CAT5 and CAT6 cables
-Cable troughs have removable covers and flexible fingers to allow cables to easily enter and exit at any point in the raceway
Side mounted floor anchors are optional
Check them out at www.dascostorage.com. You can buy direct, or through their various dealers M1 Secure Storage Systems, Data-Link Sales Associates, and Secure Western Storage as well as the various TLS Vendors.