The 2020 Black Friday / Cyber Monday Sales Master List is sponsored by out friends at Tactical Distributors.
Pre-Black Friday Deals from US Elite
Shop our awesome Pre-Black Friday deals now! Get up to 25% off some of our top brands: Salomon FORCES, LOWA Task Force, Outdoor Research and more. Get the gear you need for your mission or adventure now!
www.us-elitegear.com/collections/2020-pre-black-friday-deals
O P Tactical
Starting on 27 November, use coupon code BF20 for store-wide savings! Everything from plate carriers and placards, Eagle and Raptor Tactical Belts, Woobie Hoodies, Hesco Armor, Altama OTB Maritime Boots including our exclusive Ranger Green model, Mountain House Meals and more will be on sale with $5 Flat Rate Shipping available to most USA addresses. See below for the additional deals breakdown:
• Use coupon code BF20 for 10% off site-wide starting at 12:01am EST Friday; get 12% off Saturday and Sunday; and then a whopping 15% off on Cyber Monday. Some exclusions apply, see website for details starting Friday.
• 25% off all Salomon Boots now through 4 December. Items marked down, no coupon needed.
• 25% off all Lowa Boots now through 30 November. Items marked down, no coupon needed.
• 20% off all Arc'teryx Apparel and Gear now through 30 November. Items marked down, no coupon needed.
Due to high volume of sales, expect slight delays in shipping orders. Select Arc'teryx and Salomon items will be restocked during the sale period. The best deals of the year are in stock and available here, don't miss out on these great savings.
LBT Inc
New 3DAPv3 Introductory Pricing
G-Code
20% off with Code: GIVEME20
Fix-It-Sticks
15% off on bundles
store.fixitsticks.com/collections/holiday-bundles
Force Protector Gear
35% off sitewide plus an extra 10% with BFCM20 code
Kitanica
20% with code INTHEBLACK
Costa Ludus
Black Friday Starts Today at Costa Ludus – 15% Off – Thru November 30, 2020 2359 PST
Use code THANKS2020 before NOVEMBER 30, 2020 @ 2359 PST for 15% off NEW registrations (ONLY).
See what it's like to be in a Costa Ludus class before you arrive.
VIEW Costa Ludus Training Videos
We greatly appreciate your choice of Costa Ludus for your training solution.
We are looking ahead to an exciting 2021 schedule with some new locations, as well as returning to some favorites!
Reserve Your Seat Today – Affordable Payment Plans Available In Cart
We invite you to bring your family and friends to join you on the range. Please let us know if you have any questions about having your children attend the course with you. We look forward to the opportunity to train with you, and to meet those that matter most to you.
This offer is valid only on new registrations received between November 23 -30, 2020.
15% off: THANKS2020 will expire at 2359 PST on NOVEMBER 30, 2020.
Please contact us if you experience any problems checking out with code
THANKS2020 before 2359 NOVEMBER 30, 2020.
We look forward to seeing you out on the range!
Reserve Your Seat Today – Affordable Payment Plans Available In Cart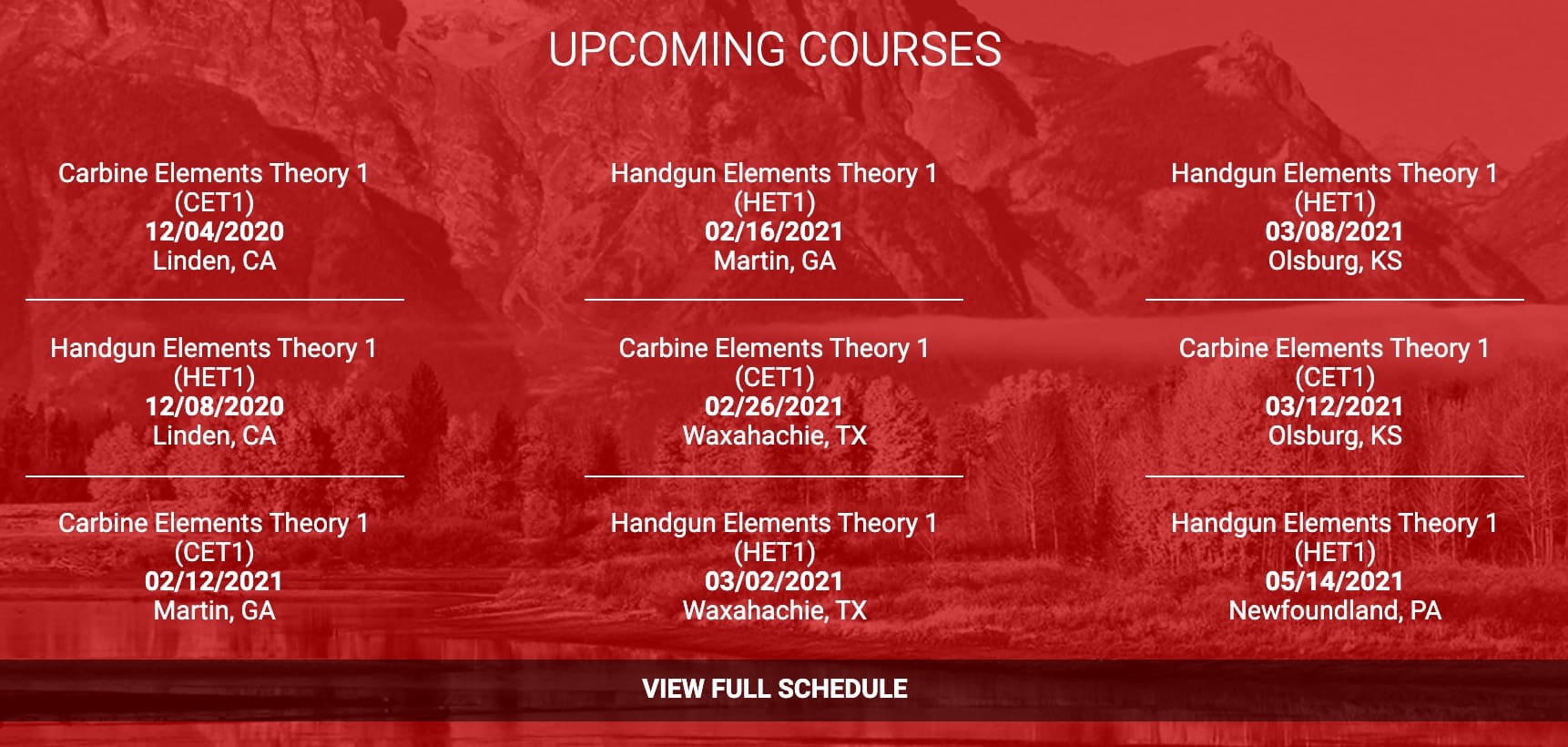 Imminent Threat Solutions
This year, ditch constantly refreshing your browser and get a jump start on your Black Friday shopping starting today at ITS. We've already kicked off Black Friday and have some amazing freebies and our best deals ever. So place your order before the good stuff runs out of stock, sit back, relax and wait for turkey!
Starting now, we've got some awesome freebies that will magically appear in your cart at $50, $100 and $150. We also have four amazing deals below that don't require you to enter a code at checkout. These deals are extremely limited and we're all out of rain checks. However, we will toss in FREE domestic shipping on every order!
FREE TraumaQuick™ w/ ETA Kit Purchase
BOTH for $129.99
FREE Red Nylon Zip Bag w/ First Aid Kit Purchase
BOTH for $44.99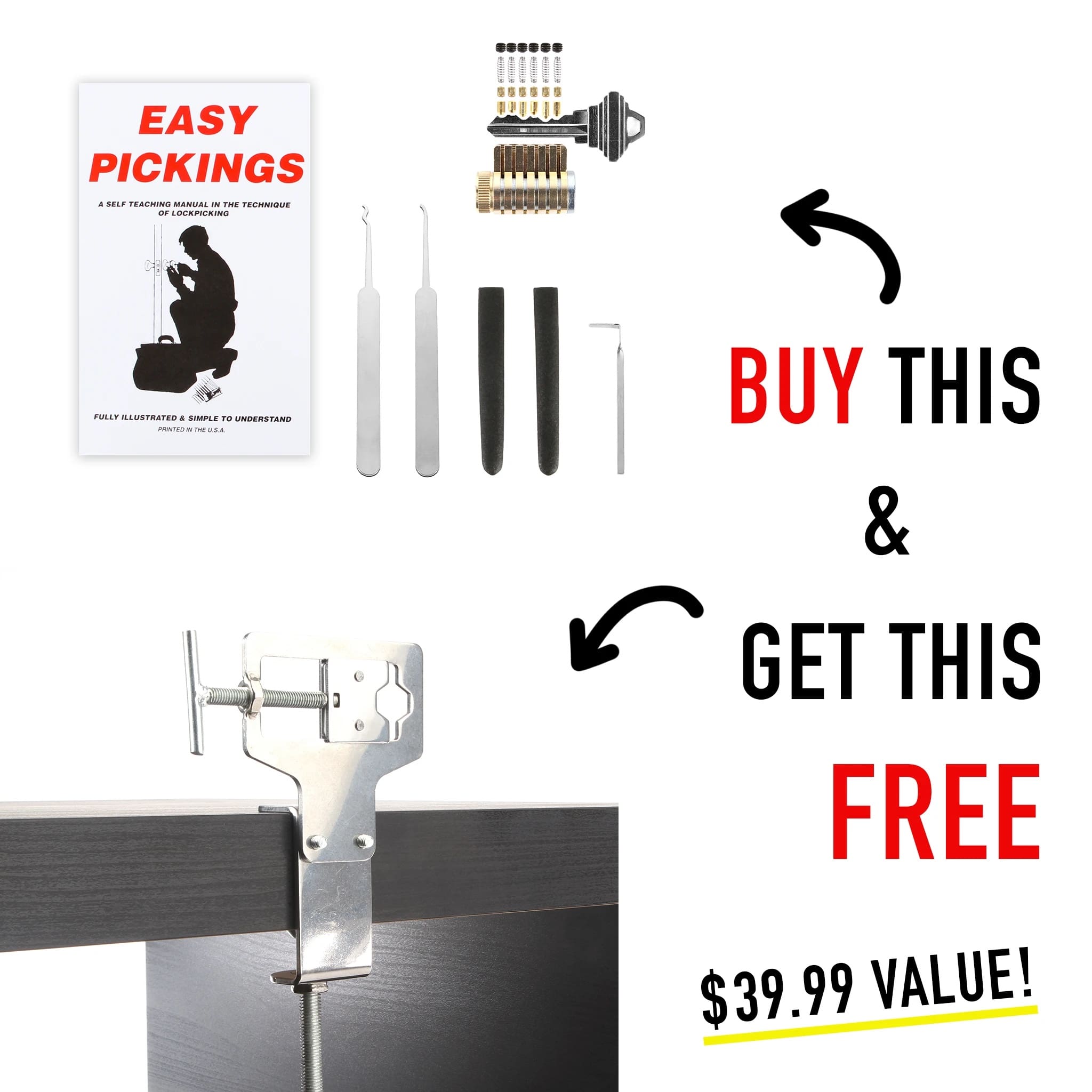 FREE Practice Station w/ Lock Picking Starter Pack Purchase
BOTH for $39.99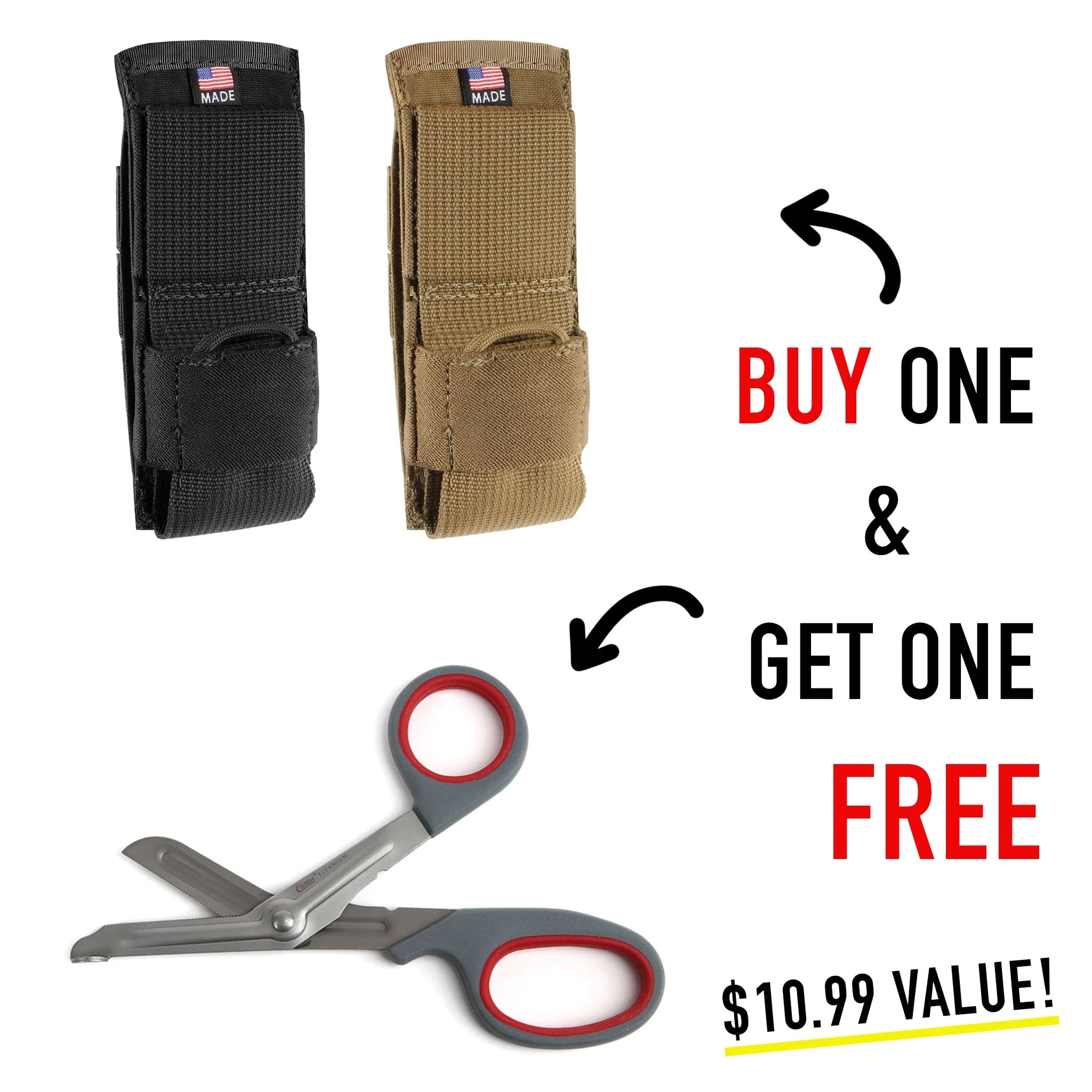 FREE Titanium Shears w/ ITS SHARP Purchase
BOTH for $29.99
With our easy Black Friday, please note that if you don't see a freebie or a complete deal in your cart, we're out of stock. (Things will move fast!)
SuppressorTools.com
15% off coupon code for the 1/2″ Suppressor Socket System:
BLACK-FRIDAY-15
Valid now through December 1st.
US Elite

Our Pre-Black Friday Sale is in full swing! These deals won't last much longer, so don't miss out on your favorite brands with up to 25% off!
Shop top brands like Salomon FORCES, Outdoor Research and Reebok.
www.us-elitegear.com/collections/2020-pre-black-friday-deals
Maxim Defense
The Maxim Defense Black Friday Sales Event starts now!!
• Save 10% on all Firearms using the code MAXIMBLACK
• Save 15% on everything else using the code MAXIMFRIDAY
Valid at www.MaximDefense.com only
First Tactical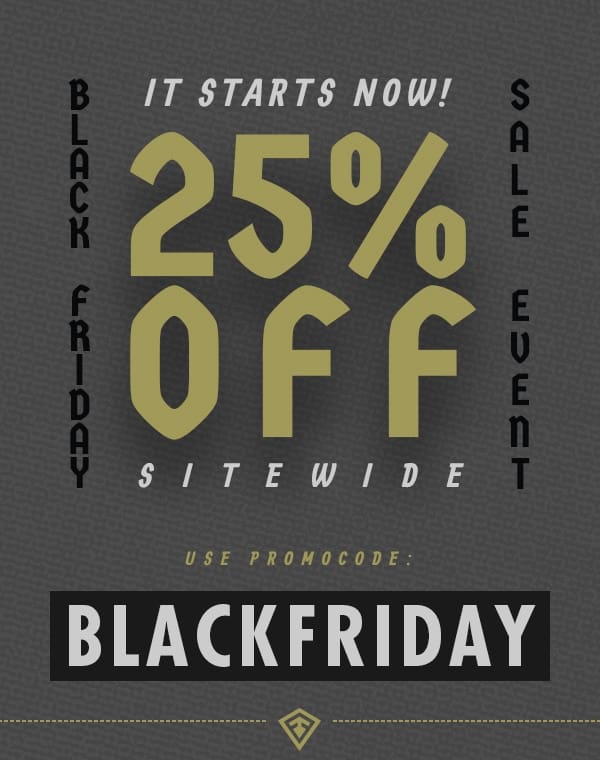 Platatac
BLACK FRIDAY Saving starts NOW!
PLATATAC is beginning Black Friday early with 20% off store wide*. Don't miss the tactical kit you need or grab a gift for your number two.
Subscribe to the newsletter for more offers this week, click the link in the linktree or visit the contact page on the website.
*full price items only, limited time only, some exclusions apply
Arc'teryx
Thyrm
Sitka

Until 2 December.
www.sitkagear.com/holiday-sales/black-friday
RE Factor Tactical
30% OFF Storewide Sale ALL WEEK LONG!
You don't need to wait until Friday this year!
USE CODE:
BF2020
*Excludes all BlackPoint Tactical & Ferro Concepts products
There will be other limited time specials throughout the week so keep an eye out!
Halfbreed Blades
The CCC-01 Cash Card Clip from HALFBREED BLADES® is FREE when you spend $200 or more on any KNIFE, TOOL or EDC product.
Constructed from high strength, flexible and incredibly fatigue resistant Titanium, this multifunctional design includes a heat-treated emergency cutter and hex wrench in a non-reflective, maintenance free PVD finish.
Sometimes cash and cards can become unruly, take back control with this essential go anywhere addition to your Every Day Carry.
FREE GIFT VALUE $65 AUD.
BLACK FRIDAY SALE offer is valid 25th November 2020 to 28th November 2020 only.
*Terms and Conditions apply, see below for further details.
*BLACK FRIDAY SALE TERMS & CONDITIONS:
1 BLACK FRIDAY SALE – spend $200 or more on any HALFBREED BLADES or HARDCORE HARDWARE AUSTRALIA knife, tool or EDC product and receive a FREE CCC-01 Cash Card Clip in the matching colour of your product purchase.
2 The BLACK FRIDAY SALE will begin at 12.00am (EST) on 25th November 2020 and closes at 11.59pm (EST) on 28th November 2020.
3 Applies to Fixed Blade Knives, Folding Blade Knives, Emergency/Rescue Tools and EDC products only.
4 Each FREE CCC-01 will be matched by colour to your product (knife, tool or EDC) purchase. The CCC-01 is valued at $65 AUD.
5 Offer applies to web store sales only.
6 Does not apply to previous orders.
7 Cannot be combined with any other offers or discounts.
8 All sales are final. No exchanges.
9 Due to high demand and COVID-19 related factors, there may be a delay with shipping. International orders should allow at least 3 weeks for delivery.
10 Limited quantities available. Don't miss out!
www.halfbreedblades.com.au/shop/knives-tools
XGO's biggest sale of the year is now live. Head over to proxgo.com for some great deals. Inventory is moving fast! Don't miss out! Use the code BF2020 to take 50% off your next order. Sale ends 12/7!
XGO Black Friday/Cyber Mondays Highlights:
• 85% Off Bargain Vault (clearance) Items
• 75% Desert Sand Items
• 50% Off Your Next Order Using Code BF2020
Haley Strategic Partners
D3CRM chestrigs will be available this Friday! Also for a limited time orders over $50 will receive the Murdered Out Dragonfly while supplies last on 11/27/20 – 11/30/20
BLACK
COYOTE
RANGER GREEN
MULTICAM
Triple mag and SMG inserts will also be available.
Stay tuned for more products launches and %deals this week!
HRT Tactical Gear
HRT Tactical Gear is giving back this Holiday Season. Now through November 29th receiver a Free Tourniquet Hanger with orders over $100 or our new Tactical Hand Warmer for orders over $200. It's as simple as adding the FREE item to you cart and apply coupon code FREETQ or WARMER.
10% of sales placed on ALL orders on Friday November 27th will go to Toys for Tots. Check out www.hrttacticalgear.com for more information. All HRT products come with a LIFETIME WARRANTY.
Weapon Outfitters
Black Friday/Cyber Monday
15% Off Nearly Sitewide
No Code. Just Log In.
Sale is Live at 0001 PST Friday the 27th through 1159 Monday the 30th.
We're gonna keep our "Black Friday" sales for the day after Thanksgiving instead of having it be a month long affair haha! Start taking a look at stuff you're interested in now, and be ready to move on 'em FRIDAY!
SPARROWS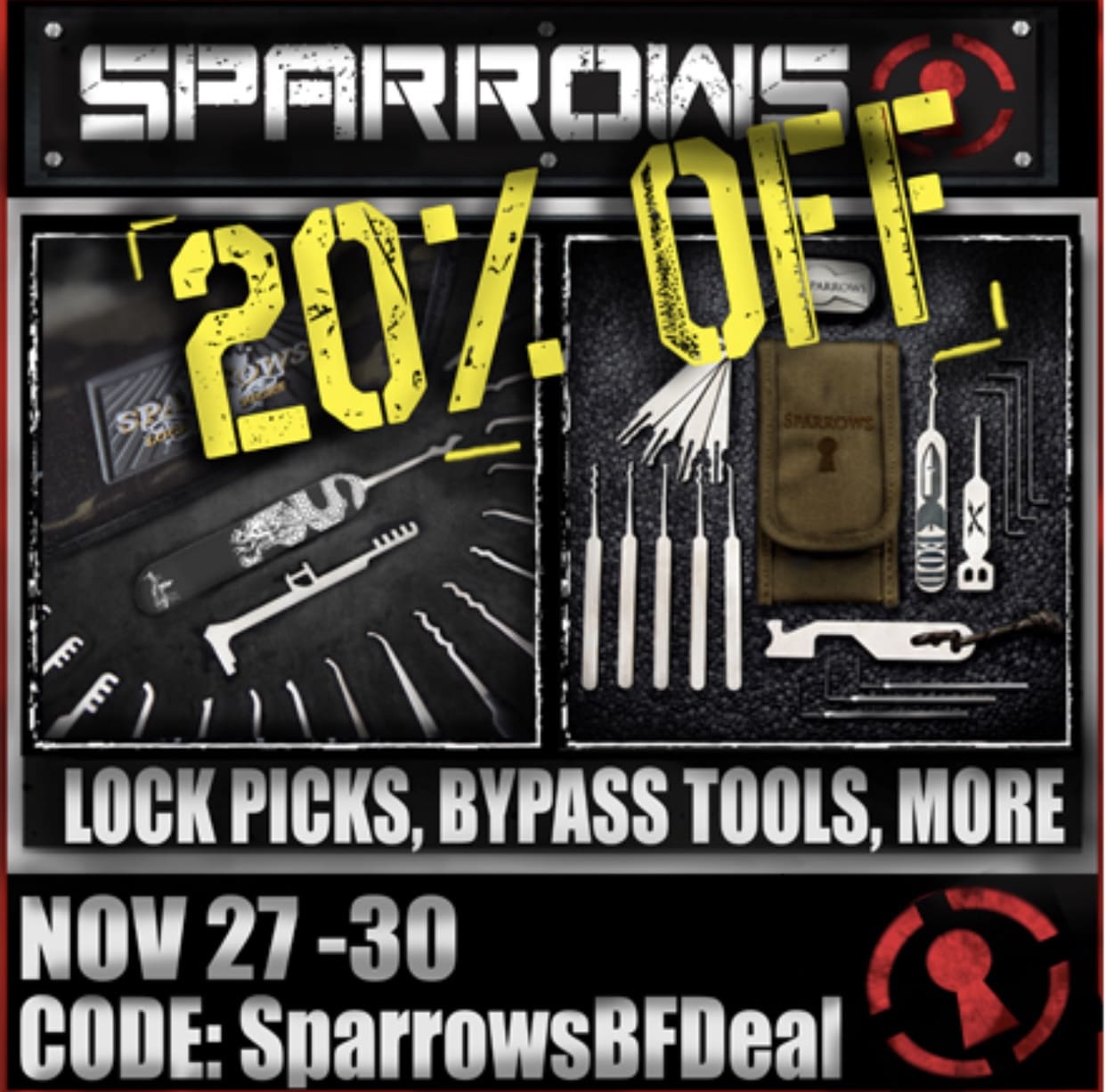 Savage Tacticians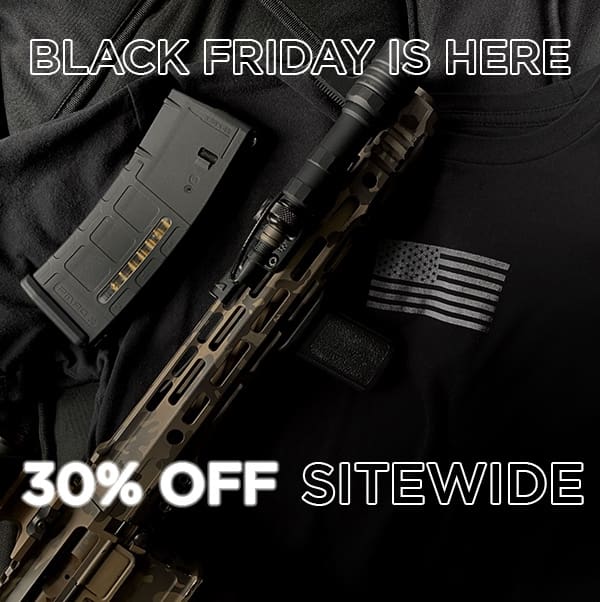 goTenna Mesh
Free standard shipping to US & Canada!
*Use code MESH4THEHOLIDAYS at checkout to apply 40% off your goTenna Mesh order subtotal, excluding taxes, shipping and any other fees. Offer valid through December 4, 2020 at 11:59 p.m. PT. Only one promo code can be applied per order. Offer cannot be combined with any other promotion. Offer only available to new orders on goteennamesh.com and not applicable to goTenna Pro products.
With the health and safety of everyone in mind, your order may take longer than usual to arrive, particularly for shipments outside of the contiguous United States. We appreciate your patience if you should experience any shipping delays.
LaSportiva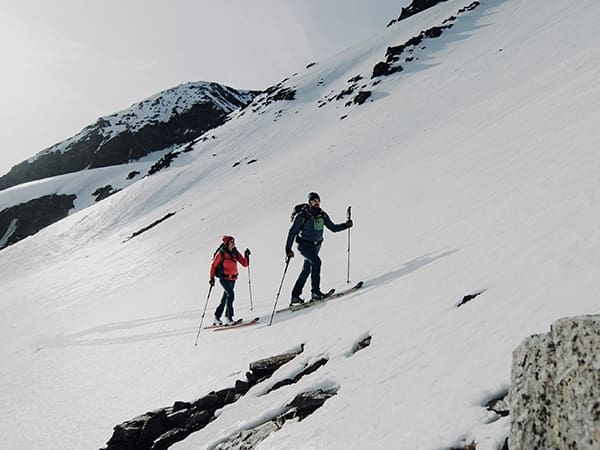 30%–70% OFF APPAREL, PLUS FREE SHIPPING SITEWIDE!
From jackets to beanies to pants, save on everything you need for your mountain. Plus, enjoy free shipping on any order with code: GIVETHANKS20
Mountain Khakis
Save 30% on Outerwear
MTEK
Black Friday sale starts 11/27 at midnight. 35% off all Carbon-V & Carbon-S FLUX helmets in solid colors.
NeoMag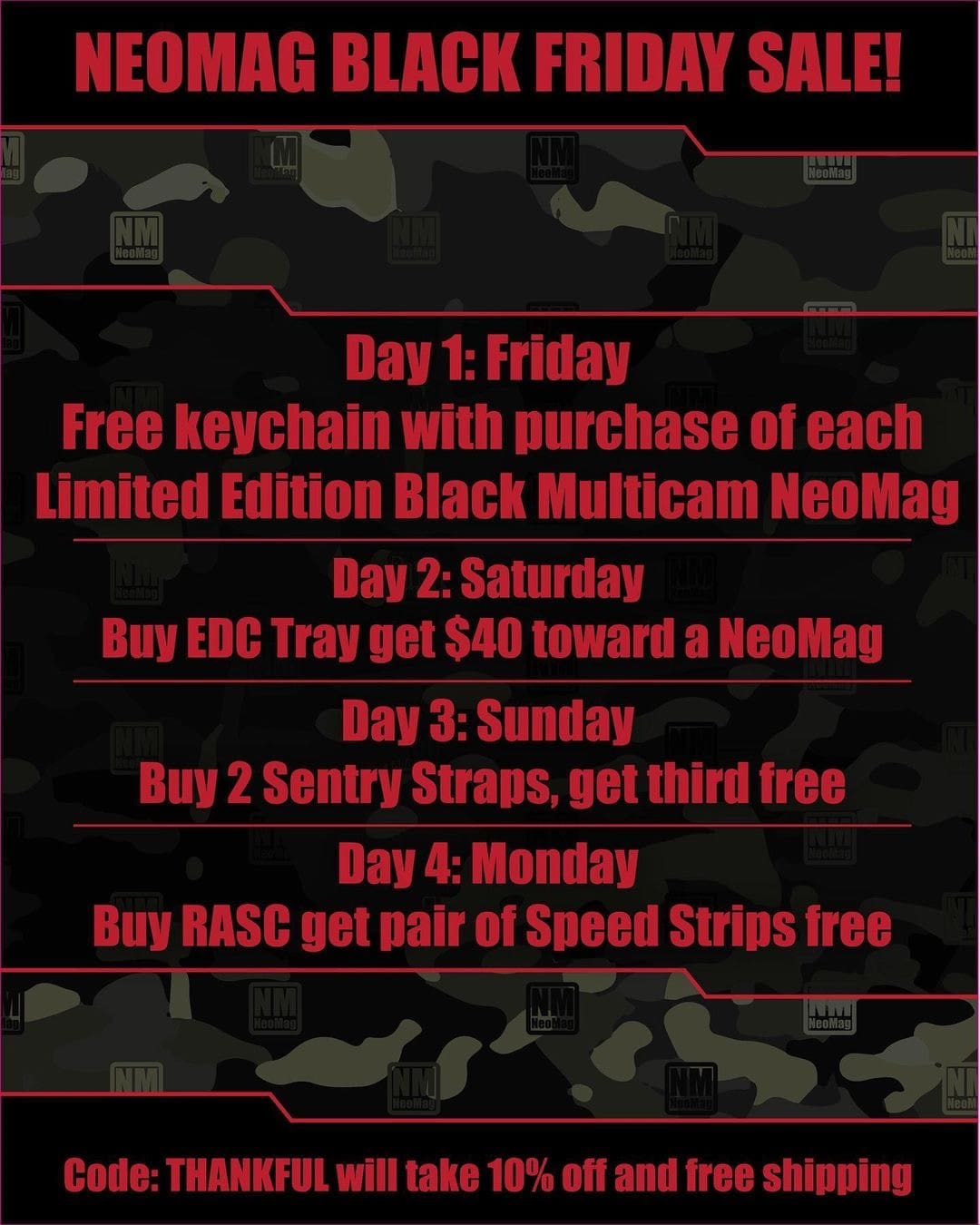 THANKFUL code starts Thursday then a special deal added each day!
UF PRO
TRZIN, SLOVENIA (24 Nov. 2020)—UF PRO today announced it will offer special deals this Black Friday and slash the prices of selected tactical gear.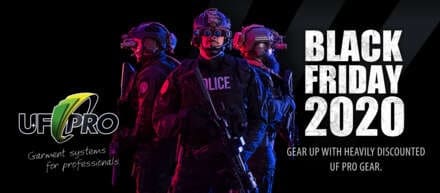 According to UF PRO, the maker of advanced-technology jackets, shirts, pants, hats, caps, and accessories for military and law-enforcement units in Europe and beyond will be offering the designated sale items at their lowest prices ever.
The super-discount prices begin at an as-yet unannounced time. The starting time will be disclosed by email and comes with specially designed UF PRO wallpapers for phones and smartwatches, available to anyone that signs up for advanced intel via their newsletter.
To sign up for email notification, download the free-of-charge wallpapers, or obtain information about the discount specials, go to www.ufpro.com/black-friday.
CRT Adventure Gear
CRT Adventure Gear has kicked off their first annual ThanksGIVING event. It will last through Cyber Monday and include two components:
• "Thanks" to our customers who will receive 20% off their order with the discount code THANKS2020
• "GIVING" whereby CRT Adventure Gear will donate 20% of our net proceeds for the period to charity
Not your average ballpoint, not your average fire starter, not your average ThanksGIVING…
For additional details, please visit: www.adventure-kits.com
Valhalla Tactical
The Valhalla Tactical "Rukh" is the industry's first (and only) fully-articulating offset red dot mount designed from the ground up to accompany 1.93 main optics. Able to adjust to near infinite positions, one can dial-in the offset dot and lock it down at the most natural / comfortable position that fits your shooting style.
In contrast, our "Hanger" piggyback mount offers an ultra-lightweight setup (13g / 0.5oz net weight increase) and low profile mounting for selected 30mm and 34mm scope mounts. Clever engineering positions the red dot sight exactly at 90 degrees, vastly simplifying zeroing (just flip the windage and elevation dials). In addition, shallow tilt-angle (dot visible in as little as ~30°) while automatically matching both sight's height-over-bore ensures unmatched transition speed between the two.
Arisaka
Arisaka Black Friday Sale
10% Off Site Wide November 24 – 30
Discount automatically applied in cart
We have the new Modlite ModButton Lite remote switches in stock, which handle the higher current draw of the Modlite PLHv2 and OKW. They offer a very low profile fit and excellent tactile feel, and can be stacked end-to-end. They're available in Surefire leads for the UE and DS tailcaps, and laser leads for use with the LA-5, PEQ-15, ATPIAL-C, B.E. Meyers MAWL, and Steiner DBAL lasers.
Don't forget to check out our modular Offset Optic Mount, which allows for both 35 and 45 degree offset positions without additional parts, and now the Aimpoint Acro in addition to the Aimpoint Micro, Trijicon RMR, Leupold DPP, Holosun 507C, and more. Full details are available here.
Brownells
Black Rifle Friday Event Offers FDE BRN-180S Uppers, Hard-To-Find Items
GRINNELL, Iowa (November 25, 2020) – Brownells customers can get their hands on new BRN-180S uppers along with several hard-to-find items starting 9:00 am CST, Friday, November 27, with the kickoff of the annual Brownells Black Rifle Friday event.
Now available with a handguard Cerakoted Flat Dark Earth, BRN-180S uppers in both 223 Wylde and 300 AAC Blackout chamberings will go live on Brownells.com on the first day of the Black Rifle Friday event.
• #078-000-626 BRN-180S Gen 2 Upper, 223 Wylde, 10.5" barrel, FDE
• #078-000-627 BRN-180S Gen 2 Upper, 300BLK 10" barrel, FDE
In addition, limited quantities of the following will be available starting Friday:
• #100-040-692 Daniel Defense M4A1 Upper
• #100-041-536 Triggertech Limited Edition Adjustable AR Trigger
• #160-710-149 Colt LE6933 11.5″ Upper
• #100-041-855 Vortex Strike Eagle 1-8x & mount bundle
Every morning – Friday through Monday – Brownells will release a new batch of popular products for the Black Rifle Friday Event, so customers will need to check each day to see what's new.
Certain brands will be discounted up to 27% off retail, and Brownells will also give free shipping on all orders $250 or higher.
Brownells EDGE Members will have exclusive access to special products and discounts.
The special products, deals, free shipping on $250 and above and EDGE Members exclusives begin at 9:00 am CST Friday, November 27.
To see more, visit www.Brownells.com
215 Gear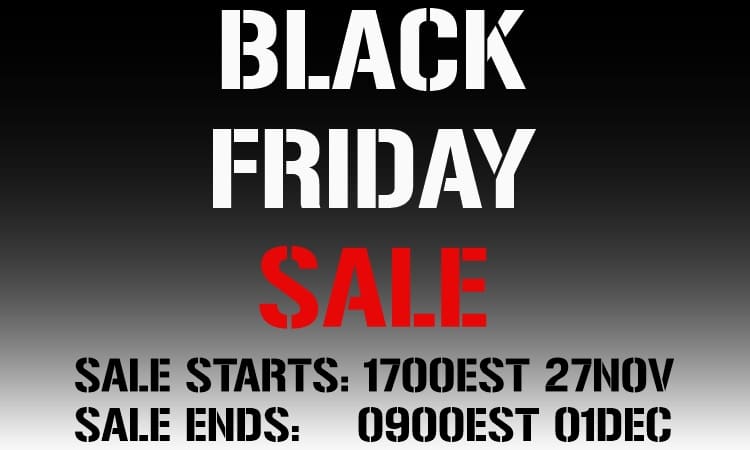 215 GEAR Black Friday Sale
Sale Starts Friday 11/27
Select items 15%-30% off
OTTE Gear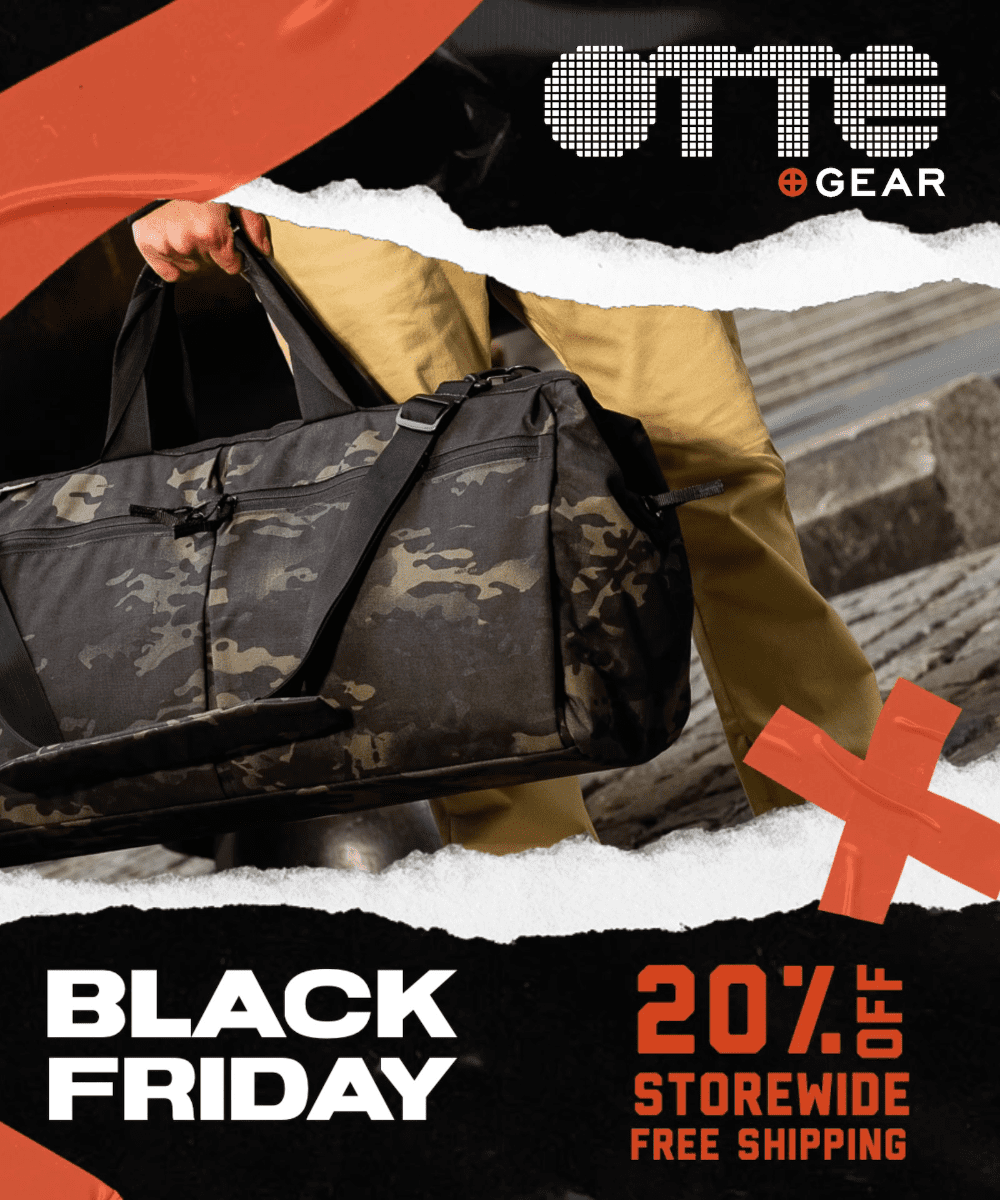 No Exclusions + FREE Domestic Shipping: Now through Midnight Monday PST
Use Code BFCM20 @ checkout
Prometheus Design Werx
Our BEST promotion ever has begun.
Previous season items, and already marked down items are included in this year's Promo.
To best service all of our valued customers we will be processing orders as quickly and efficiently as we can but due to expected high order volume, we will be unable to combine orders.
We thank you very much for your patronage and understanding during these trying times we share.
Please watch for new deliveries and restocks during this Promo and we hope you will find the items to make your Holiday Season Merry, Bright, and full of outside adventures.
FirstSpear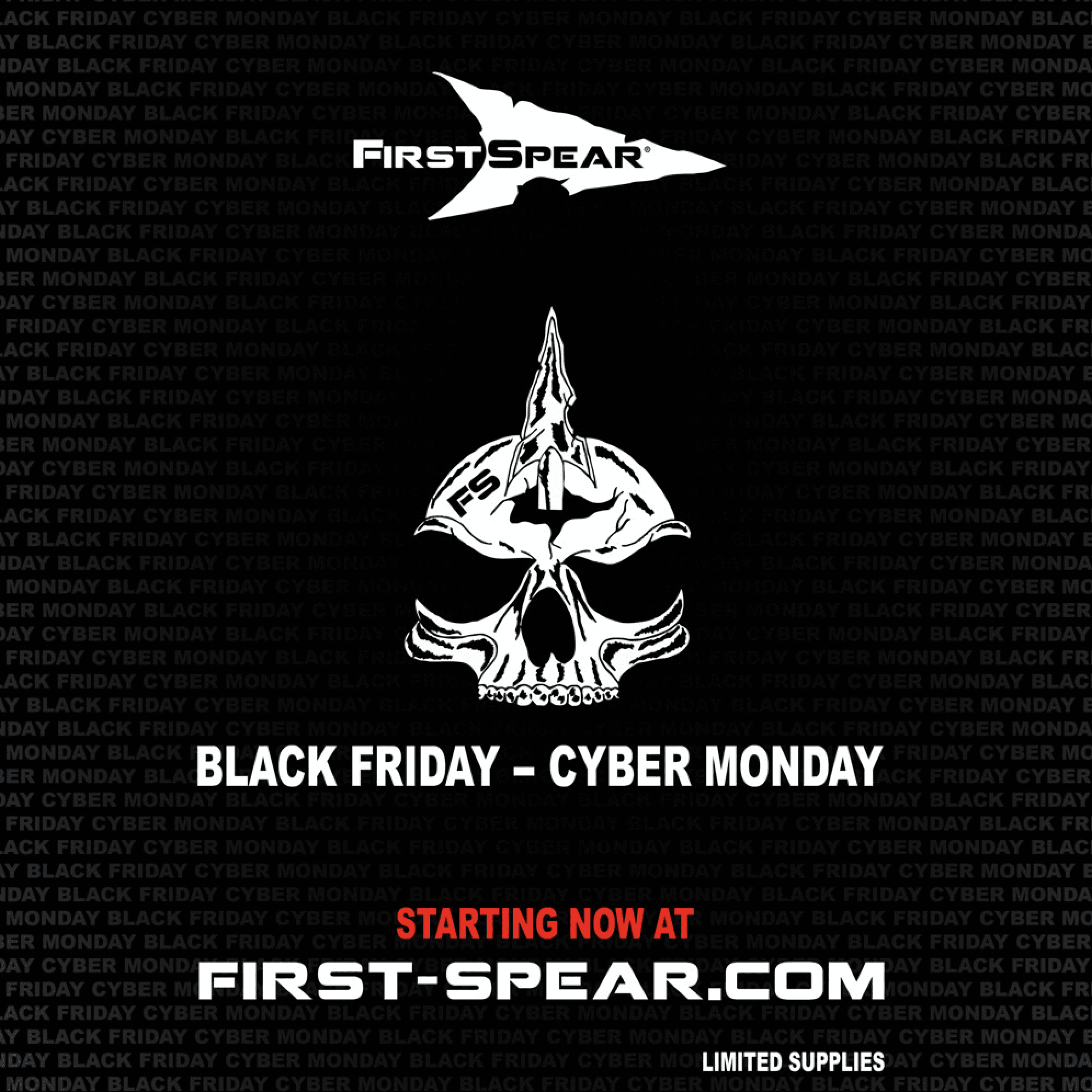 Click here.
LWRCI
LWRCI BLACK FRIDAY SALE STARTS NOW.
Save on select LWRCI branded gear, apparel and more.
Now through 12/1/20, while supplies last.
Milspec Retailer
Milspec Retail has launched their Black Friday sales event! Take an additional 15% off site-wide. Huge discounts when combined with already low markdown pricing. Discount will be automatically applied to the cart total.
Sale ends 12/1/2020. Some products excluded.
DISCO32
Rifle Gear
Maxim Defense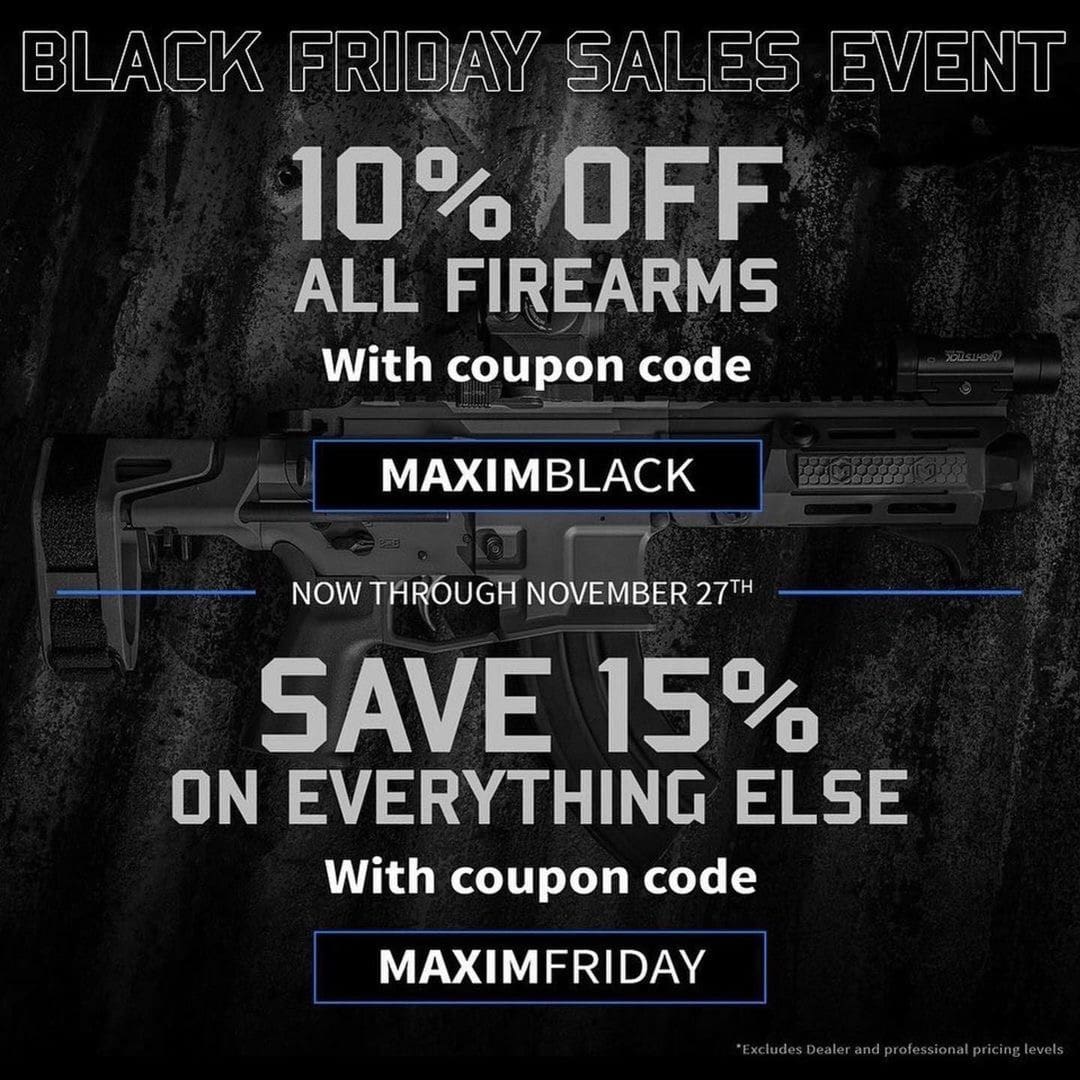 The Maxim Defense Black Friday Sales Event is still going strong!!
• Save 10% on all Firearms using the code MAXIMBLACK
• Save 15% on everything else using the code MAXIMFRIDAY
Valid only at www.MaximDefense.com
Agilite
Agilite are having their BIGGEST EVER Black Friday Sale-SITE-WIDE- UP TO 65% OFF!! +Free Shipping! (Limited Stocks Available)
They also have "Daily Mega-Deals" so worth checking each day for exceptional deals-go to www.agilitegear.com
Infuze Hydration
Black Friday Is Here!
50% Off Code: BF2020
Enjoy 50% off your entire purchase when you use the code: BF2020 at checkout.
Yes, that means that you can get 2 Vessels for the price of 1.
With only a limited quantity of each bottle color, hurry and get your favorites before they are gone.
Armadillo Merino
Black Friday is nearly here, from tomorrow get:
£20 off when you spend £100 with the code BlackFriday100
£45 off when you spend £200 with the code BlackFriday200
£70 off when you spend £300 with the code BlackFriday300
Offer available from Friday 27th November 2020 – Monday 30th November 2020.
Black Diamond Equipment
APPAREL SALE
Take 25% Off
Save 25% on men's and women's apparel through 11/30/20. From insulation to outerwear and baselayers to logowear explore our collections for your winter adventures. Also, drop by our Equipment Sale and take up to 25% off climb and mountain gear. Spend over $50 and receive free shipping on your order.
B E Meyers Advanced Photonics
MAWL-C1+ / AA ENDCAP BUNDLE
BLACK FRIDAY OFFER
Our best deal of the year—get a free AA ENDCAP and free expedited shipping when you purchase the MAWL-C1+ in BLACK or FDE on the B.E. Meyers & Co. webstore
The MAWL-C1+ is the world's first commercially available NIR and visible green laser aiming device using Class 1+ technology and has significantly greater illumination range as well as improved beam pattern and quality compared to other commercially available laser devices. The AA ENDCAP allows for the use of two AA batteries instead of the standard CR123 battery.
Units are in stock and ready to ship—while they last.
bemeyers.com/shop/mawl-c1-bundle
Shellback Tactical
Wild Things
Our way of saying thanks: take 20% off in-stock items through 11/30/2020! The weather is turning cold – now is a great time to stock up on discounted in-stock gear from Wild Things!
Discount applied in cart: no code needed. Restrictions may apply.
www.wildthingsgear.com/collections/in-stock